Opinion: Testing tents in lousy weather
A hiker from Kansas refills his water at Gros Ventre Falls on a soggy day in Glacier National Park last week. It was perfect weather to test a new tent, however. (Chris Peterson photo).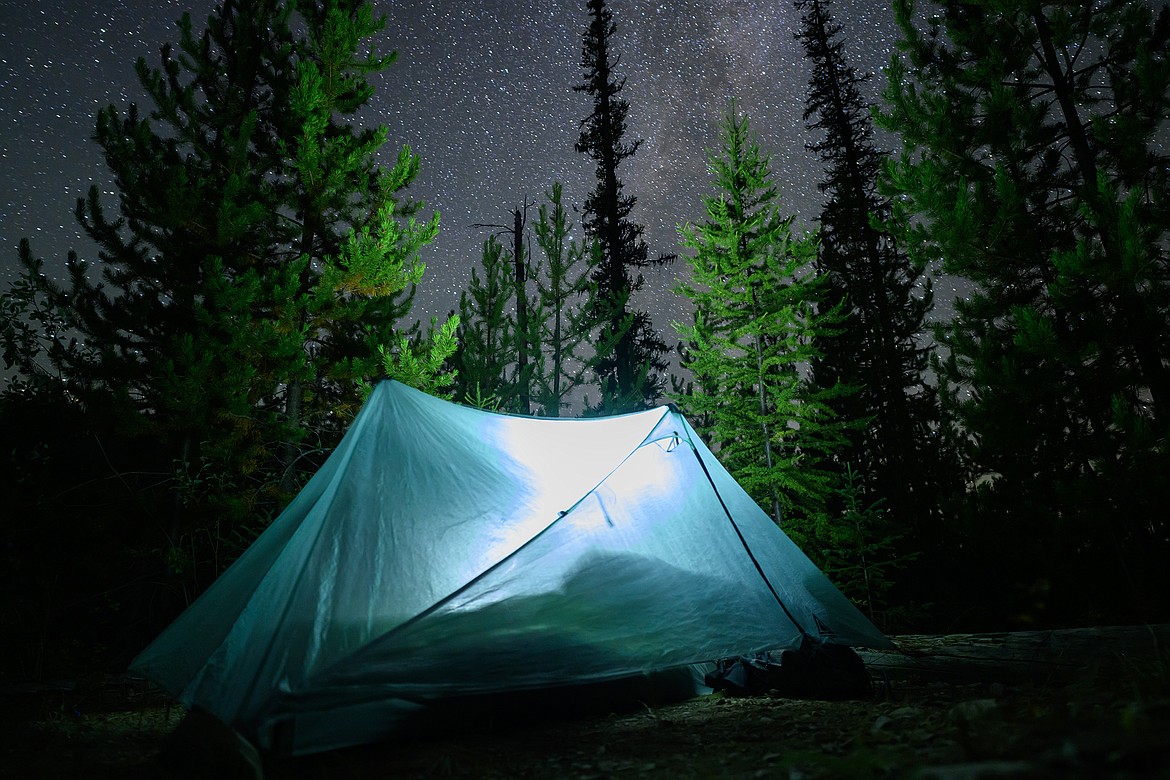 The Durston X-Mid Pro 1, shown here under the stars, is super lightweight, but sort of a pain to set up and has condensation issues, so we sold it. (Chris Peterson photo).
Previous
Next
We've been going through tents this summer, which Is to say we're testing our third one. For the better part of 20 years we've been using the Black Diamond (formerly Bibler) El Dorado, which is a four season tent that is absolutely bomber.
But it's also fairly heavy at just over 4.5 pounds, and even heavier than that if you actually guy line it all out as it's designed (which we've only had to do once, in a brutal wind at Cracker Lake). Also, you have to seam grip the seams on the tent and if you forget to do it (as we did this weekend) you'll find yourself sealing the seams at 10:30 at night in the pouring rain. Not exactly fun.
But I digress.
First we tested out an ultralight tent, the Durston X-Mid Pro 1, which is a hiking pole tent. Since we don't use hiking poles we had to buy separate poles, which were ultralight, but also cost about $60 extra.
All told, we had about $700 into the tent and while it was very lightweight, it was sort of a pain to set up and the single wall Dyneema fabric design left something to be desired in the condensation department. Even with both doors open and a breezy night, the Dyneema fabric, which is super lightweight and waterproof, also doesn't breathe, so we got a lot of condensation.
The Black Diamond, in contrast, has what's called Todd Tex Fabric. It has literally zero condensation unless it's 20 below out, so yeah, we've been spoiled all these years in that regard.
The Durston also isn't freestanding. If a stake pulls out, that side of the tent collapses and sometimes, the entire tent will collapse. We never got to test it out in a decent rain, as we sold it.
The next tent we tried was a Hilleberg Enan. Hilleberg has been making tents for decades now out of Sweden and they know what they're doing. The Enan is a tunnel tent with one pole. It weighs just over 2.5 pounds, though you can cut the weight a bit if you use rocks rather than stakes for the guy lines.
It's not a bad tent. The outer fabric, which the company calls Kerlon 1000, is super waterproof (I took a garden hose to it, just for fun), but I carry a lot more junk than the average person, namely in photo gear. Once I load all my stuff into it, which has the net effect of blocking the vents at the foot and head of the tent, I had some issues with condensation, though leaving one of the vestibule doors open when it wasn't raining worked very well.
The boy fits in the tent much better than I do, since he's shorter. Still, he's obsessive compulsive about things and one of those things is doors. Doors should be shut, always.
The Enan is also not freestanding and can be a bit fiddly to set up like the Durston. Also, if a stake pulls out, it too, will collapse the side the stake is on.
So the Enan didn't work out for us, but is still a fine tent (and is for sale if anyone is interested).
The next was the Hilleberg Niak, a freestanding tent with the same Kerlon 1000 outer fabric. It's a little heavier, at 3.5 pounds, but is much roomier and can be set up in literally two or three minutes with just two poles and five stakes (there's a bunch more guy lines, too, but you can use rocks to guy them out if you need to, but unless you're in a heavy wind, you won't).
The first test of the Niak came this weekend in the pouring rain. It set up without a drop of water getting into the interior and stood up to constant rain most of the day and well into the next morning and was still bone dry inside.
The tent is double wall and there was no condensation on the inner tent.
The outer wall dried out completely as the breeze picked up the following day.
So it seems like the Niak is our future tent, at least in three seasons (it would probably work in winter just fine, though the tent's main ventilation comes from the bottom, which snow would block) but it is not inexpensive. It retails for $845, though the good folks at Rocky Mountain Outfitter gave me a considerable discount.
Still, it's a lot of money for a tent. But if you're in the woods as much as we are, and you particularly go out in bad weather, check out the Niak. It's a good option for Northwest Montana camping conditions and it goes up, pardon the pun, like a breeze.
Have a good week.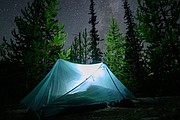 Recent Headlines
---