Yesterdays: Who let the ducks go in Glacier?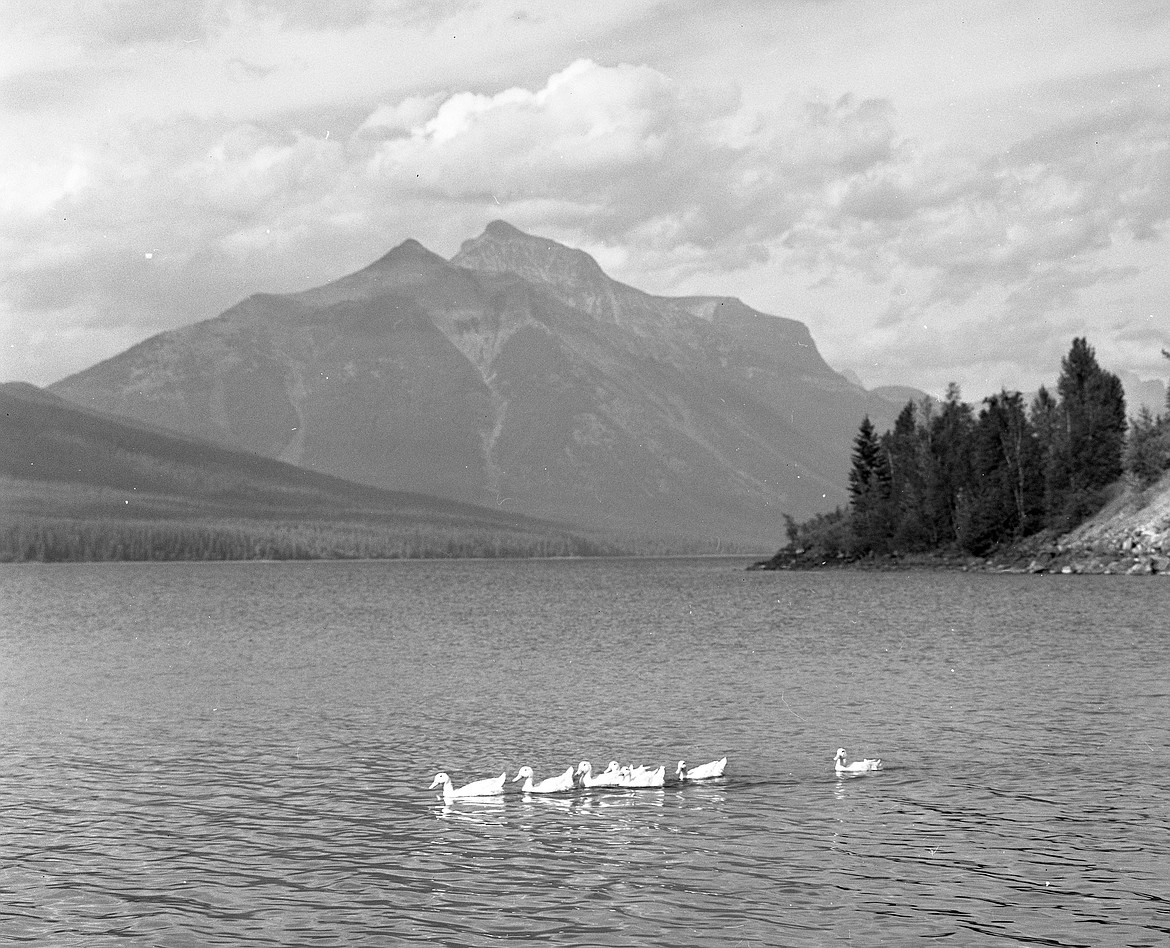 A flock of barnyard ducks on Lake McDonald in Glacier National Park. It wasn't clear who let the ducks loose in the park in September, 1973. (Mel Ruder photo)
|
September 13, 2023 2:00 AM
70 years ago
Sept. 15, 1953
About 100 hunters were in the South Fork which opened to hunting Sept. 15. Dan Highland of Kalispell shot a grizzly bear and there was a five-day open season in some areas for mountain goats.
60 years ago
Sept. 13, 1963
It was learned that President John F. Kennedy would not visit Glacier National Park as originally hoped on his trip to the West. Kennedy would go to Great Falls and Billings, but would skip Glacier and eventually end up spending the night at Lassen Volcano Park.
50 years ago
Sept. 14, 1973
Editor Mel Ruder got an interesting picture — a flock of barnyard (white) ducks on Lake McDonald with Mount Stanton in the background. The question was: Who let the ducks go in Glacier? The only domestic animals we've seen in Glacier in the past few years outside of the occasional dog off a leash, was a housecat wandering around McDonald Creek a few years ago. Glacier National Park was seeking bids from an independent contractor to clear snow from the West Side Tunnel to Siyeh Bend. It was the first time the park would try to contract out the job.
40 years ago
Sept. 15, 1983
Hopes had dimmed for finding a small plane that had crashed the week before in the Swan Range west of the Hungry Horse Reservoir. Searchers had already spent 100 hours in the air looking for the plane, but the weather wasn't cooperating.
30 years ago
Sept. 16, 1993
An early season snowstorm dumped about 6 inches of snow in the high country of Glacier, closing Logan Pass. Park plows would clear the snow and hope for the best for a reopening. Snowstorms in September are not uncommon.
20 years ago
Sept. 11, 2003
Fire managers were optimistic that an inch of rain would mean the end to an historic fire season, but the Bob Marshall Wilderness saw just a fraction of an inch, so there was less optimism there. All told, about 310,000 acres of land were impacted by wildfire in the region that summer.
10 years ago
Sept. 11, 2013
Marc Ankenbauer, a seasonal employee in Glacier National Park, finished a 10-year journey by swimming in all of the 168 named lakes of Waterton-Glacier International Peace Park. Ankenbauer saved Fishercap Lake in Many Glacier as the last lake of the journey. The worst lake was Lilly, on the backside of Adair Ridge.
Recent Headlines
---