Cross country teams take titles in Cut Bank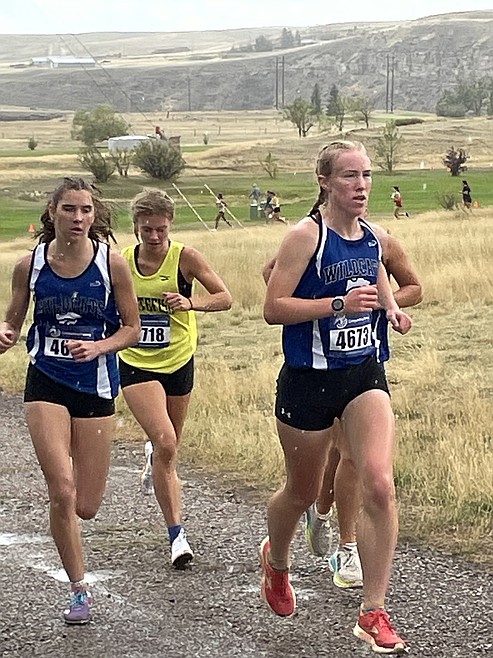 Ally Sempf, left and Ashley Andrews race in Cut Bank last week. (Photo provided)
|
September 13, 2023 2:00 AM
Both Columbia Falls cross country teams won the Mike Reynolds Time Trials in Cut Bank last week.
Ally Sempf had her best race of the year, taking second for the girls with a 21:25.8
Mya Badger, Ashley Andrews, Marissa Schaeffer and Cora Hannan took fifth through eighth for the girls, as they beat rival Whitefish by 31 points.
Chloe Savoy rounded out the scoring for the Cats with a 13th place finish.
The boys had six runners in the top 20, with Lucas Peterson taking eighth with a time of 17:45.27. Logan Peterson, Oliver Kress and River Blazejewski took 10th through 12th. Quinn Clark was 16th and Griffin LaRoque was 19th in a field that had 123 runners.
The boys edged Browning by four points — a nice improvement as the Indians outdistanced the Cats earlier this season in Libby.
Coach Jim Peacock was pleased with the way the meet went, especially since a huge thunderstorm delayed the start.
"The boys race was lined up and about 5 minutes from the gun, and the officials had to call a delay due to a massive thunderstorm that was minutes away from hitting town.  Everyone had to shelter in their buses for the next hour.  We were given about 20 minutes to warm our teams back up after that, and then got the races going.  Our boys did a great job refocusing and not letting the delay be a distraction," he said. "Our girls also have the ability to pack up and feed off each others' races ... I'm really happy with their races, and they are continuing to improve as a team." He noted the meet itself was a little smaller than usual because the timing of the race this year put it in conflict with a couple other meets. Still, it was good to see the teams be competitive with Whitefish and Browning, as they'll be in the mix come the state meet in a few weeks.
Recent Headlines
---