Boys blank Broncs, tie Blue Devils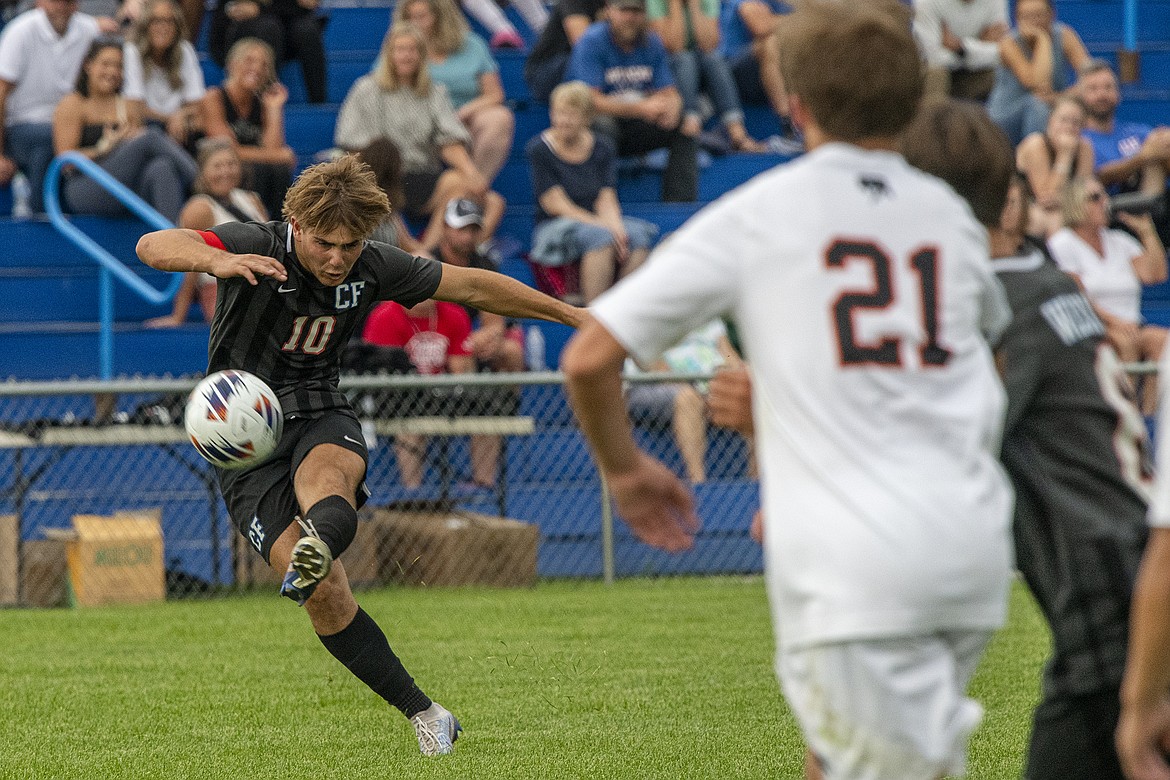 Kai Golan sends the ball sailing towards Frenchtown's goal on Flip Darling Memorial Field Tuesday, Aug. 29.
by
AVERY HOWE
Photographer
|
September 6, 2023 2:00 AM
The Columbia Falls boys soccer team hammered Frenchtown last week 10-0, but settled for a 2-2 draw against Corvaliis.
Boys' coach O'Brien Byrd said that shutouts are important to getting the team's total number of goals up. The nonconference matches also provide an opportunity to work out the fine details of the Wildcats' game.
For the boys, that means tightening things up on the back line and sharpening mental toughness so that when the going gets tough, they get going. Byrd praised keeper Rafe Rusche for his efforts in last Tuesday's game,
"He stood on his head and made three or four point-blank saves against Frenchtown." Midfielder Jack Harris also contributed greatly on defense. Kai Golan scored a hat trick plus one assist in the Frenchtown game, and Max Everett had four goals and an assist, leading on the offense.
The Wildcats settled for a tie against Corvallis on Saturday. Ryan Hutchison put the Blue Devils up 1-0 in the first half and Chance Jessop made it 2-0 in the 59th minute.
But Wildcat River Wolford cashed in on a penalty kick in the 75th minute to cut the deficit in half, and Golan struck a few minutes later to escape with the 2-2 draw.
The boys faced Bigfork on Tuesday after presstime.
Upcoming games include Polson on the road Sept. 7 at 7 p.m. and a much-anticipated match against Whitefish at home Sept. 12 at 5 p.m.
"Every year, it's the most important competition," Byrd said, noting that it will likely be Whitefish versus Columbia Falls facing off to determine who will ultimately win the conference for the boys. "We're ready," Byrd said.
Recent Headlines
---