Boys take third at state A cross country championship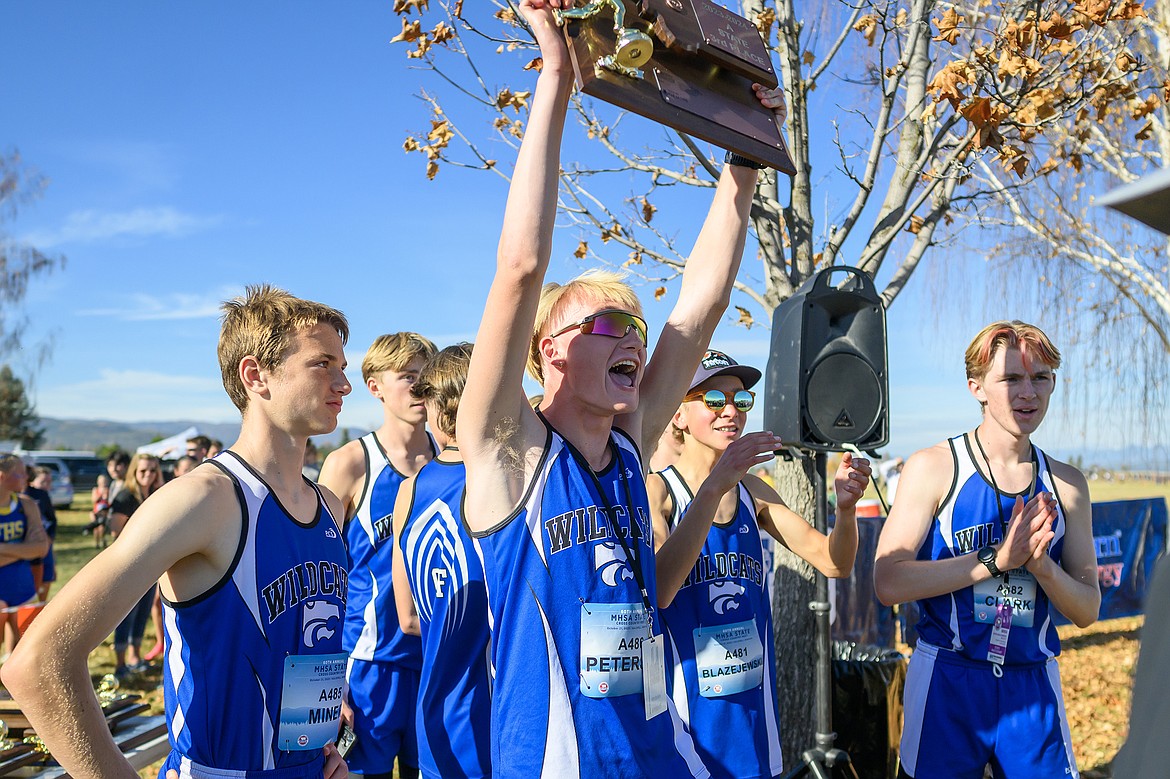 Logan Peterson hoists the third place trophy. To the right is River Blazejewski and Quinn Clark. (Chris Peterson photo)
|
October 25, 2023 2:00 AM
Using a pack attack, the Columbia Falls boys cross country team took third at the state A championship meet at Rebecca Farm Saturday.
The boys top placer was River Blazejewski, who took 17th with a time of 16:55.09. But the Cats had four runners in the top 35, which put them on the podium. Senior Logan Peterson took 19th with a 16:58; Oliver Kress took 26th with a 17:11; and Lucas Peterson took 35th with a 17:29. Senior Quinn Clark capped off the scoring with a 53rd place finish at 17:55.
The girls took fourth and were led by freshman Cora Hannan who took 21st with a 20:51.31. Ally Sempf was 24th with a 21:05; Marissa Schaeffer was 26th with a 21:07; Mya Badger took 32nd with a 21:22 and Chloe Savoy took 59th with a 22.40. Senior Ruby Davis took 86th with a 23:46.
Ashley Andrews, who had been out the past couple of meets, gave it a go but didn't finish. Andrews had been leading the team most of the season.
The Browning boys and the Hardin girls won the team titles in dominant fashion.
On the AA side, Bozeman's Nathan Neil shattered the record for the boys' race, clocking a 14:45.47. The previous record was held by Weston Brown, also of Bozeman, who clocked a 15:25 last year.
Recent Headlines
---