Wildcats turn on the jets against Bigfork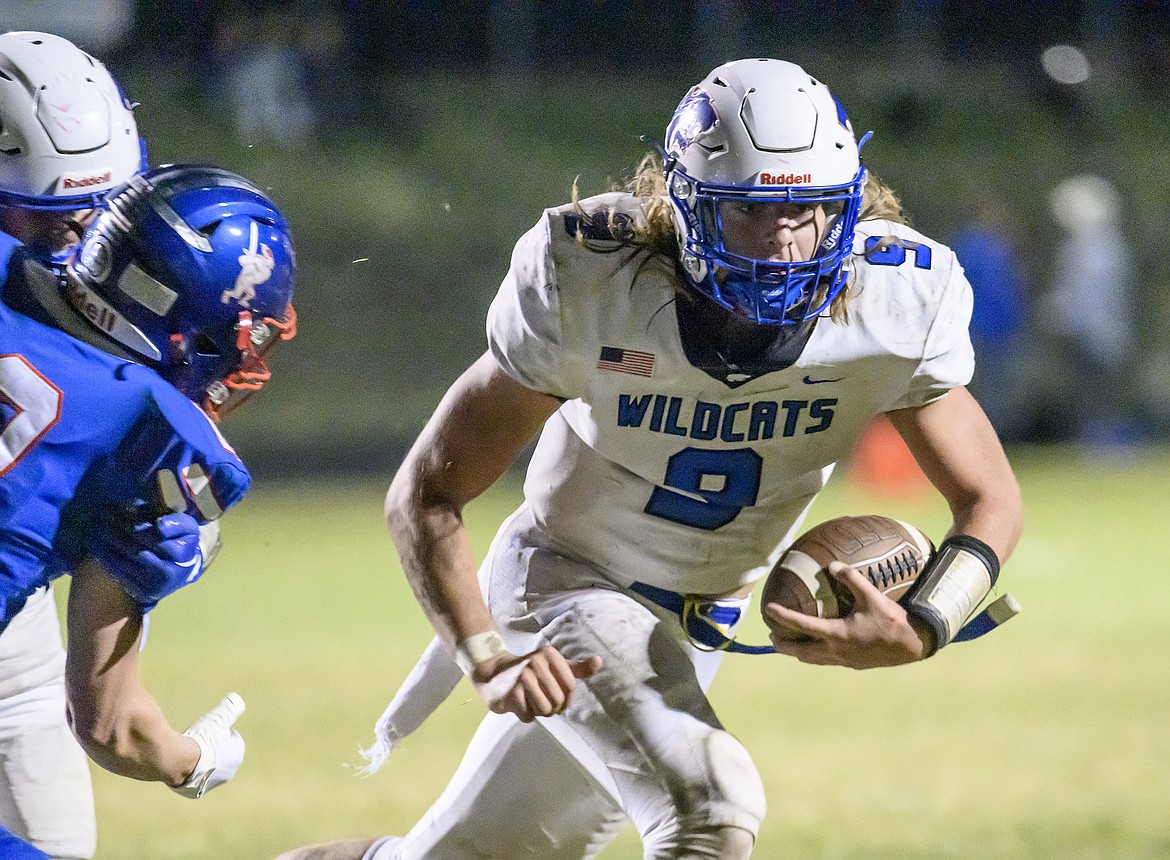 Cody Schweikert rushed for 175 yards against Bigfork. (Chris Peterson photos)
|
October 18, 2023 2:00 AM
The Columbia Falls football team dropped Bigfork 51-30 on the road, securing at worst, fourth place in the Western A division.
Senior quarterback Cody Schweikert had an outstanding performance, his best of the season, racking up 377 yards on 25 for 29 passing and he rushed for 172 yards. He scored four touchdowns on short runs from inside the 10 and threw for two more.
The game was a bit tighter than the score would suggest — at least in the first half — as the Cats had a 17-14 lead at the break.
The Cats rumbled down the field and Schweikert scored a touchdown from 5 yards out at the 8:30 mark of the first quarter but Bigfork scored on a flea flicker the following possession. The Cats answered with another drive and once again capped it off with a Schweikert touchdown, this time from 6 yards out.
The Cats stopped the Vikings on the ensuing possession, drove down to the Vikings' red zone, but had to settle for a 19-yard Kai Golan field goal after Schweikert was stopped on the 2-yard line.
Bigfork answered with a touchdown with 38 seconds left in the half, but the Cats showed they just need a few possessions to drive into scoring position.
Golan tried a 35-yard field goal as time expired in the half, but it was just wide.
The Cats left no doubt who was the better team in the third quarter, as they outscored Bigfork 21-2. The defense was stellar as Jace Hill picked off two Bigfork passes and almost had a third pick, but his toes were just out of bounds.
Even so, the Cats converted the turnovers to points, as Lane Hoerner found the end zone on a 16-yard TD pass from Schweikert, then Schweikert ran in from a yard out on the next possession and Alihn Anderson scored on a 10-yard pass from Schweikert.
Mixed into all of this were nice catches and runs by Hill and the speedy Mark Robison.
The lone mistake was a safety given up by the Cats as a snap went over punter Anderson's head.
Blaise Cronk capped off the scoring for Columbia Falls with a 14-yard run in the fourth. Golan was perfect on point-after attempts. Bigfork put up 14 in the fourth, mostly against Columbia Falls' reserves.
Coach Jaxon Schweikert was pleased with the team's play, noting they controlled the line of scrimmage on defense and offense. He noted Cody has a completion percentage of more than 70% this year.
"We were really good defensively," he said.
The team travels to Ronan Thursday and to wrap up the regular season. They're 5-2 overall and 4-1 in divisional play.
Even if they lose to Ronan they're assured a home playoff game Oct. 27. This year the first round, according to the Montana High School bracket, are Friday night games, as opposed to traditional Saturday games.
Recent Headlines
---