Wildcats lose heartbreaker to Dillon in OT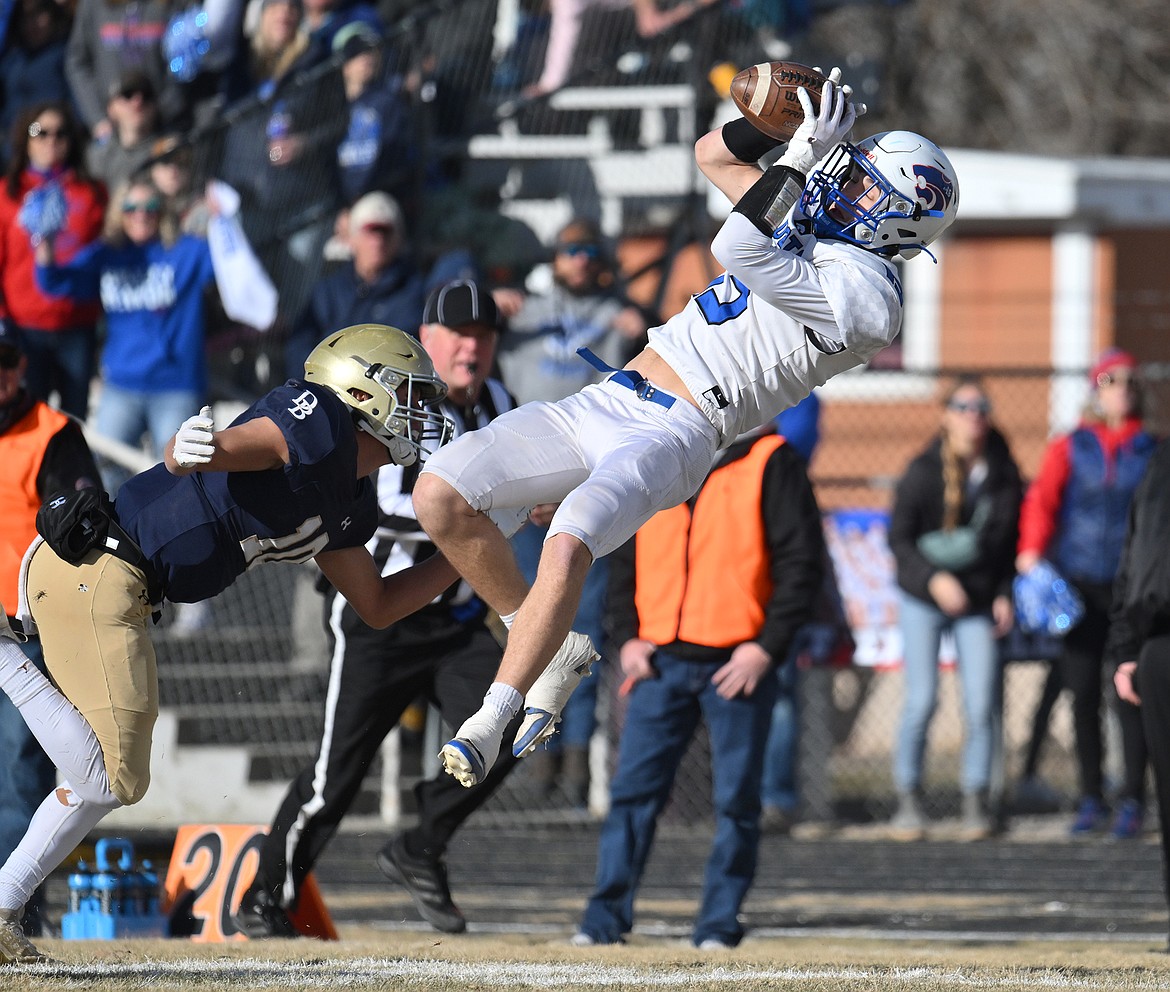 Chance Miller with a great catch in the first quarter against Dillon Saturday. (Chris Peterson photo)
|
November 18, 2023 5:30 PM
By CHRIS PETERSON
Hungry Horse News
After roaring back from a two-touchdown deficit in the fourth quarter to tie it, Columbia Falls fell just short in overtime at Dillon in the State A championship football game Saturday, 36-35.
The Beavers' Kee Christiansen punched in a 2-point conversion to cap a perfect season for the Beavers.
Coaches, players and fans often use the cliche "hard fought battle," but the State A title bout was all of that and more.
Columbia Falls scored on its opening drive when senior quarterback Cody Schweikert hit Lane Hoerner with a 6-yard pass in the end zone. Kai Golan's point-after was good and the Cats were up, 7-0.
Columbia Falls stopped Dillon on its opening drive, and on its next possession drove down to Dillon's 23-yard line, but Schweikert fumbled on a hard Dillon tackle and the Beavers recovered.
A few plays later, the Beavers' Kale Konen scored a touchdown to knot the score at 7-7 with 1:20 left in the first quarter.
Dillon added another touchdown after stopping the Cats, and the game was 14-7 with 6:31 left in the half. 
The Cats answered with an 80-yard drive as Schweikert found Mark Robison on a 15-yard touchdown pass. Golan hit the extra point and the game was tied 14-14 at the half, particularly due to Columbia Falls' stellar defense, as Jace Hill has two interceptions to kill two Dillon drives.
Dillon scored just 13 seconds in to the third quarter to take a 21-14 advantage.
The Cats next drive ended when Dillon picked off a tipped Schweikert pass in the end zone. Dillon then drove 80 yards as Christiansen found Max Davis in the end zone on a 20-yard pass to put the Beavers up 28-14 halfway through the fourth quarter.
The Wildcats responded as Schweikert found Hoerner in the corner of the end zone on a perfect pass. Golan's extra point was wide and the Cats trailed 28-20.
After forcing Dillon to punt, Columbia Falls drove from their own 23 and Schweikert found Hill on 9-yard touchdown pass with just 45 seconds left. Hill then caught the 2-point conversion to tie the game and send it to overtime.
In overtime, each team has a possession at the 10-yard line with four downs.
Columbia Falls had the ball first, and on a fourth-and-1 play Schweikert willed his body into the end zone to put the Cats by seven after Golan hit the extra point.
Dillon countered with a touchdown, and then Christiansen got around the corner and ran into the end zone for the 2-point conversion and the win.
Columbia Falls Head Coach Jaxon Schweikert praised his squad following the tough loss.
"To see them battle to the end was pretty awesome," he said. "This was a special team in a special place. It was a true, true brotherhood."
Cody Schweikert threw for just over 400 yards, including some key throws on third and long and fourth and long to keep drives alive.
Chance Miller led the receiving corps with eight catches for 150 yards.
Konen rushed for 210 yards for the Beavers, including an 80-yard touchdown run to open the second half.
The Beavers last won it all in 2016 in a 34-17 victory over Columbia Falls. The next season the Wildcats won the program's lone state championship over Hamilton.
The Cats finish the season at 9-3, with two of those losses to the Beavers. The earlier matchup was also a barn burner, with Dillon winning 22-19 as the Cats came up just short on a game-winning touchdown attempt from inside the 10 in the closing seconds of the fourth quarter.
The Cats suffered some bad luck this year. They lost junior running back Reggie Sapa to a leg injury after the Whitefish game. Then they lost senior linebacker Hunter Goodman to a leg injury against Corvallis in the playoffs.
Goodman was one of the team's leading tacklers.
Then in the state title, Blaise Cronk, who was in for Goodman, injured his leg. He gutted out the game, but was basically playing on one leg, coach Schweikert noted.
C-Falls        7    7    0    14    7    -    35
Dillon    7    7    14    0    8    -    36
CF — Lane Hoerner 6 pass from Cody Schweikert (Kai Golan kick)
D — Kale Konen 29 run (Sawyer Tackett kick)
D — Kee Christiansen 1 run (Tackett kick)
CF — Mark Robison 15 pass from Schweikert (Golan kick)
D — Konen 80 run (Tackett kick)
D — Max Davis 27 pass from Christiansen (Tackett kick)
CF — Hoerner 14 pass from Schweikert (kick failed)
CF — Jace Hill 9 pass from Schweikert (Hill pass from Schweikert)
CF — Schweikert 3 run (Golan kick)
D — Konen 5 run (Christiansen run)
Individual Statistics
RUSHING: Columbia Falls (25-58) — Cody Schweikert 17-38, Alihn Anderson 7-20, Mark Robison 1-0. Dillon (35-250) — Konen 23-210, Christiansen 12-40.
PASSING: Columbia Falls — Schweikert 39-51-1 for 402 yards. Dillon — Christiansen 7-16-2 for 153 yards.
RECEIVING: Columbia Falls — Chance Miller 8-150, Robison 13-109, Hill 8-72, Hoerner 6-59, Anderson 1-6, Banyan Johnston 2-3. DiIllon — Davis 3-61, Cooper Anderson 1-46, Carter Curnow 1-21, Konen 1-14, Ian Singleton 1-11.
This story has been updated to reflect stats from the game and an injury recap.
Recent Headlines
---