Medusa's Stones is no ordinary rock shop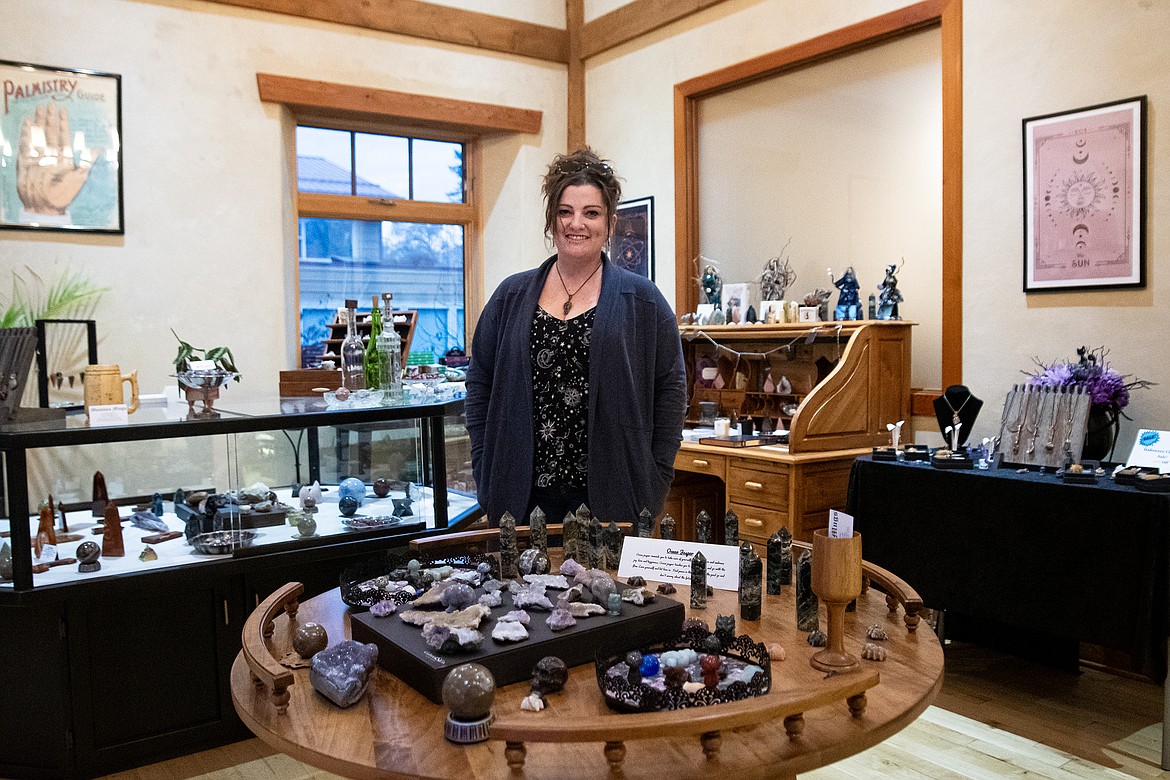 Christina Moser poses in her new Nucleus Avenue business, Medusa's Stones, on Friday, Nov. 3. (Avery Howe photo)
by
AVERY HOWE
Photographer
|
November 15, 2023 2:00 AM
Christina Moser wasn't really planning on opening a rock shop when she visited the empty 729 Nucleus Avenue storefront.
Moser had started wire wrapping stones into pendants less than a year before she opened Medusa's Stones this June. The hobby started as a way for her to wear the rocks she was always hounding. 
"I've always liked stones and crystals, I've been stealing my dad's rocks since I was a little kid. He even brought me some rocks from out hunting recently," she laughed.
But when she tried entering her creations into local markets, Moser found it was hard to get in as a jewelry vendor and explored the idea of her own storefront with a tour of the building. 
"I wasn't even planning on opening a store or anything like that… I just loved the building itself. I decided to just take the leap and do it, just go for it," she said. 
The name, Medusa's Stones, was inspired by her daughter Charlotte Brentz's Halloween costume. The connection between Medusa and stone seemed natural. One could argue that Moser's new business evolved just as naturally. 
As a Columbia Falls native, Moser had a community to support her endeavor, though she noted with a laugh that no one offered to help her drag furniture up Nucleus Avenue from the thrift shop to its new home in Medusa's Stones. Her father, Chris Moser of Moser Cabinets, helped with building displays and even put forward his own handcrafted wooden mugs as merchandise. The tables and shelves of the building are filled with beautiful polished stones, some collected from the Flathead River, as well as local art, jewelry and books. With the help of sister Katie Moser and longtime friend Sarah Hislop, Christina has been able to keep the shop open while also working her regular job, as a red bus mechanic for Xanterra. 
Moser also discovered a new community of rock lovers. She joined the Northwest Montana Rock Chucks rock club, and began learning more about geology, as well as the spiritual and healing properties of stones, by reading and talking with other rock hounds. 
"I do have a lot of regulars come in, it makes me happy to see them come in the door and look around, because I try and get new stuff in all the time so they always have something to look at," Moser said. 
Medusa's Stones is designed with community in mind, with a tea room in the back full of fragrant drinks and books to flip through. The tea is available for free, with only a suggested donation. In the future, Moser hopes to host book clubs, wire wrapping classes and more.
Moser hopes to keep it lively in the winter months. She is looking for people to teach classes such as Reiki, astrology and palm reading to keep people coming in. 
Those looking for a specific stone or cut can order through Medusa's Stones. Though shipping and online shopping aren't available now, Moser hoped to look into them for the future. Hours are currently 11 a.m. to 7:30 p.m. Monday, Thursday and Friday and noon to 7:30 p.m. Saturday. 
Moser said they will likely change after Thanksgiving, when she is able to work in the shop more regularly. Check Facebook for updated hours and to see upcoming events. 
Recent Headlines
---