Glacier eases back on reservation requirements in 2024; Sun Road access from St. Mary will be available without reservation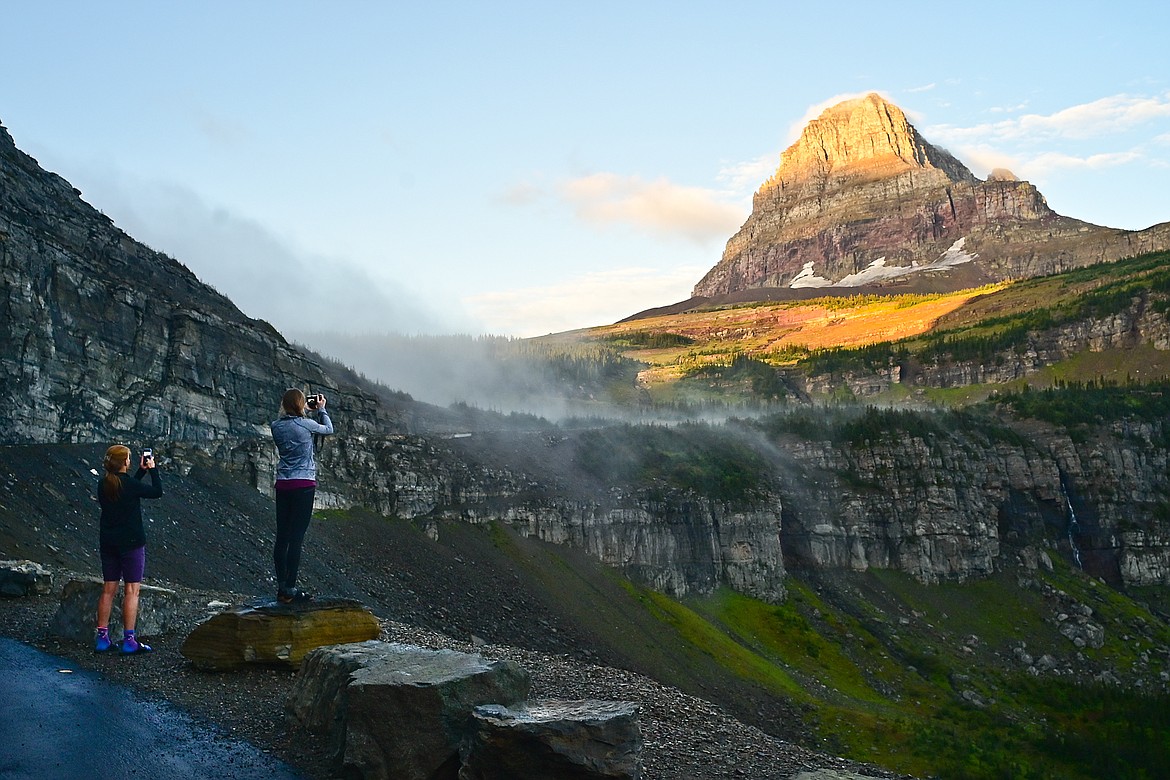 Tourists take photos along the Going-the-Sun Road in this file photo.
Glacier National Park announced Thursday that it has made changes to the reservation system for the Going-to-the-Sun Road and other road access to the park for the summer of 2024, including dropping the Sun Road reservation requirement if accessed via St. Mary on the park's east side.
On the Sun Road's west side, reservations will be required from May 24 through Sept. 8 from 6 a.m. to 3 p.m., but will be for just one day, not three days like last year. 
However, in 2024, visitors will be able to access the Going-to-the-Sun Road from the east side beyond Rising Sun without a vehicle reservation. They also will not need a reservation for the Two Medicine region of Glacier. 
Reservations will be required for Many Glacier from July 1 through Sept. 8 from 6 a.m. to 3 p.m. Reservations are good for one day. Visitors can enter the valley before 6 a.m. or after 3 p.m. without a vehicle reservation. 
In addition, people without a reservation will still be able to access Apgar Village and its amenities.
Locals in particular often said they didn't want to access the entire park — just Lake McDonald — during the day without a reservation.
The one-day reservation system should also make more reservations available, the Park Service said in a release.
"Data from 2023 indicates that only 2% of three-day reservations were used for all three days. By changing to a one-day reservation, consistent with other park areas, a greater number of reservations can be made available," the park said in a release.
In the North Fork, visitors will need a reservation from May 24 to Sept. 8 from 6 a.m. to 3 p.m. People can enter before or after those times without a reservation. That is the same as last year.
"We will be testing vehicle reservations proactively in areas where congestion most frequently occurs – the North Fork, Many Glacier, and through the West Entrance to Going-to-the-Sun Road – and will take a wait-and-see approach at other locations and manage adaptively if needed," Glacier National Park Superintendent David Roemer said. "In all locations, our goal is to learn how effective these systems are at improving visitor experiences and protecting park resources."
Vehicle reservations will be available on https://www.recreation.gov/, the Recreation.gov mobile app, or the Recreation.gov Call Center (Reservation Line: 877-444-6777). Each of the specified areas of the park will require a separate reservation. Visitors will need to set up an account on Recreation.gov to obtain reservations. The only cost associated with booking a reservation is a $2 Recreation.gov processing fee.    
Pursuant to the American Indian Religious Freedom Act of 1978, vehicle reservations are not required for tribal members throughout the park.   
Vehicle reservations will be available through two booking windows.    
A portion of reservations will be available 120 days or approximately four months advance, starting on Jan. 25, 2024, at 8 a.m. MST on a rolling basis on Recreation.gov.    
New in 2024, the remaining vehicle reservations will be available at 7 p.m. MDT for next-day entry starting on May 23, 2024.    
In addition to a vehicle reservation, each vehicle entering the park is required to have an entrance pass for any entry point into the park. These passes could include any of the following: a $35 vehicle pass, good for seven days; a valid Interagency Annual/Lifetime Pass; or a Glacier National Park Annual Pass. A vehicle reservation does not include an entrance pass, and the park entrance pass does not serve as a vehicle reservation.   
Like previous years, visitors with lodging, camping, transportation, or commercial activity reservations within the specified reservation areas can use proof of their reservation for entry in lieu of a Recreation.gov reservation to gain access to the portion of the park for which they have a reservation.   
As in past years, entry will be temporarily restricted in areas of the park that become too congested for visitor safety and resource protection. Parking at Logan Pass, Apgar Village, and other areas may be unavailable. Visitors are encouraged to take advantage of free shuttles for hiker access to Logan Pass although waits for shuttles may be long depending on the time and location. Visitors are encouraged to plan their visit outside of peak hours (10 a.m. to 2 p.m.). Visitors with service reservations (e.g., boat tours, lodging, horseback ride, guided hikes) in these areas will be permitted entry during temporary restrictions.   
Recent Headlines
---