Zinke cuts to Glacier resos pass House, but visitation up anyway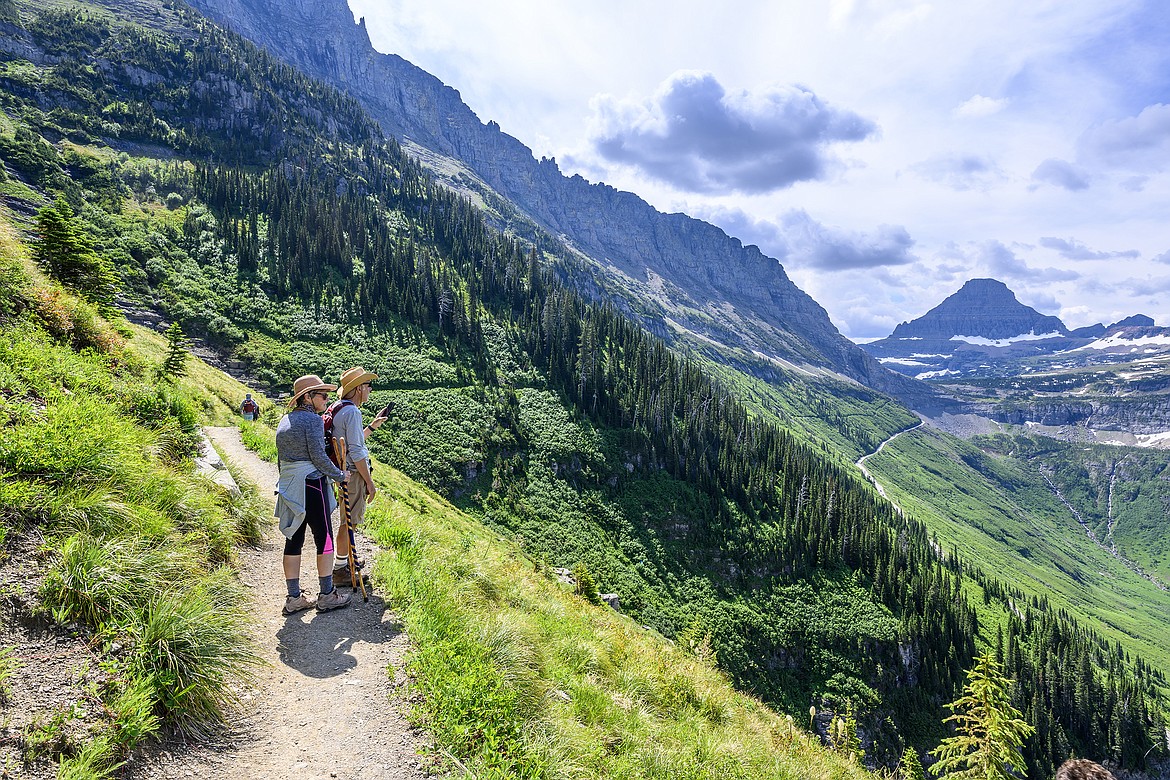 Hikers on Glacier's Highline Trail last summer.
|
November 8, 2023 2:00 AM
Glacier National Park visitation was up over last year through September, but if a Republican-controlled Congress has its way, funding for the iconic park could be down in 2024.
Last week Congressman Ryan Zinke announced he supported HR 4821, the House Department of Interior Environment and Related Agencies Appropriations Act. The bill passed the House along party lines, 213-203.
The bill blocks Glacier National Park from using funds to implement what he calls a "vehicle rationing system" and prioritizes the adoption of a functional shuttle system for visitors.
Zinke has been a critic of Glacier's vehicle reservation system, claiming it blocks locals out of the Park.
But Zinke claims he's simply looking for a better solution to Glacier visitation.
"The Congressman included language in the bill requiring the park to explore alternative programs with the U.S. Geological Survey that would expand access to the park experience like parking options outside of GNP or implementing a shuttle system to reduce vehicle traffic and connecting trails within the park. There are examples of this happening around the country – this bill asks GNP to assess those programs and go back to the drawing board and come back with an alternative approach to visitor management within 180 days on enactment that does not force rationing," Zinke spokesman Colton Snedecor said in an email.
This summer  visitation to Glacier Park was up slightly — 1.6% over last year and 1.3% in September.
Last year, Glacier did not require reservations to enter Two Medicine and Many Glacier; while this year it did from July 1 to the second weekend in September.
This year Many Glacier was down 11.4% over last year and Two Medicine was down 15.3% over last year through September.
Overall, 2.8 million people went through the gates through September this year, while 2.757 million went through last year.
With October yet to be tallied, Glacier will likely be close to the 3 million visitor mark this year. Last year it saw 2.908 million. It's been near or just below 3 million each summer since 2016, save for 2020 when the east side of the park was closed due to the pandemic.
Now Glacier, and the entire Park Service, could see budget cuts. Not only does HR 4821 cut the reservation system in Glacier, it looks to cut Park Service funding overall by 12.5%, or $433 million Park Service-wide, according to an analysis by the National Park Conservation Association, a national parks advocacy group.
This reduction could mean as many as 1,000 fewer Park Service staffers next summer, the NPCA warns.
"National parks drive our economy, generating billions of dollars and hundreds of thousands of jobs in local communities across the country every year. Now is the time to invest more in our parks, not less." Theresa Pierno, NPCA's President and CEO said after the bill passed the House.
Still a lot of this is politics. The House bill isn't expected to pass the Senate, which is controlled by Democrats. 
A more immediate government problem looms — a government shutdown if Congress can't pass an overall federal spending bill by Nov. 17.
Congress narrowly avoided a shutdown in late September, but it didn't come to agreement on a longterm spending bill, just a short-term measure to get through a few months.
The Park Service was preparing to close most national parks — those with gated entrances like Glacier — in September during the last funding debate. Presumably that would happen again if Congress doesn't reach and agreement in a little more than two weeks.
Recent Headlines
---