Yesterdays: Widows get the boot from Veterans Home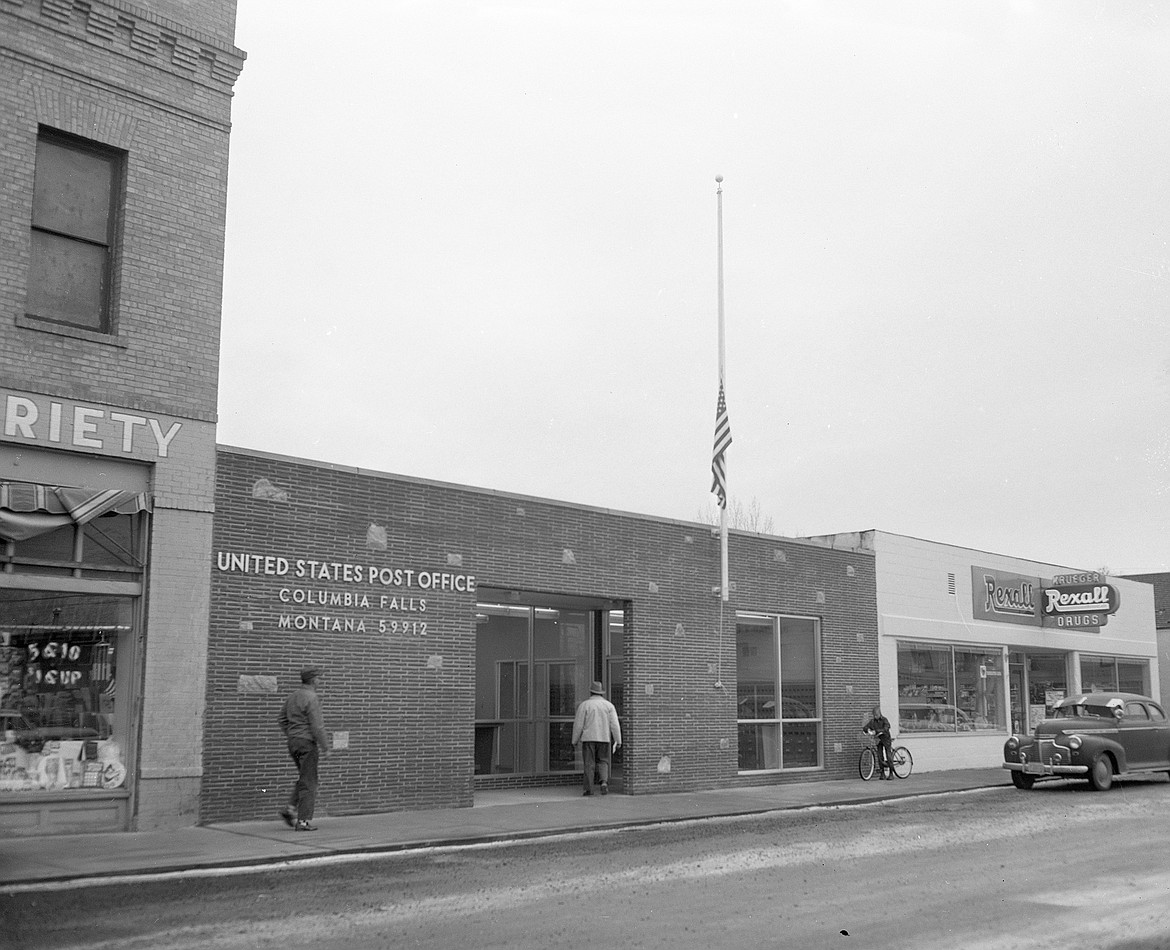 Flags flew at half staff on Nov. 22, 1963 at the Columbia Falls Post Office in honor of President John F. Kennedy who was assassinated in Dallas, Texas. The Post Office is no longer at this location. (Mel Ruder photo)
|
November 8, 2023 6:40 AM
70 years ago
Nov. 6, 1953
The Anaconda Aluminum Co. was busy building a smelter in Columbia Falls. The company said the city needed more housing, but it wasn't interested in owning a bunch of homes and becoming a "company town."
60 years ago
Nov. 8, 1963
A change in policy forced 11 widows living at the Montana Veterans Home to leave. They would be transferred to other homes in the state, depending on their mental and physical condition.
50 years ago
Nov. 9, 1973
Salmon runs up lower McDonald Creek in Glacier National Park were drawing a record number of bald eagles. All told, biologists counted 330 birds of which about half were "white heads" — mature bald eagles.
40 years ago
Nov. 10, 1983
Mugs and Jo Knezacek were finishing the 3,000-mile Continental Divide Trail, long before the days of ultralight tents and packs. The two women started the journey Feb. 26 in New Mexico and they needed to use snowshoes on 1,000 miles of the trip, as it snowed and snowed in New Mexico and Colorado.
30 years ago
Nov. 4, 1993
Locals weren't too happy about a state plan to double the bed tax from 4% to 8%. The objections were that it should be used to promote tourism, not just bail out the state's general fund at the time.
20 years ago
Nov. 13, 2003
Alan Habel was lucky to be alive. He was hunting on Doris Mountain when his horse took a tumble some 400 feet down the slope. Habel was just leading the horse, so he didn't tumble all the way down. 
10 years ago
Nov. 13, 2013
Zach Darling rushed for 188 yards on 24 carries as the Columbia Falls football team beat Havre 46-7 in the state A football playoffs. The Wildcats were 9-0 on the season and faced Billing Central in the semis the following week, where they lost 33-21.
Recent Headlines
---