Speech and debate making its mark early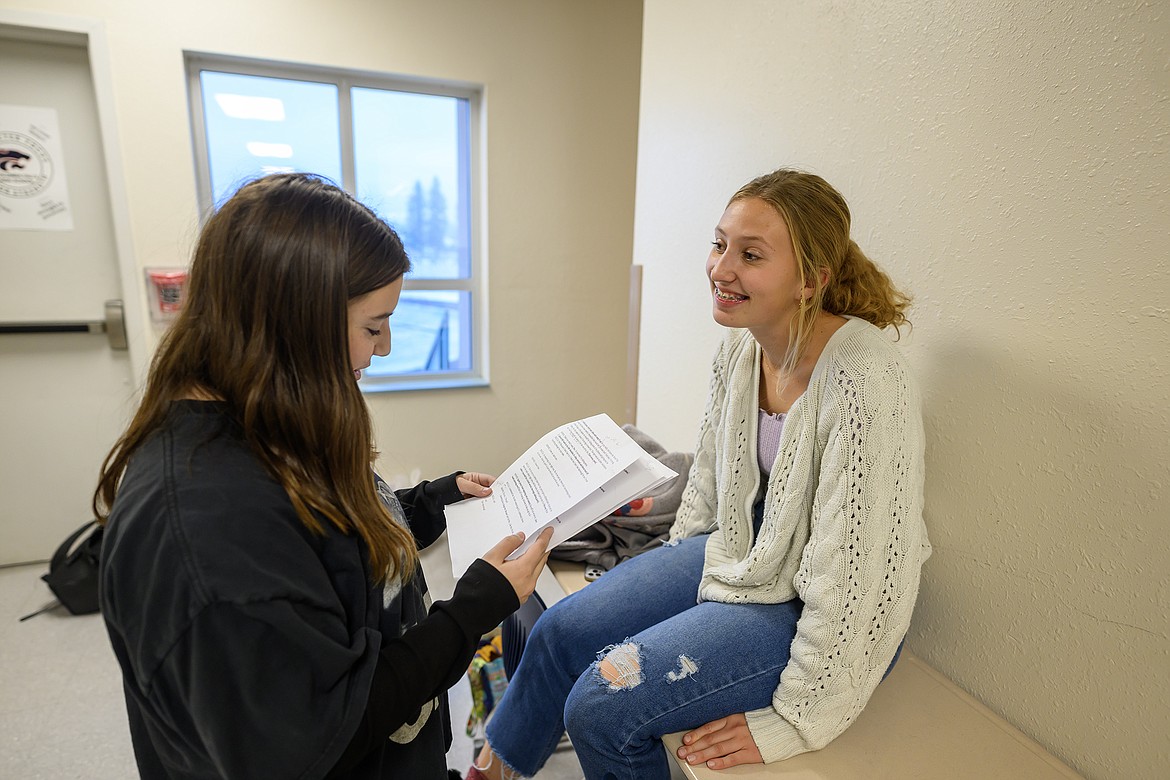 Makinzie Taylor and Kajsa Mohr work on their craft during speech practice last week. (Chris Peterson photo)
|
November 8, 2023 2:00 AM
The Columbia Falls speech and debate team looks to nab another state A title this season and already they've been showing their mettle at early meets.
They opened the season Oct. 28 with a win in Corvallis with 184 overall points. East Helena placed second with 66 overall points followed by Whitefish, with 64 points.
The season started a week earlier than normal, coach Dawn Roe said, because Corvallis wanted to host a tourney early, as teams from the south don't travel as much once winter weather sets in.
The Wildcats won the state A meet last year, the program's 23rd overall and first for coach Roe. They have eight seniors on the squad, but lost a few state champions from last season. They also have some returning, including senior Lucas Counts and junior Carson Settles. Settles was a state champ in informative last season and Counts paired up with Zack Tillman for a title in duo interpretation.
Counts has a new partner this year and Settles won in Corvallis and has paired up with Reed Wollenzein in duo interpretation as well. They already notched a win in Corvallis.
The squad also features senior Ruby Davis, who placed in a couple of events at state last year
All told they have a team of 43 which includes 25 returning from last year's state championship team.  
Roe said the team grew across all grade levels and this year  — with 10 freshmen, 16 sophomores, eight juniors, and nine seniors.
Enthusiasm is high.
"They were coming in the first day of school wanting to practice," Roe said.
Younger members are also stepping up — Eleanor Smiley looks good in Impromptu; Kory Moran in Humorous Interpretation and Quinn Caudle and Chris Daenzer in public forum debate to name a few. They all took titles in Corvallis.
The team will also travel to Bozeman Nov. 10-11 and compete with some eastern Montana schools.
This is Roe's third season as head coach. She is assisted by Mikel Knutson, Ian Wheeler, Alix Major and Kavin Wickham.
Columbia Falls is hosting the State tournament Jan. 26-27 and is already signing up judges for the largest tournament of the year.
Folks interested in judging can contact Roe at: d_roe@cfmtschools.net
Recent Headlines
---