Rosey the Robot making life easier for wait staff at Nite Owl, Back Room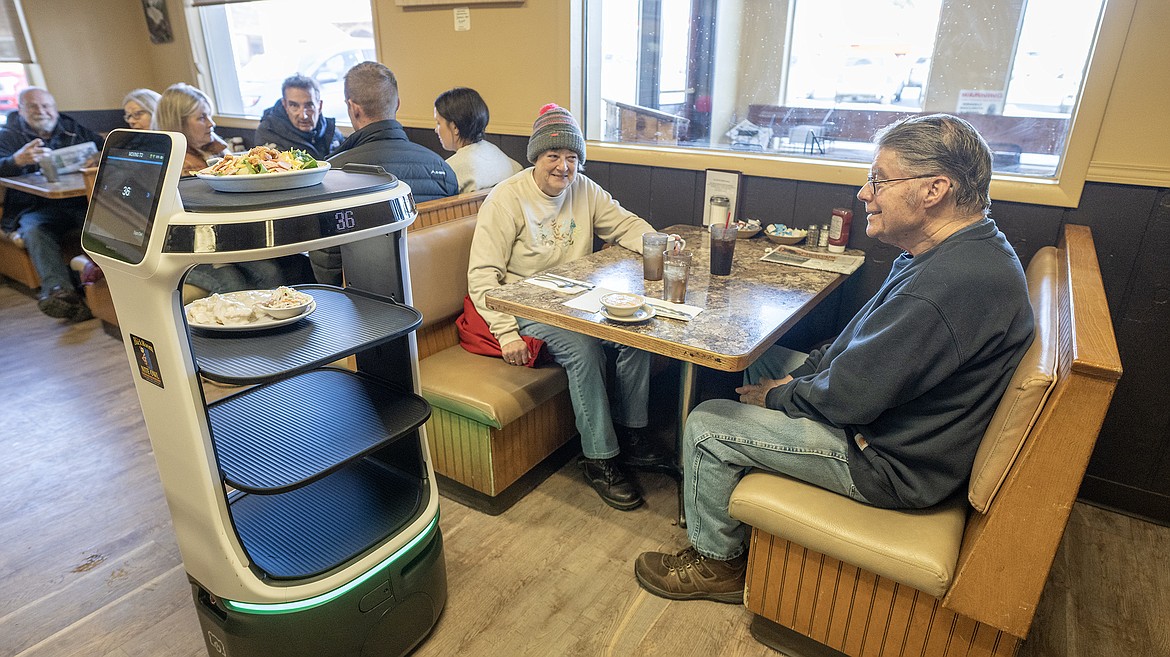 Deborah and Kenneth Beck are greeted by Rosey the Robot at the Nite Owl last week.(Chris Peterson photo)
Waitresses at the Nite Owl and Back Room Restaurants in Columbia Falls now have a helping hand in Rosey the Robot.
"It's a tool for waitresses to make life easier," co-owners Jay Marqueson and Jana Price said. "Its not to replace them."
The restaurants have used Rosey, named after the famous robot in the Jetsons cartoon, a little more than a week now.
And she's proven to be not just handy, but a hit with the customers.
Rosey is technically a Servi-Plus, built by Bear Robotics. Marqueson said a technician from the company spent about two days in the restaurant programming her so she knew her way around both the Back Room and the Nite Owl. She finds her way by GPS and knows the way to each table.
Rosie costs $600 a month to lease, Marqueson noted, with full support from Bear Robotics included. The only time she doesn't function is when she needs a charge or if the Internet goes out.
The robot comes in particularly handy if a waitress has a large table of customers. Delivering food to a table a eight, for example, can take several trips carrying multiple trays.
But now waitresses can load up Rosey, hit a couple of buttons to tell her which table to go to and she's off.
"Hello my name is Rosey," she says. "Please wait for your assistant to assist you."
Rosey is designed to not run into people and she'll even avoid brushing coats hung on the back of chairs. If she runs into trouble, she simply stops.
"I'm stuck," she says.
Most customers wait for the waitress to help take food off of Rosey, but others help themselves.
it makes waitressing much more efficient. For example, if a waitress wants to send ketchup over to a table that doesn't have any, she can just load up Rosey, or if a bartender has an order and needs food delivered, have a waitress put the order on her and send her over.
No more extra trips.
The  restaurant has about 15 wait staff, Marqueson and co-owner Jana Price said. Several  of them are older and Rosie makes it so they don't have to carry heavy trays, cutting down on back, neck, shoulder and knee strain.
"It doesn't take away from my job, it adds to what I do," said waitress Theresa Hosier.
After Rosey makes a delivery, she returns to "home."
She takes about 12 hours to fully charge, but they also plug her in when business is slow in the mid-afternoon.
The restaurants have a long history in Columbia Falls. Co-owner Steve Marqueson bought the Nite Owl in 1979 and the Back Room was built in 1984, formerly the VFW.
In 2005 the restaurants, which are connected, went through a major renovation, with expanded dining space and an overhaul of the kitchens.
Today, both restaurants have separate kitchen lines and dining rooms. The Back Room is famous for its slow-smoked ribs and chicken, while the Nite Owl centers more on diner fare.
Rosey can't climb stairs, but she can go up a ramp that connects the two.
Recent Headlines
---