Yesterdays: Ruder bear featured in Nat Geo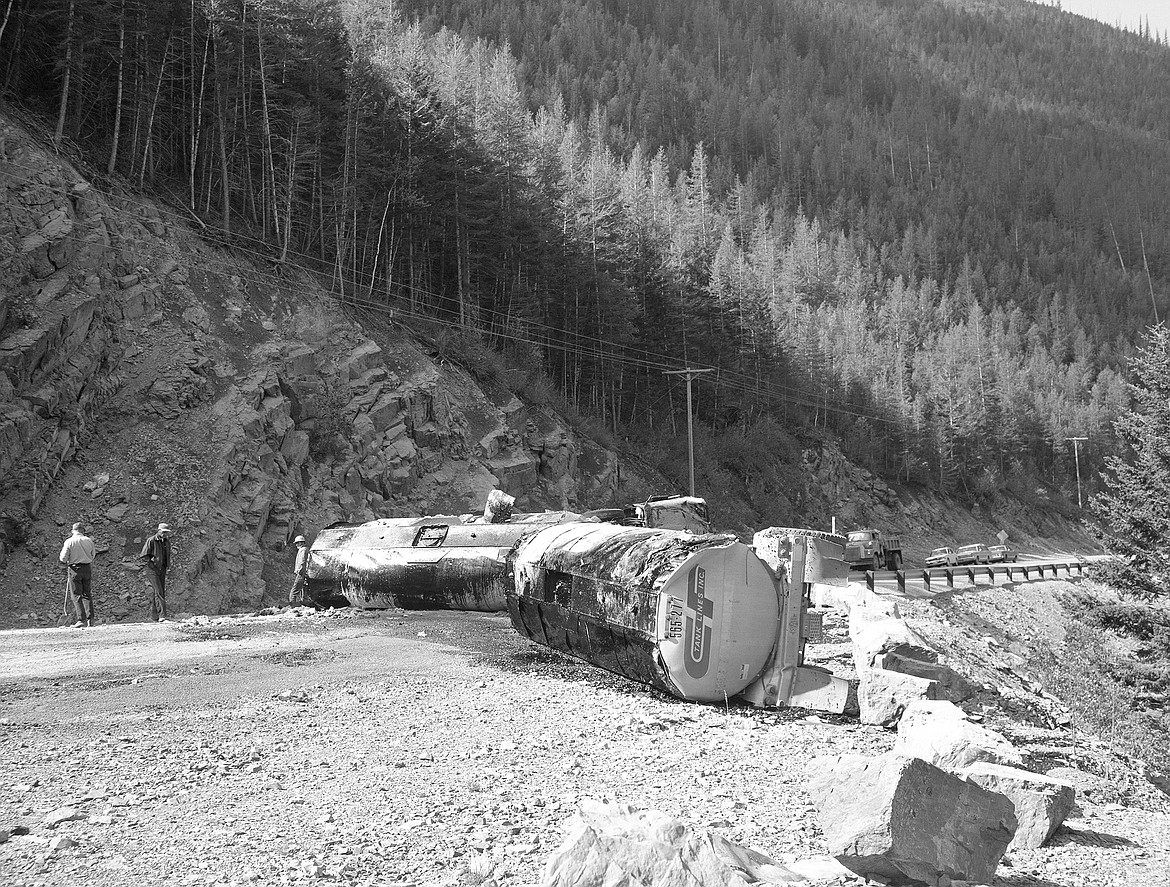 A tanker truck full of 7,900 gallons of road oil wrecked on Highway 2 east of West Glacier in May, 1973. The oil went into the road ditch and not the Middle Fork of the Flathead. (Mel Ruder photo)
by
Hungry Horse News
|
May 24, 2023 2:00 AM
70 years ago May 22, 1953
The Flathead National Forest was fighting spruce bark beetles by cutting down some spruce trees, waiting for the beetles to infest them, then spraying the down trees with ethylene dibromide to kill the bugs. The story didn't explain how it would kill beetles that were on healthy trees.
60 years ago May 24, 1963
Boy Scouts from Columbia Falls planted 800 spruce trees up Emery Creek. Snow plows in Glacier National Park had crossed Logan Pass. May was warm and unusually dry, with humidity levels closer to July than May, forest officials said.
50 years ago May 25, 1973
The Class of 1973 had 162 seniors. The class of 2023 in Columbia Falls has about 155, give or take. Logan Pass would open June 1, Glacier Park announced. They were still surveying snow at Logan Pass. An arsonist set the Bigfork Grade School on fire. It caused about $75,000 in damage.
40 years ago May 26, 1983
Editor Emeritus Mel Ruder recalled 47 years of taking bear pictures. His first bear pictures were from Yellowstone National Park. The most notable, perhaps, was one of Gertie, a blonde black bear, that was a full page spread in National Geographic in 1956.
30 years ago May 27, 1993
Then Gov. Marc Racicot pitched his idea of a 4% sales tax to to high school students in Columbia Falls. In return, Racicot claimed, homeowners would see a property tax rebate.
20 years ago May 22, 2003
A mule deer buck got into the basement of the Columbia Falls Aluminum Co, plant. The massive building had a huge basement and it took a couple of hours to corner the deer where biologist Eric Wenum of Montana Fish, Wildlife and Parks was able to shoot it with a tranquilizer dart. Crews then removed it.
10 years ago May 29, 2013
The Columbia Falls softball team took third at the state A tournament. The Wildkats lost to Polson in the consolation bracket. They ended up with a 17-10 record.
Recent Headlines
---