The Comfort of Generations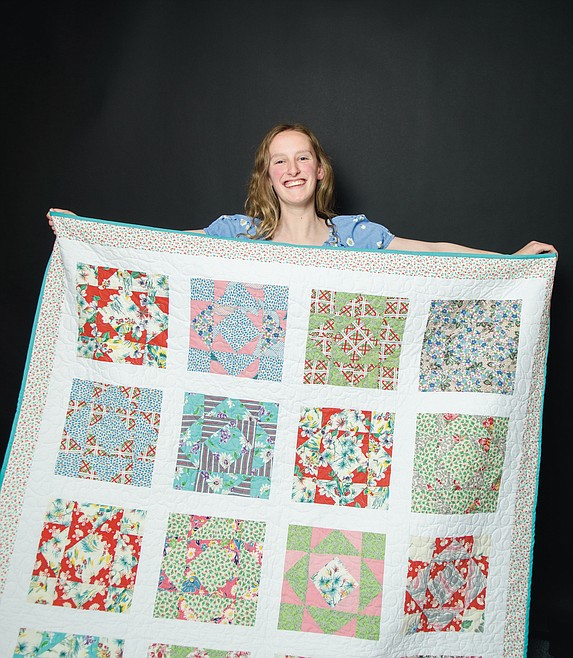 Madison Ypma with her quilt made from blocks sewn from Depression-era flour sacks. (Chris Peterson photo)
by
CHRIS PETERSON
Editor
|
May 24, 2023 2:00 AM
Years ago, Madison Ypma's great-great grandmother Ida Brock Sterling sewed together blocks for a quilt.
It was the midst of the Great Depression and Sterling hand sewed the blocks — squares of cloth — from bags used to carry flour.
The cloth was not what one would expect. It was not the drab gray or burlap used in most bags at the time.
The flour companies learned people were using the fabric for clothing, so they started making the bags with intricate and delightful patterns. Some even showed scenes of people on faraway islands.
But for whatever reason, perhaps the hardships of those years, Sterling never did make a quilt from the blocks.
But she did save them.
She handed them down to her daughter, who, in turn, rolled them up and gave them to her daughter.
Then the young Ypma came along. She started quilting at age 10, as part of a 4-H project at the time. Over the years she's made several quilts, gotten good at it. Ypma is full of energy and smiles and this winter, her grandmother, Sandy Diede, who also taught her very much about sewing, gave her Sterling's blocks.
Ypma went to work — finishing the quilt that great-great grandma Sterling started nearly 100 years ago.
Ypma said she sewed the quilt as part of a greater senior project for her English class. She started in January on the quilt and just recently finished it. While most was done on a machine — a Singer Featherweight — she hand sewed the boundary.
You have to hand sew the boundary, she explained, or the seams show.
It's been a fun experience, drawing on the family history of sewing and keeping the heritage of her family alive in a functional piece of art.
"I think it's fun." Ypma said of quilting. "It takes a long time. When you get it done you get to see the final product. That's my favorite part."
The daughter of Troy and Hilary Ypma, she will graduate from Columbia Falls with honors (she has a 4.1 grade point average) in June. She's the oldest child in the family — she has three younger brothers.
In August, she plans on attending Crown College in Minnesota, where the plan is to get a degree in education and hopefully, return to teach in the valley — her mother is a Spanish teacher at the high school and her father is an optometrist here.
Ypma credits Sherry Madsen for helping her get her start in quilting. Madsen was her 4-H leader in her youth. Ypma was involved in a variety of other activities growing up. She raised pigs as 4-H projects and saved the money for college; she was on the swim team and she sang for the high school's highest choir — the Sonifers.
For youth interested in quilting, she has some simple advice.
"Don't get discouraged," she said. "It takes some time. It doesn't get done overnight."
A life lesson if there ever was one.
Recent Headlines
---