Bad Rock firefighters save home, but barn, shop destroyed in early morning blaze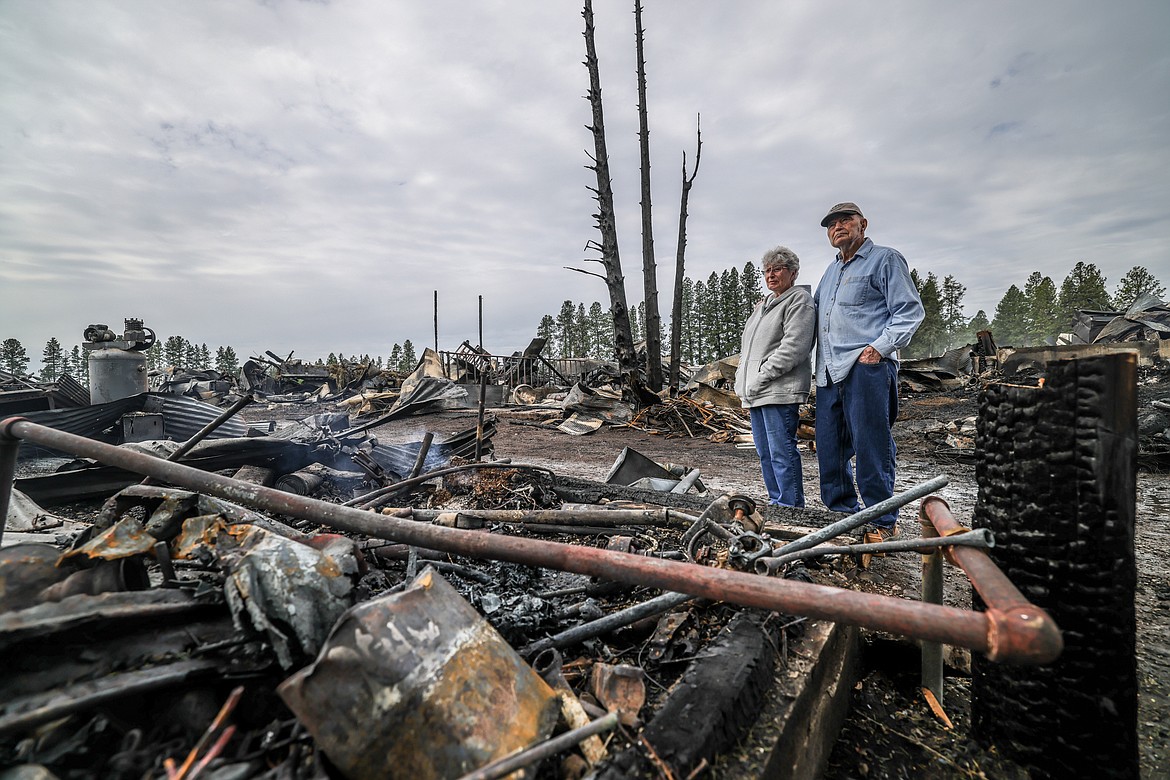 Gail and Ivan Tyler look out at the remains of their barn and workshop after a fire burned the buildings on May 24. (JP Edge photo)
A fire destroyed a barn and a garage with hundreds of thousands of dollars of equipment inside early this morning.
Bad Rock Fire Chief Kirk Katzenmeyer said the call came in about 2:17 a.m. at the Tyler farm on Tyler Farm Lane, which is off Columbia Falls Stage Road.
The barn was fully engulfed when firefighters arrived a few minutes later. The first trucks were able to keep the blaze from spreading to Ivan and Gail Tyler's home, which was about 10 feet away from the barn, but the barn and a shop near the barn were a total loss.
Katzenmeyer said the fire was caused by a heat lamp in the barn used to keep chicks warm.
There were no injuries in the fire.
The barn contained a combine, large tractors, and trucks for hauling grain as well as a pickup and a host of other equipment.
When Ivan noticed the fire he was able to save a Suburban SUV out of the garage as the fire burned all around him and filled the vehicle with smoke, Katzenmeyer said.
Columbia Falls, Creston, Hungry Horse-Martin City, Evergreen and Whitefish all responded with mutual aid.
Firefighters filled up tankers from a hydrant in Columbia Falls to battle the fire.
The Tylers were without power and natural gas, as the fire damaged the connections to the house. They were working on getting them fixed.
Firefighters cleared the scene about noon, Katzenmeyer said.
Recent Headlines
---