Tennis heads to Libby for divisionals this week
The Columbia Falls tennis teams wrapped up the regular season on Saturday with matches against Corvallis and Hamilton at home.
Corvallis edged the girls 4-3 and the boys 5-2, but the Wildcats edged Hamilton 4-3 on both counts.
In girls singles, Cloey Ramage dropped Corvallis's Ava Wilcox, 6-2, 6-0 and Lexi Oberholtzer beat Sophie Jessop, 6-1, 6-0. The girls got the third win on a forfeit.
In boys singles, Conner Malmberg dropped Atticus Chavez, 6-2, 6-2 and Oliver McDonald beat Christian Giriden 5-7, 6-3, (10-2).
Against Hamilton, Ramage beat Ciara Hunley, 2-6, 6-3, (10-1) and Oberholtzer beat Charlie Holmes 6-4, 0-6, (10-7). Zoey Byrd got a W against Codie Clarke, 6-1, 4-6, (10-8) and Aliyah Arends dropped Jasmine Jimenez 6-4, 6-2.
On the boys' side Jax Ramage beat Jacob Rollins, 6-2, 6-2 ; Malmberg beat Kyle Pearce, 6-5 (7-5).
In doubles, Logan Heupel / Will Pickard beat Finn Dufresne / Jason Chaplin 6-1, 6-3, and Colton Little / Jaegar Mohr beat Micah Won Sickle / AB Schroehke, 6-1, 6-2 for the Wildcats.
The teams now compete at the divisional tourney in Libby this week, which will determine the state seedings.
The state tourney is in Missoula this year.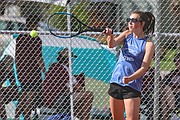 Recent Headlines
---