New Badrock baseball team off to hot start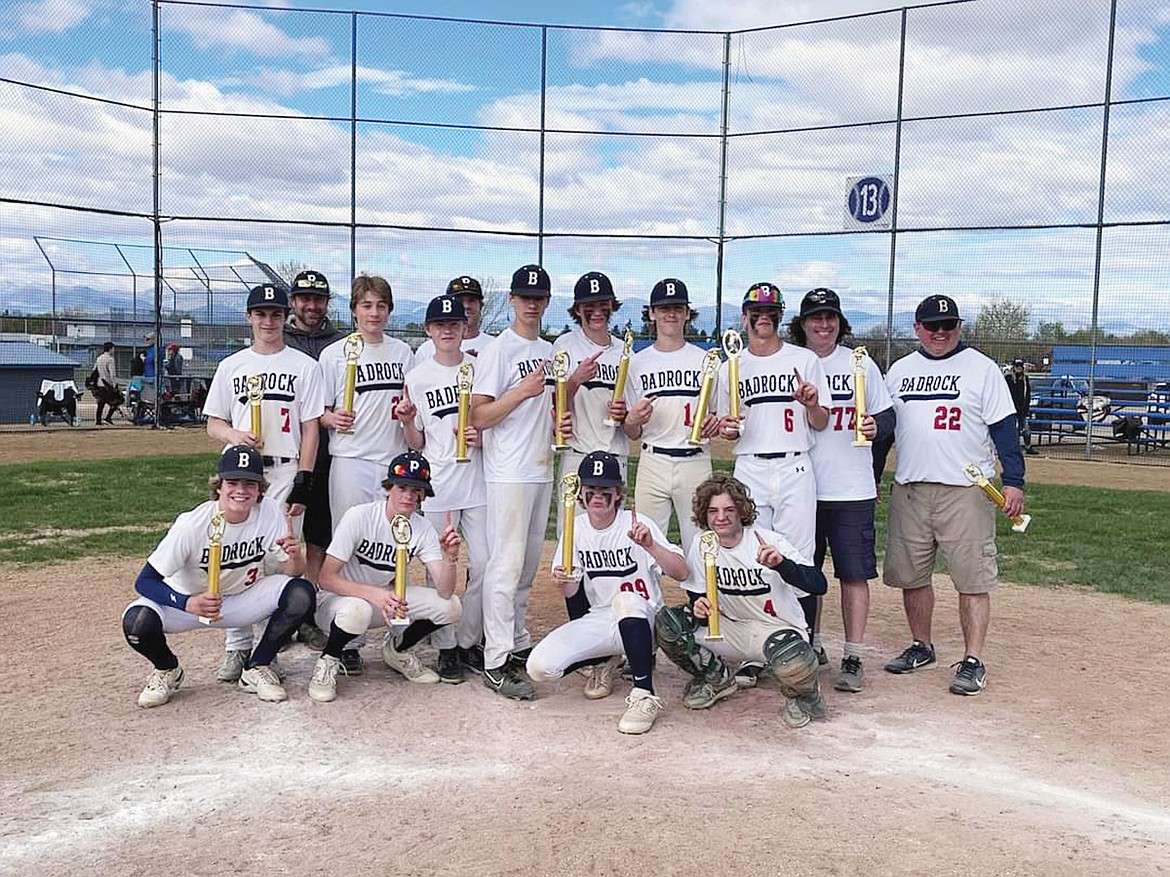 The Bad Rock baseball team won the Mother's Day tourney. Bottom row from left, Luke Dalen, Drew Queen, Carter Godsey, Will Sisson; second row. Ashtyn Mintz, Gustav Alevizos, Cullen Wallace, Jett Pitts, Talus Piatowski, Jory Hill, Bear Barker, assistant Coach Josh Mintz head coach Ray Queen; back row assistant coach Rich Piatowski. (Photo provided)
by
Ray Queen
|
May 17, 2023 2:00 AM
Badrock Baseball, a new North Valley travel baseball program, is up and coming and winning.  Last weekend Badrock Baseball 14U team won the Helena 15U Mothers Day Tournament on Sunday after winning six straight games in two days.  Through pool play, Badrock pounded the baseball ending each game early with 10-run mercy rules.  On Sunday Badrock opened up with Missoula winning 14-3 then facing a tough Legion B Squad from Tri County from Conrad-Shelby-Cut Bank. This game was a pitcher's dual as Badrock Baseball had Jory Hill on the mound for four solid innings and Carter Godsey coming in to close the game out winning, 2-1.
Ashytn Mintz had the gamewinning RBI.   Badrock moved to the championship game against a very tough and large team of 15-year-olds Billings Upper Deck Expos that had been dominating the tournament as the No. 1 seed followed with Badrock at No. 2.  Badrock 14U weathered a push by Upper Deck Expos in the third inning where Badrock coughed up four runs, but  still won 9-7 for its third win of the day and the championship.  Both pitching staffs had their hands full, frequently dealing with runners on base.  Badrock collected 8 hits and Upper Deck had 7 hits.  Upper Deck Expos opened up an early lead in the first inning when VanDeale singled on the first pitch of his at bat scoring one run.  Badrock took the lead for good with four runs in the fourth inning. In the fourth, Cullen Wallace singled on a 2-0 count, scoring one run, an error scored one run for Badrock. 
Drew Queen drew a walk scoring one run and Godsey was struck by the pitch driving in the run. 
Jett Pitts was on the hill hurling the complete game for the W allowing 7 runs on 7 hits and striking out 10.
Car was on the hill for Upper deck surrendering 8 runs on 6 hits over 3-2/3 innings, striking out two. 
Drew Queen went 2 for 3 at the plate to lead Badrock in hits.
Badrock will soon be an additional team out on the field this  after high school baseball is complete. This will be a 16-plus age group  The Badrock team is made up players from Columbia Falls and Whitefish. Badrock 16U will travel to Butte and Lewistown for two American Legion Class Tournaments and wrapping up their season at Gonzaga University for a four-day camp and two doubleheaders in two days  at Gonzaga and Whitworth Universities Baseball Complex. 
This is a different approach creating a travel team that feeds a good steady diet of above average pitching and opponents that may be older and them pushing them to play at an entirely different level.  Players for the 16U Badrockers includes  Columbia Falls High School starting short stop Reggie Sapa. Whitefish brings a slew of players including Christian Schwaderer who played varsity for the Bulldogs, Cal Eisenbarth, Logan Conklin, Brady Howke, Avery Cutan and company. 
Recent Headlines
---