Maas gets 80 years for murdering Wagoner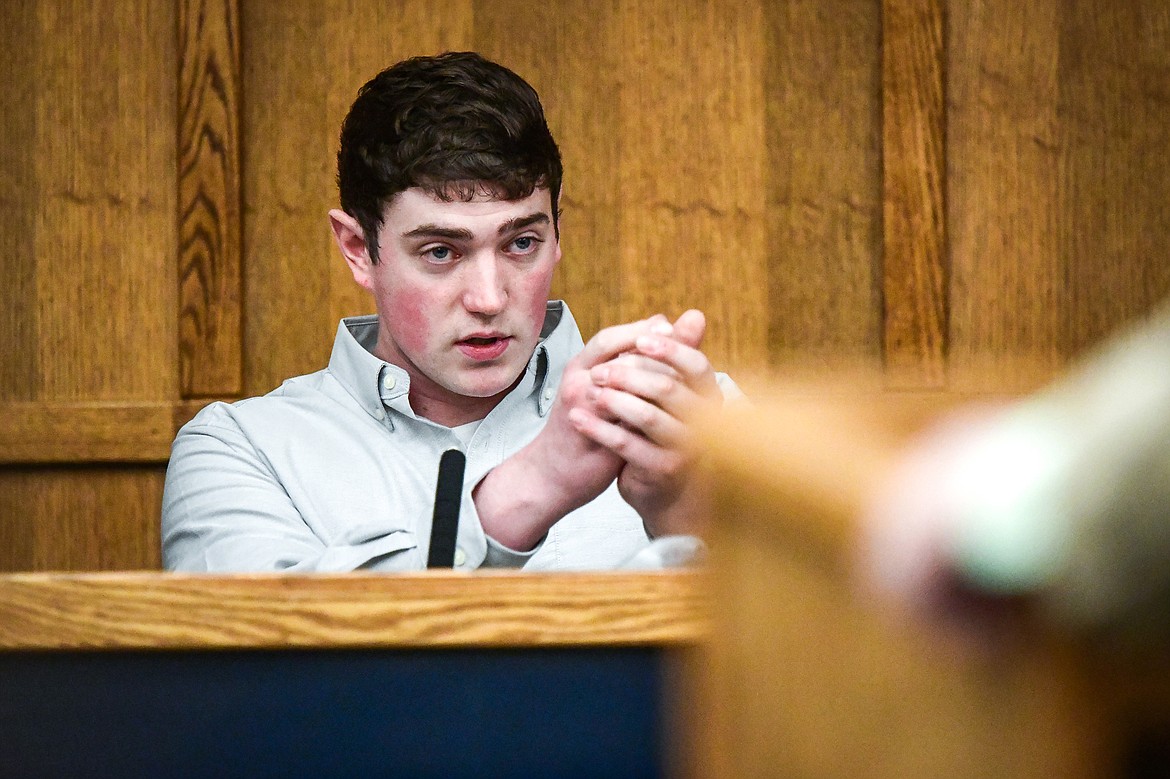 Zackary Matthew Maas testifies about the act of shooting Gabriel Wagoner during his deliberate homicide trial in Flathead County District Court on Wednesday, March 15. (Casey Kreider/Daily Inter Lake)
by
DERRICK PERKINS
Hagadone News Network
|
May 17, 2023 2:00 AM
Judge Dan Wilson sentenced convicted killer Zackary Matthew Maas to 80 years behind bars Thursday, describing the 26-year-old as a threat to society and suffering from an undeservedly heightened sense of self-worth.
"This overweening self-esteem … results in Mr. Maas having no meaningful or substantial means of self-control," Wilson said during the mid-morning May 11 sentencing in Flathead County District Court.
A jury found Maas guilty of deliberate homicide for the 2022 murder of Gabriel Wagoner in Kalispell following a four-day trial in March. His defense attorney, Stephen Nardi, unsuccessfully argued that Maas shot Wagoner in the back in self-defense after the older man threatened Maas' accomplice with a baseball bat.
But the jury sided with the prosecution, who argued that Maas entered Wagoner's 700 block First Avenue West home armed and without warning in the middle of the night, looking for satisfaction. Maas, they said, believed Wagoner orchestrated the theft of goods from his father's home. Maas had indicated via text and social media messages to friends, copies of which were later given to the jury, that he would exact revenge.
Although he initially survived the shooting that left him paralyzed, Wagoner eventually succumbed to his injuries in a Seattle hospital. He repeatedly identified Maas, who stepped over a bleeding Wagoner to flee the scene with his friend, as the shooter, according to courtroom testimony.
In crafting his sentence, Wilson said he took into account Maas' family support as a potential mitigating factor but weighed that against his character, irresponsible use of a firearm, his embracing of vigilantism to solve an alleged crime, and Wagoner's suffering as well as Maas' attempt to escape the Flathead County Detention Center after his conviction.
"Mr. Maas has demonstrated through conduct and for his plan to escape … the attitude that is more often attributed to gangsters," Wilson said.
Authorities found out about his escape plan, which included disabling a detention center officer, Wilson said, through intercepted letters with his fiancee.
Wilson also ordered Maas to pay $2,400 in restitution to Wagoner's mother, Sheri Lee, and gave him credit for 396 days of time served.
NARDI FOCUSED on Maas' struggles with drug addiction, particularly to methamphetamine, prior to learning Wilson's sentence. He called Maas' older sister, mother and father to the stand to testify to the 26-year-old's inner demons as well as the good he could do in the community if properly rehabilitated.
All three described Maas as a sweet and loving child who got into trouble in his teens, possibly exacerbated by his parents' divorce.
"I know that has affected his whole entire being," said Renae Maas, his mother, of his addiction.
She urged the court to hand down a lessened sentence.
"I know he's not a murderer. He didn't go there that night to kill anyone. I know he has remorse," she said. "He's not someone who should be thrown away."
Stacy Maas Drees, Maas' eldest sister, acknowledged his immaturity, saying his drug abuse stunted his development and led to poor choices. If he were released, he would join family and focus on rehabilitation, she said, asking that he receive a lengthy probation for the crime.
"I think he is ready to change his behavior," Drees said.
Deputy County Attorney Ashley Frechette, meanwhile, called upon Wagoner's close family to testify at the hearing.
"Life has ups and downs. And I'm sorry that these things have to take place in life," Sheri Lee said. "I do want you to serve your time in this matter."
She described how Wagoner welcomed a much-younger Maas into his life during his romantic relationship with the 26-year-old's mother. Maas knew Wagoner as a stepfather, according to testimony during the trial. Wagoner, Lee said, even taught Maas how to shoot at her ranch.
"He loved you," she told Maas.
"I am grateful you're alive today," Sheri Lee added. "I forgive you for your actions, but I hope you come to know a higher self, a better self, in your time in [prison]."
Wade Wagoner, Gabriel Wagoner's brother, told the court he struggled to describe how the killing had affected him.
"I just want to forgive and I hope that all parties involved can move forward with forgiveness for themselves and others," he said.
MAAS OFFERED a short statement to the court, expressing regret and remorse for Wagoner's death.
"I wish more than anything that I wouldn't have brought my gun with me," he said of that night in March 2022.
Were he given a second chance, he would stay on the straight and narrow, Maas said. He never intended to kill Wagoner and fired only when Wagoner threatened his friend, Maas said, touching upon his self-defense ploy.
"The whole thing was a nightmare," Maas said from the defendant's table, flanked by detention center officers.
Wilson, though, rejected Maas' version of events and admonished him for clinging to what the judge described as a fiction.
Running through the evidence presented during the trial, including the fact that Wagoner was shot in the back and the cramped confines of the stairwell leading up from the basement apartment made it impractical for Wagoner to swing a bat, Wilson concluded Maas concocted the tale.
"The self-defense theory is a fabrication and is so implausible, so improbable as to be nearly impossible to have occurred," Wilson said.
He rebuked Maas for repeating it on the witness stand during the trial and airing it again during sentencing.
"This self-defense theory was … an after-the-fact falsehood, deliberately crafted in an attempt to avoid criminal responsibility …," Wilson said as Maas looked straight ahead, eyes occasionally blinking.
Wilson questioned whether Maas took any responsibility for the killing or felt any remorse for Wagoner's death. Prosecutors had asked that Maas receive 60 years behind bars for the slaying; Wilson's sentence exceeded that request by two decades.
"The craven attitude Mr. Maas displayed by walking over the writhing body of the victim and running away … leaves the court with the [impression] that Mr. Maas does not possess a conscience," Wilson said.
Recent Headlines
---