Baseball team finishes tough inaugural season at 8-5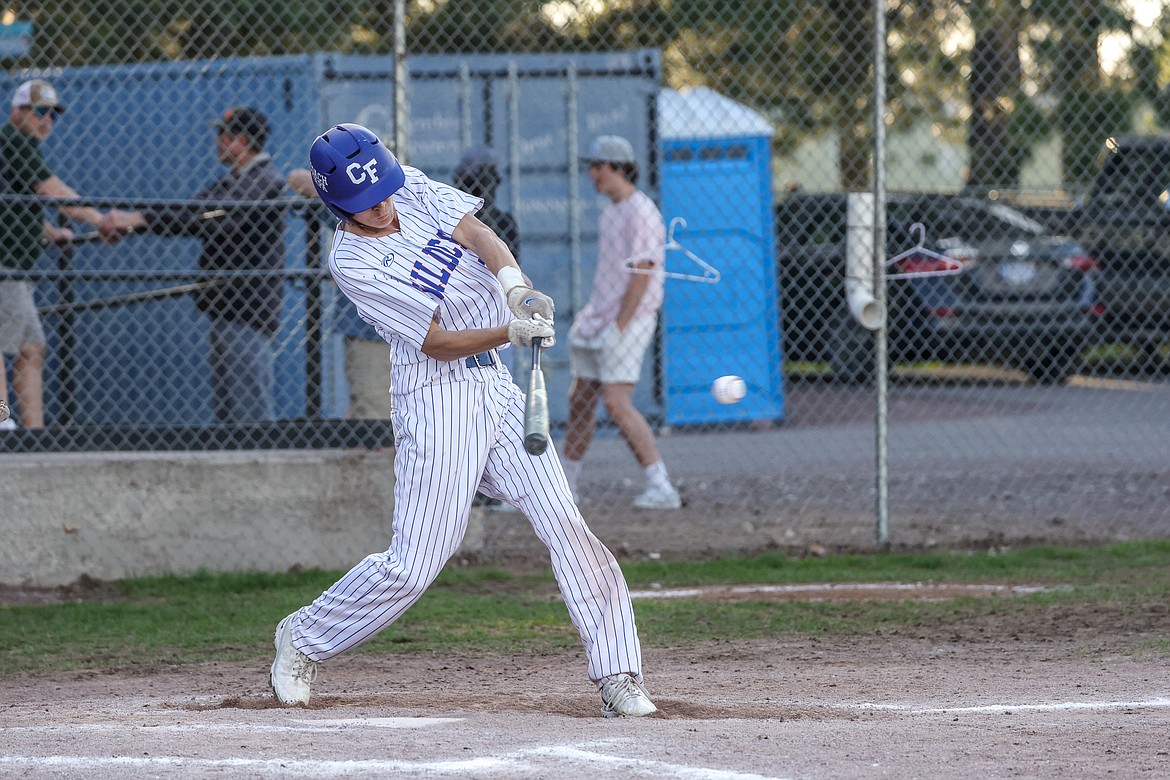 Jace Hill makes contact at the plate against the Bulldogs. (JP Edge photo)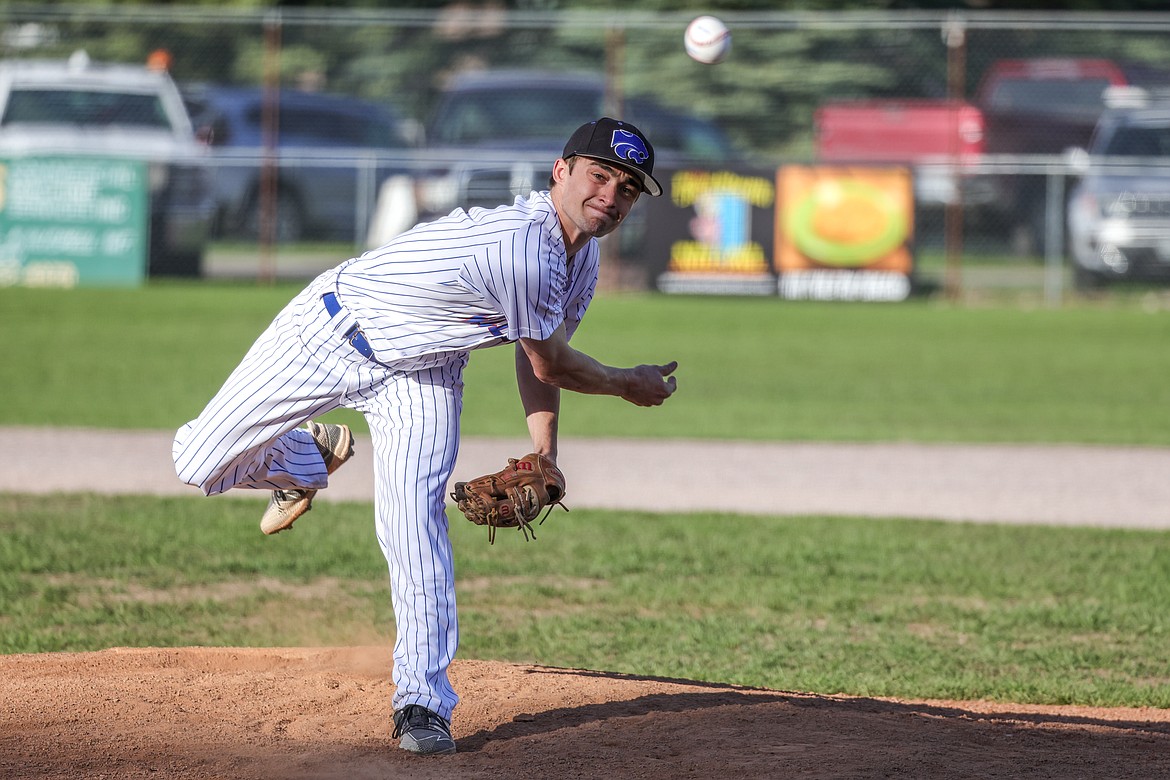 Kellen Kroger throws at home against Whitefish last week. (JP Edge photo)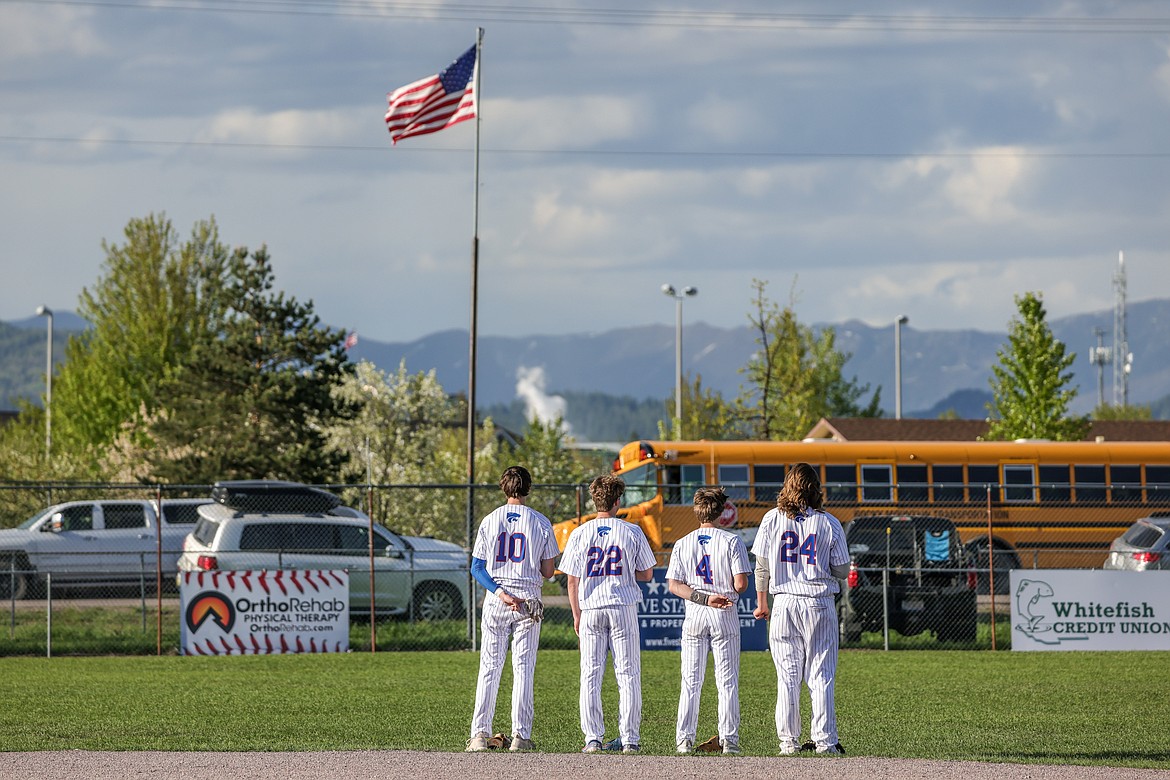 Dayne Tu, Reggie Sapa, Dominick Younf and Cody Schweikert during the pledge of allegiance last week against Whitefish. (JP Edge photo)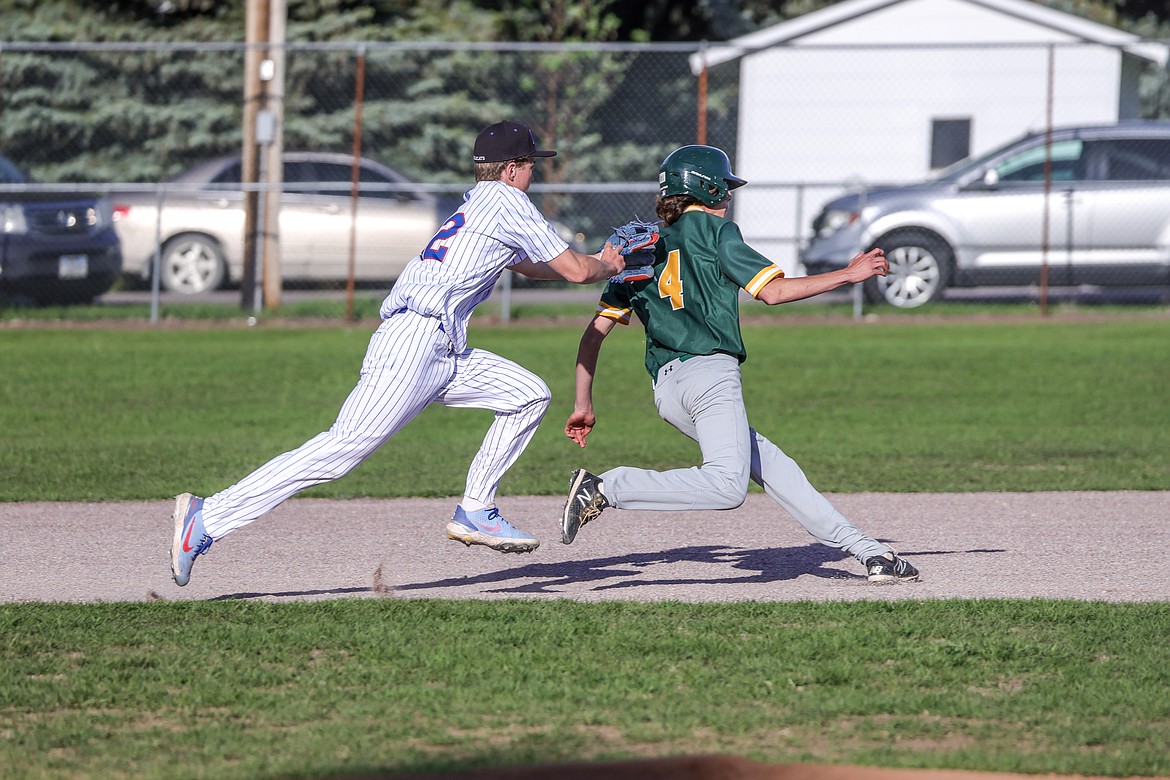 Reggie Sapa tags a pickled Whitefish runner out at home last week. (JP Edge photo)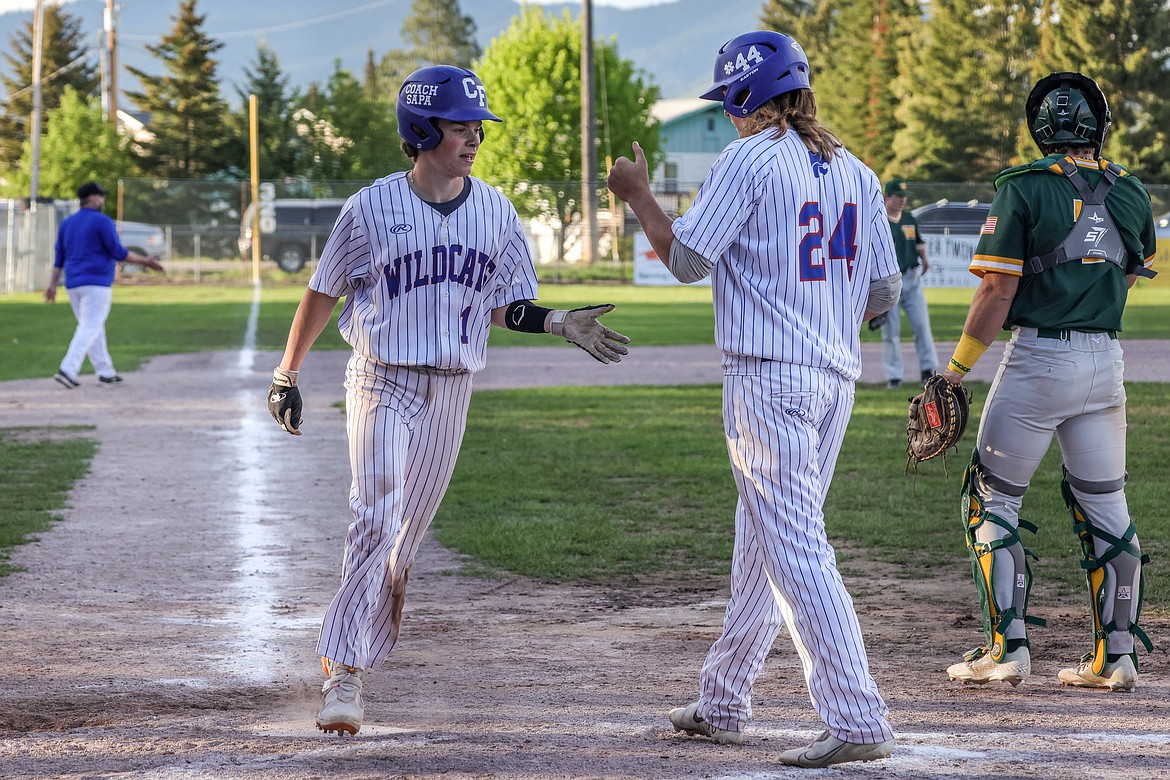 Cody Schweikert congratulates Dawson Juntunen on a run at home last week against Whitefish. (JP Edge photo)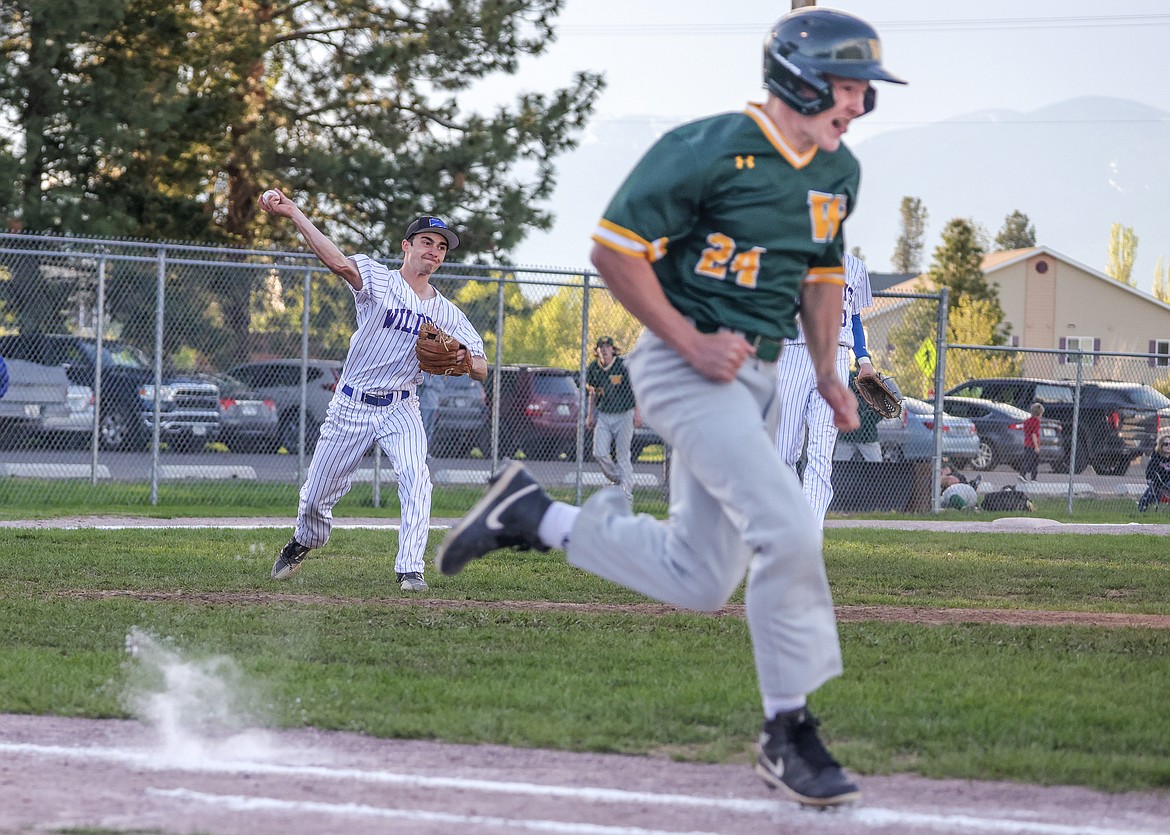 Kellen Kroger throws a Whitefish runner out at first. (JP Edge photo)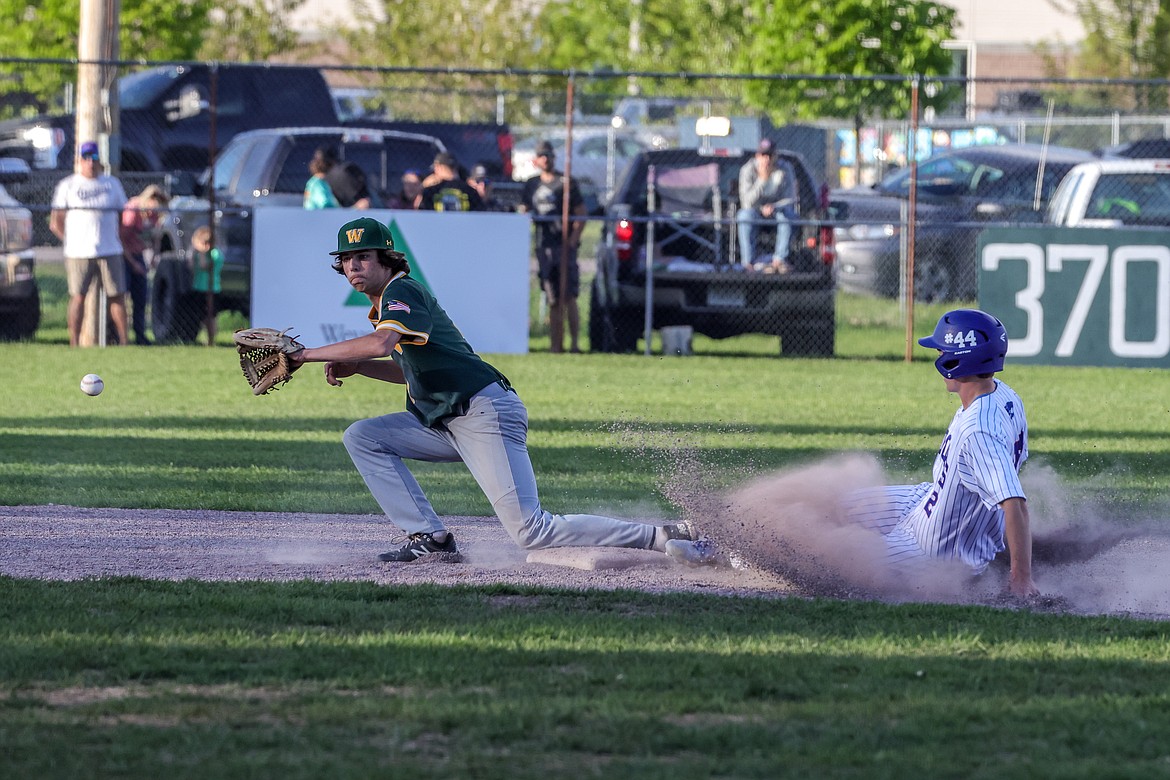 Reggie Sapa safely slides into second by a hair. (JP Edge photo)
Previous
Next
by
Hungry Horse News
|
May 17, 2023 2:00 AM
The Columbia Falls baseball team wrapped up its inaugural season going 1-2 in its final week.
The Wildcats missed a berth to the state tournament by virtue of a run-differential tie against Eureka.
The Cats finished 8-5 on a tough inaugural season that saw them lose beloved coach Bill Sapa, who died of natural causes at his home just two games into the season.
Assistant Coach Scott Corbett took over as head coach for the season.
The team dedicated the season to Sapa's memory. They were in all their games — oftentimes coming up just short on those they didn't win.
Last week the squad lost to Whitefish 5-4, coming back from a four-run deficit with a three-run rally in the bottom of the sixth. With two on and one out, Talon Murphy lined into a fielder's choice to bring a run across, then Mark Robison knocked in a run on an error on a ground ball to make it 5-3. Robison would later score after Nico Young was hit by a pitch.
But they couldn't muster a run in the bottom of the seventh for the tie to send it to extra innings.
At the Sapa-Johnsrud tourney at home, they lost to Hamilton 7-3. That game was knotted up at one apiece, but Hamilton put up six runs in the top of the sixth. The Cats would add two in the bottom of the seventh, but that's as close as they would get.
Against Corvallis with the game tied at one apiece, the Cats put up three runs in the third and then held on the victory to cap off the season.
Talon Murphy went the distance on the mound, striking out eight.
Dayne Tu, Cody Schweikert and Josiah Kilman all had hits to lead the Cats.
Recent Headlines
---