Close call on Sun Road as rock hits fuel truck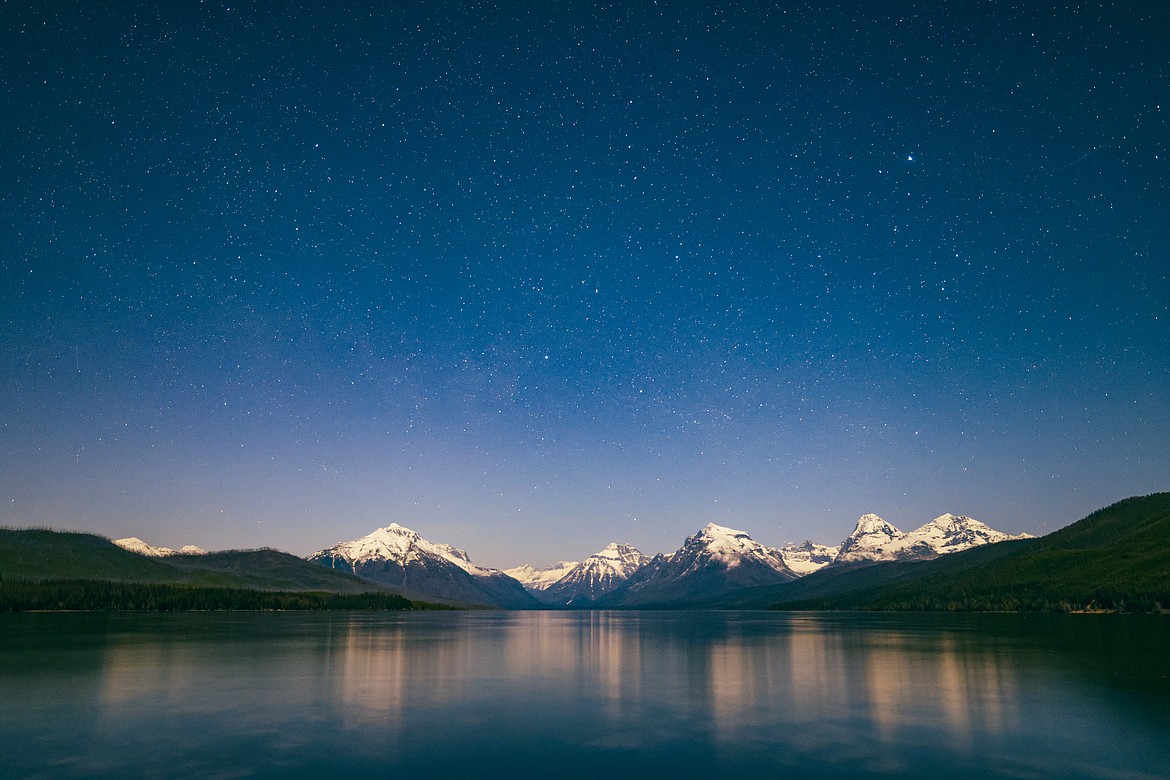 Night skies over Lake McDonald last week. (JP Edge photo)
by
CHRIS PETERSON
Editor
|
May 3, 2023 2:00 AM
Glacier Park Engineering Equipment Operator Herb Ferguson recently had a close call on the Going-to-the-Sun Road.
Last Tuesday when driving a fuel truck on the road, a rock hit and broke the passenger-side windshield and damaged the hood. Ferguson was uninjured, said Glacier National Park spokeswoman Gina Kerzman, but the truck has some obvious dents.
Rock fall is just one of the many hazards crews face when plowing the road. They also have to be wary of avalanches and going off the side of the narrow highway, which has faces that plummet often straight down in several places hundreds of feet.
Rockfall aside, Kerzman said as of late last week they were through a section called the Alps and to Grouse Point, which is mile marker 28, or about five miles to Logan Pass.
The weather looks to be favorable this week, until this weekend, when it's expected to get wetter and cooler.
The road will open to hikers and bikers at 6 a.m. May 5, though the park isn't sure if the road closure will be at Avalanche Creek or Lake McDonald Lodge.
A utilities project is nearly finished, but the road will undergo reconstruction from the foot of Lake McDonald to the North Lake McDonald Road this summer.
Folks should expect up to 30 minute delays in the construction zone.
In other road news, the Quarter Circle Bridge Road opened to vehicles last week. The road provides access to the Apgar Mountain Lookout Trailhead, which is a popular early-season jaunt as it melts out sooner than most high elevation trails.
The Two Medicine Road is open to vehicles as well. They'll now transition to the Sun Road on the east side.
The two crews typically meet at the Big Drift, just east of Logan Pass.
Boating opens in Glacier on the Sunday. All watercraft must be inspected first. Folks with motorized boats can have their boat inspected outside the park at a Montana Fish, Wildlife and Parks inspection site early if they wish.
The Park honors motorized watercraft inspections and seals from Montana State, Whitefish Lake, Confederated Salish and Kootenai Tribes, Blackfeet Tribe, and Waterton Lakes National Park, following a 30-day quarantine. Dated sealing documentation must be presented prior to launching.
Non-motorized watercraft can be inspected the day of launch at the inspection station at Apgar. The North Fork also plans to have an inspection station and Kerzman said the plan is to have inspection stations at St. Mary and Two Medicine this year.
Boaters are also reminded they must have a life jacket before embarking on a trip.
The east side was not open to boaters last year as the person the Park Service hired quit just before the season opened.
Recent Headlines
---