Yesterday: Mysterious flash across the night sky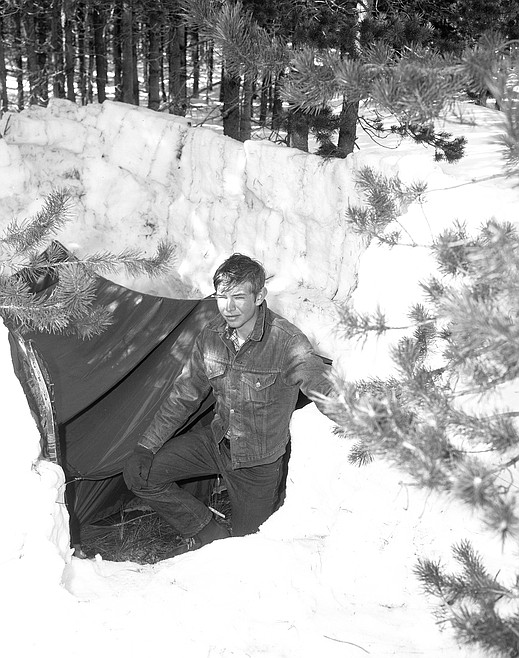 Young Steve Higgins camping in the snow in Many Glacier, March 24, 1973. (Mel Ruder photo)
70 years ago
March 13, 1953
Seventeen companies were bidding on the contract to construct the Anaconda Aluminum Co. Meanwhile, homes for company brass were under construction in Columbia Falls. The Flathead Valley had its first thunderstorm of the year.
60 years ago
March 15, 1963
A large flash of light across the skies from Missoula to Canada and as far west as Thompson Falls lit up the sky. The military gave no clues as to the flash of light. The community was giving the boys basketball team a free steak dinner. The cost was $82. They were competing in the state tournament after taking the Western B title.
50 years ago
March 16, 1973
R.A. (Toots) Rousselle caught a 17-pound, 10-ounce rainbow-cutthroat trout cross under the ice of Ashley Lake. The big fish was a considered a new state record. The trout took 45 minutes to land.
40 years ago
March 17, 1983
A sign advertised mortgage rates as low as 10%. Still, there was construction underway, with condos being built on Whitefish Lake and a long-planned convention center at Grouse Mountain Lodge underway as well.
30 years ago
March 18, 1993
Students were trying sex and drugs at an earlier age — it was now a problem with junior high school kids, even fifth-graders, a front page story noted.
20 years ago
March 13, 2003
The Columbia Falls boys basketball team won its first-ever state A championship, beating Billings Central in overtime, 53-47. Starters were Jeremy and Jesse Grilley, Eric Backes, Darin Nau and Tyler Jones. A donation by Plum Creek would make it possible for an historical mural to be painted on the south side of the Masonic Temple on Nucleus Avenue.
10 years ago
March 13, 2013
Glacier National Park and local astronomers were taking the first steps to make Glacier an International Dark Sky Park.
Recent Headlines
---