The Building is his Canvas
by
CHRIS PETERSON
Editor
|
March 15, 2023 2:00 AM
Grand vistas that many would recognize. Striking portraits. Wildlife on the move through the Montana landscape.
It's all of that and more as Whitefish artist Joel Niles paints the walls of the halls at 540 Nucleus Avenue. Niles was commissioned by the building's owner, Mick Ruis, last fall.
Niles has been hard at it ever since.
With a tonalist eye, Niles begins the work in charcoal and then paints over the charcoal with black paint, which makes the blacks all the more rich, in a technique called grisaille.
Niles said Ruis put no restrictions on the work, other than it be Montana-themed.
So Niles went to work, inspired by local landscapes that he hiked and visited growing up in the Flathead Valley and Glacier National Park.
"How often does an artist get a whole building as a canvas?" he said.
The top floor is murals of the high country — great mountain vistas of Glacier National Park along with a suite of high country creatures like mountain goats and bighorn sheep.
The second floor is the middle tier of the landscape, places like Bowman Lake and the surrounding landscape.
The third floor is the valleys, rife with wildlife like river otters Niles saw in Cedar Creek and a trumpeter swan in a local pond.
Perhaps some of the best work is portraits of native people — a Blackfeet hunter with a rifle on a horse out on the prairie, or a woman in a birch bark canoe.
The paintings are both detailed and broad-stroked, occupying the mind on two levels. The aspens feel like they're growing out of the walls.
Niles met Ruis long ago — when Ruis was his Little Guy Wrestling coach. He credits his high school art teacher Lonnie Collinsworth for instilling a love of art. Niles then attended Flathead Valley Community College were he was instructed by the likes of John Rollins and Columbia Falls tonalist Rachel Warner. He then studied at the Studio Art Center in Florence, Italy, for a semester.
Over the past 10 years or so, he's been working abroad in the arts through the Assembly of God Church, including a stint in El Salvador.
Niles said he's blessed to have free rein over his art in this project.
"Mick has been so generous to let me do this in his building," he said. "…It was really cool he gave me the freedom … He recognized other people's gifts and supported it."
Niles is still working on the bottom floor of the building and should have it done in the coming weeks. At some point, they'll likely have an opening so people can see the work in its finished form.
Niles said he hopes the paintings bring other commissions. He enjoys doing the large-scale work and would like to do oils of some of the pieces.
You can view Niles's work at his website at https://www.joelniles.com/ or on Instagram at nile.joel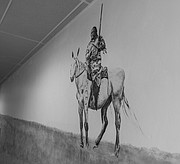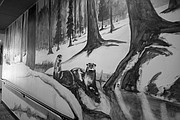 Recent Headlines
---