William George Armstrong, 89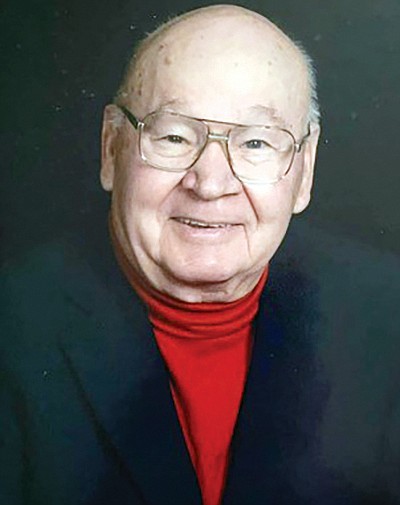 Columbia Falls --- William G. Armstrong.
Early on the morning of Feb. 19th, William G. (Bill) Armstrong, age 89, passed away surrounded by his loving family at this Tamarack Lane home. He was born Oct. 14, 1933 to George and Charlotte Armstrong in Cass Lake, Minnesota. Bill graduated from Cass Lake High School in May 1952.
On June 26, 1952, Bill and Mary Ann Glawe were married at the Immanuel Lutheran Church in Cass Lake.
Bill's early working years were spent mastering the logging and construction trades. With Montana calling their names, Mary and Bill moved their little family, Diane (3) and David (6 months) to Columbia Falls in 1955. Royal Logging hired Bill for their North Fork operations as a heavy equipment operator. In 1960, Bradley was born and the Armstrong family was now complete.
During the years that followed, Bill worked for Plum Creek and the Anaconda Aluminum Co. "Not one to just sit around doing nothing" Bill always found a second job to keep him busy; Over the years he drove truck for the propane company, remodeled and built homes and kitchen cabinets for friends and neighbors.
Always active in the community and Our Savior's Lutheran Church, Bill coached Little League Baseball, served in the U.S. Army Reserves and was the custodian for Our Savior's for 10 years.
Bill took to the skies in 1979 when he got his private pilot's license. He spent many hours at the Ferndale airport with his longtime friend, Bob Colby. Bill's hangar was his home away from home — full of hours repairing this Cessna and chatting with whomever might drop by.
In 1995 Mary and Bill began to build their retirement home on Tamarack Lane. After completing their "dream home" they spent time camping, fishing and taking several road trips to visit friends and family.
After recovering from his 2009 heart attack, Bill signed up as a substitute driver for the Daily Inter Lake and returned to his job at the church. Sadly, Bill was diagnosed with cancer in 2016. Being one to never give up, he endured surgeries, chemo, radiation, and immunotherapy without complaining and without losing his smile and witty sense of humor. This stage 4 cancer went into remission!
Early in 2022, our beloved husband, "daddy", grandpa and great grandpa was diagnosed with congestive heart failure. Despite several hospital stays and lots of modern medicine, Bill's 89 years of love, serving others, and hard work drew to a close. Under the loving care of Logan Hospice, Bill finished his earthly journey. Rest in peace, thy good and faithful servant.
He was preceded in death by his parents, brother Wylie Armstrong, sister Rose Ferdinand, son David Armstrong and nieces and nephews. Bill is survived by his wife Mary at the family home, daughter Diane (Allen) Lalum; son Bradley (Karla) Armstrong; five grandchildren- William (Amy Lalum) of Lake Stevens, Washington; Nathan (Dao Vu) Lalum of Otsego, Minnesota; Joshua Armstrong of Kalispell; Gabriel Armstrong of Columbia Falls and Sarah (Louis) Hylton of Kalispell and one Great Grandson, Wyatt Vu Lalum of Otsego, Minnesota.
The Memorial service will be March 4, 2023 11 a.m. at Our Savior's Lutheran Church, Columbia Falls, with lunch to follow in the fellowship hall. Inurnment will be held on later date at Woodlawn Cemetery in Columbia Falls.
Memorials may be given to Our Savior's Lutheran Church, Flathead County Animal Shelter or charity of your choice.
Recent Headlines
---