Girls fall short against Browning, but beat Loyola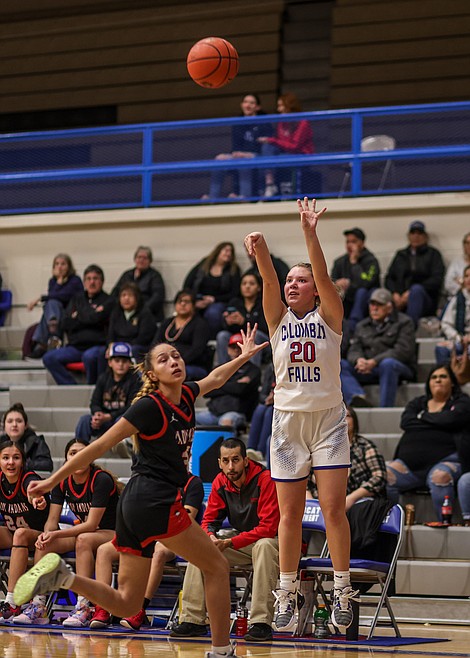 Sophomore Kierra Kemppainen takes a shot at home against Browning on Friday night. (JP Edge photo)
Junior Hope McAtee goes for a layup against Browning at home Friday night. (JP Edge photo)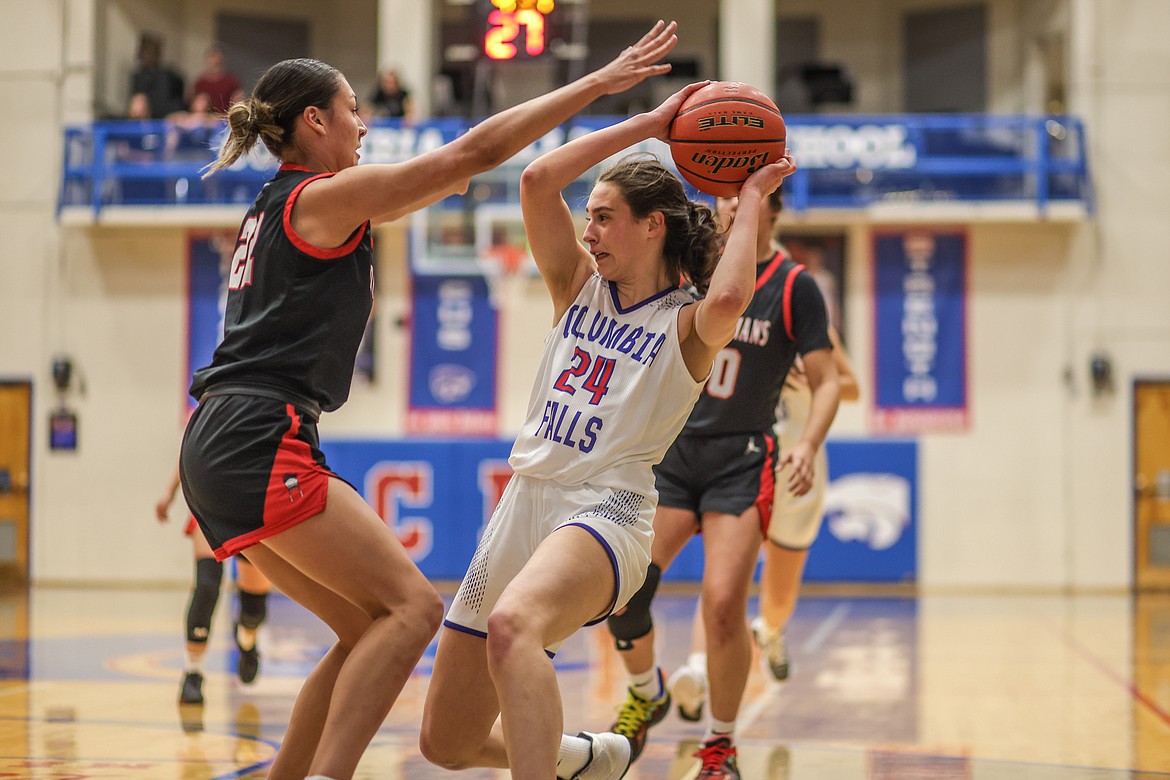 Junior Lexi Oberholtzer looks to pass at home on Friday against Browning. (JP Edge photo)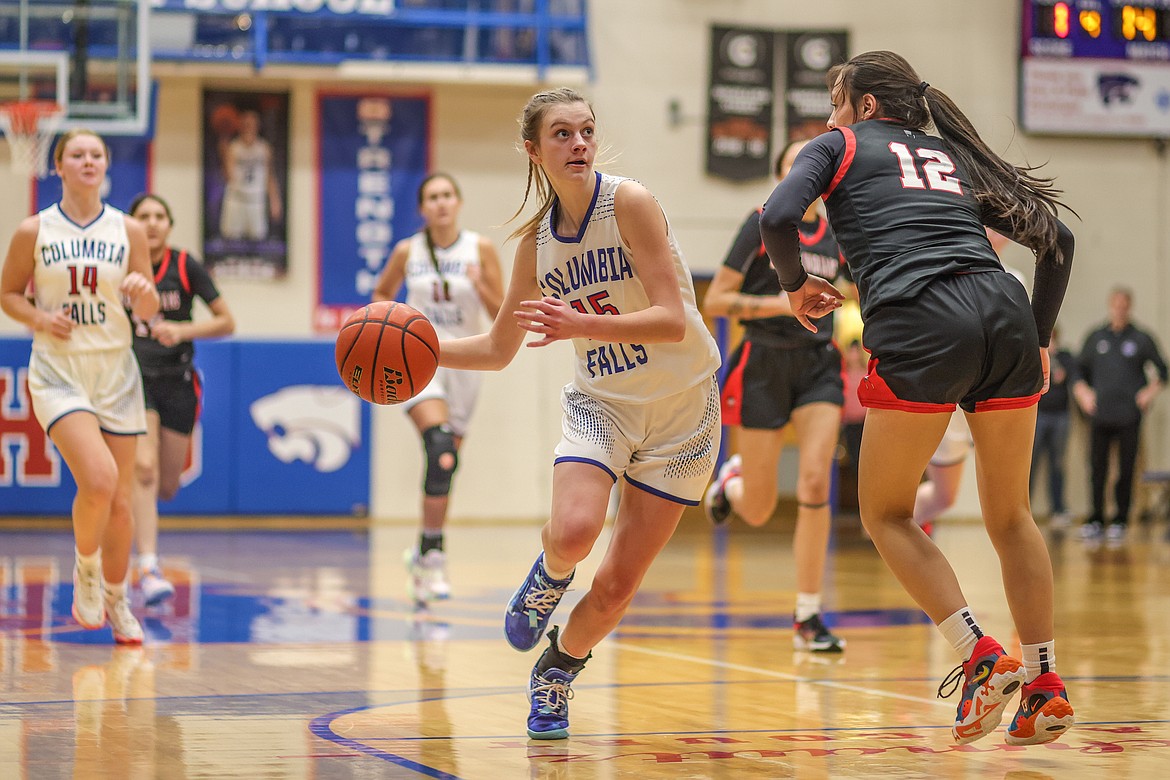 Sophomore Taryn Borgen heads into a layup on Friday at home. (JP Edge photo)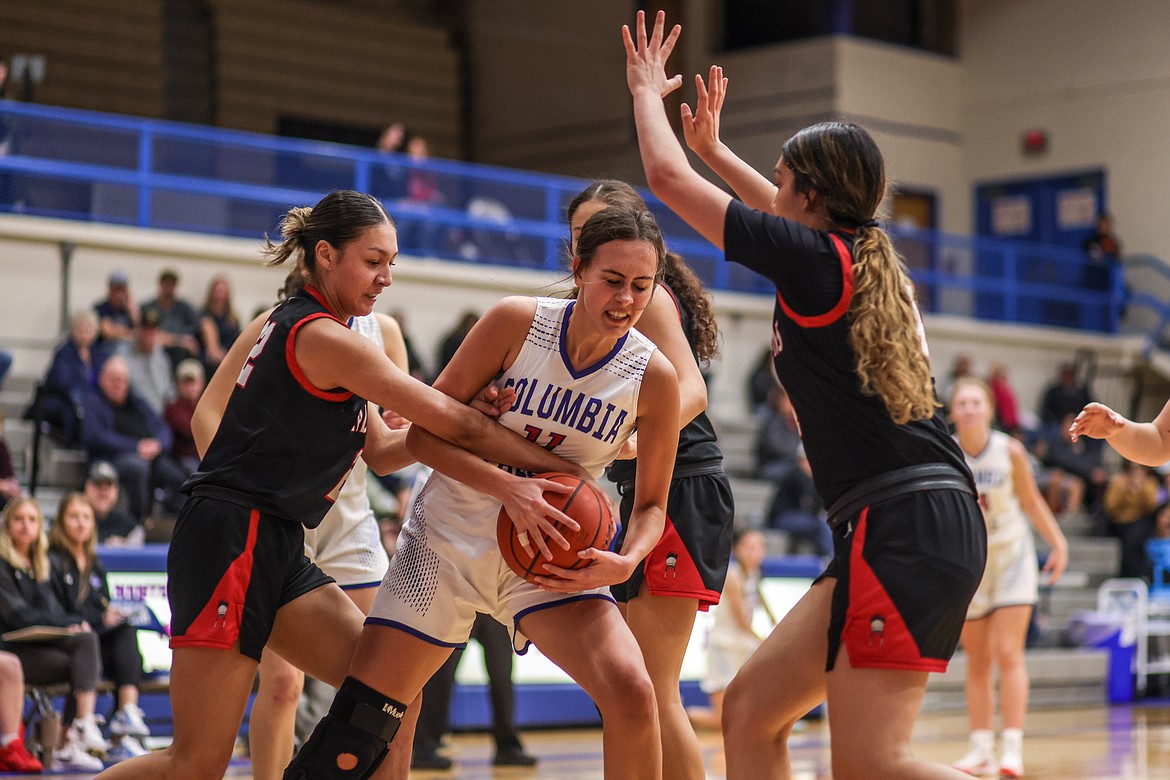 Senior Kia West fights to keep control of the ball against Browning at home on Friday. (JP Edge photo)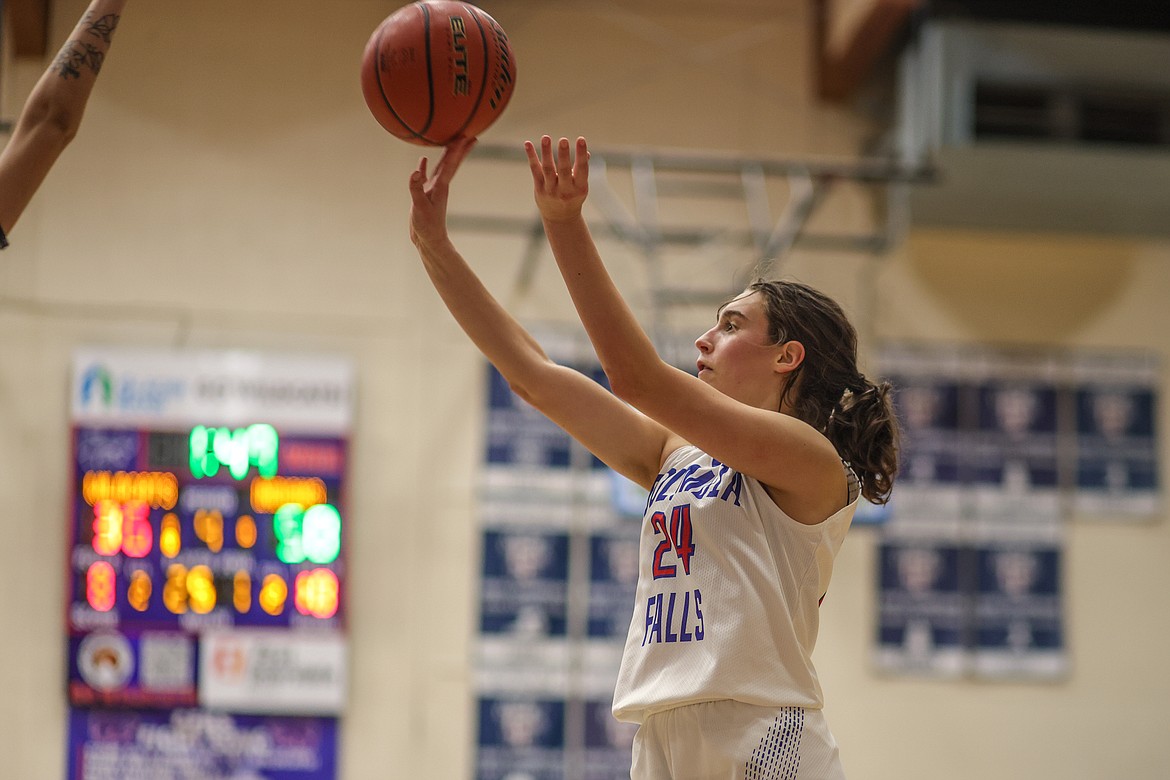 Lexi Oberholtzer takes a shot at home Friday night against Browning. (JP Edge photo)
Previous
Next
by
Hungry Horse News
|
January 25, 2023 1:00 PM
The Columbia Falls girls basketball team settled for a split over the weekend at home, losing to Browning Friday 52-39, but bouncing back to beat Loyola Sacred Heart the next night, 61-59 in overtime.
Against Browning, coach Cary Finberg said the girls played one of their better games start to finish, but they went 11 of 28 from the freethrow line.
Shooting that poorly is usually going to cost you, "and that's what happened," Finberg noted.
Sophomore Taryn Borgen had 20 in the win against Loyola. Loyola had a five-point lead with 2 minutes left, but Borgen hit a 2 and Kierra Kemppainen nailed a trey to tie to it in regulation. Lexi Oberholtzer had 11 and Hope McAtee had 9 in the win. Borgen also had four assists and four steals. The Kats shot better from the line, too — going 11 of 15. They also hit 11 treys.
The Kats then outscored Loyola 5-3 in OT. "I thought we played good in the first quarter," Finberg said. But after that, they sort of let up and Loyola made the pay. The girls need to learn to play through all four quarters, Finberg noted.
"Hopefully they learned a lesson, while still getting the win," he said. Against Browning, the Kats were down by just a point at the break, but Browning went on an 18-7 run in the third and the Kats couldn't close the gap in the fourth.
Borgen had 11 and McAtee had 10 in the loss. The girls faced another tough opponent in Bigfork at home Tuesday night after presstime. Bigfork is one of the best teams in the state, class B
or not.
The girls face Polson at home Thursday night and then travel to Polson Saturday for a make-up game that was canceled in December due to a snowstorm.
The Kats will look to build some momentum heading down the stretch of the regular season. Polson is a much improved team this year and they're not an easy out as in past years.
"We need to play better and more consistent basketball," Finberg said.
Recent Headlines
---