Kats crush Bulldogs; tight win over Ronan
by
Hungry Horse News
|
January 18, 2023 12:05 PM
The Columbia Falls girls basketball team came away with a pair of key conference wins last week. They dropped Whitefish on the road 63-28 Thursday and then squeaked past Ronan Friday night at home, 53-50 in a game they led by double digits in the first half.
Against the Bulldogs, Taryn Borgen had 15, followed by Hope McAtee with 11. Lexi Oberholtzer had 3 assists and 6 steals. Emily Alton had 8 rebounds and four steals.
The Wildkats outscored the Bulldogs 19-0 in the second quarter to put the game away. Against Ronan, the Kats shot out to a big lead in the first, up 20-9 and appeared to have all the momentum, but then the turnover bug hit, the defense went a bit awry, and Ronan would cut the margin to five at one point in the second quarter.
But the Kats in the final minutes of the second were able to extend the lead back to 10 at the break.
The teams played evenly in the third, but the Kats scored just eight points in the fourth, while Ronan put up 15.
"We got a lead and for whatever reason, we quit doing what was working," coach Cary Finberg said.
But McAtee hit two free throws in the final minute to make it a two-score game, and the Maidens hit a long 3-pointer as time ran down.
McAtee had 11, Emalee Alton had 11 and Taryn Borgen had 10. Anj LaChance came off the bench and scored 6. Alton also had 10 rebounds. McAtee had 9 and four assists.
The Kats have a tough stretch this week, as they face Browning Friday, Loyola Saturday and Bigfork Tuesday, all at home. The Kats' only losses so far this season came at the hands of Browning and Bigfork. The Kats hope to play better on their home court and find consistency in their game. A lot of the turnovers are avoidable, Finberg noted.
Ronan 9 14 12 15 - 50 C-Falls 20 13 12 8 - 53 RONAN — Leina Ulutoa 9, Lauryn Buhr 5, Olivia Heiner 14, Arianna Zepeda 12, Kylee Kelch 5, Oceana Arnoux 2, Isabella Devereaux- Trahan 3. COLUMBIA FALLS — Hope McAtee 11, Emalee Alton 11, Taryn Borgen 10, Anj LaChance 6, Kierra Kemppainen 5, Demye Rensel 4, Lexi Oberholtzer 3, Ellie Stutsman 3.
Columbia Falls 7 19 11 15 - 52 Whitefish 7 0 13 10 - 30 COLUMBIA FALLS — Taryn Borgen 15, Hope McAtee 14, Lexi Oberholtzer 7, Emalee Alton 4, Addy Bowler 3, Kya West 2, Demye Rensel 2 WHITEFISH — Brooke Roberts 6, Bailey Smith 6, Hailey Ells 5, Ainsley Scott 4, Yoli Krastev 3, Madi Gordon 2, Jude Perry 2.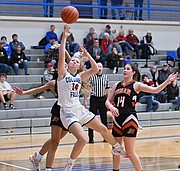 Recent Headlines
---