Authentic New York City bagels come to Columbia Falls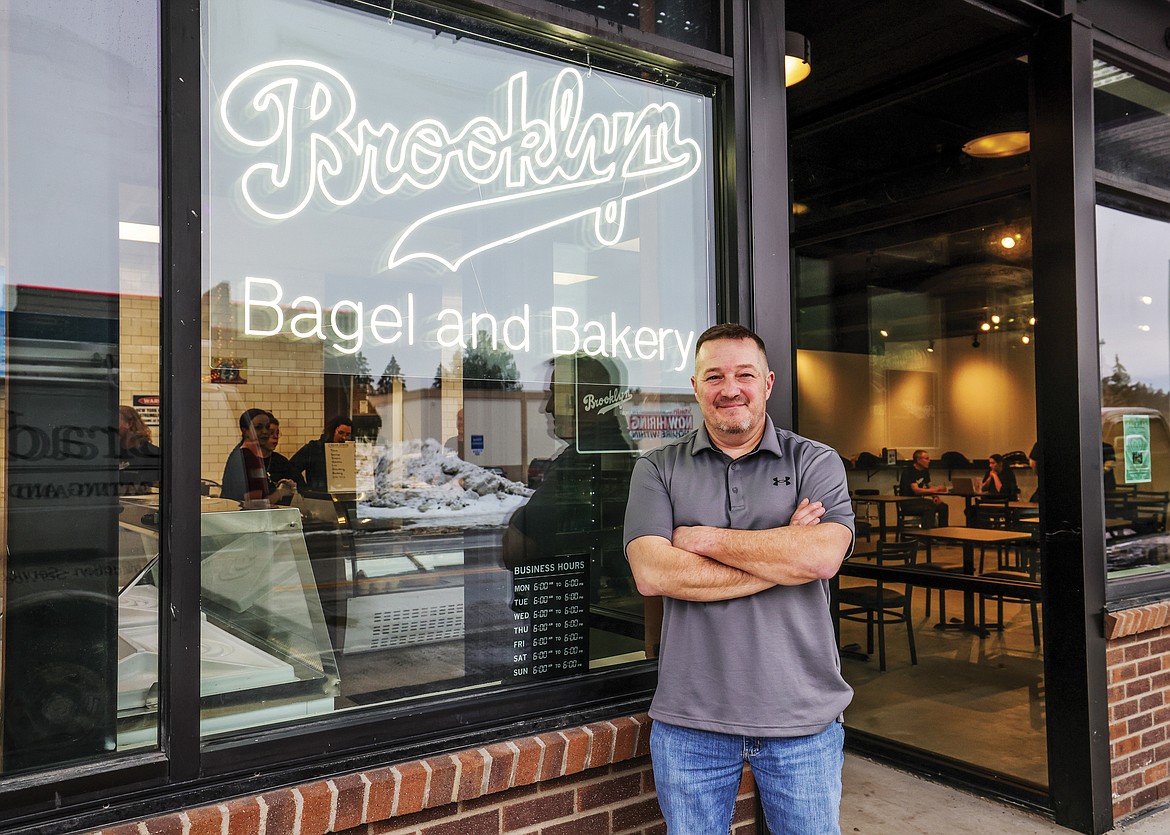 Les Kleinman, owner of Brooklyn Bagels on Nucleus Avenue. (JP Edge photo)
|
January 11, 2023 12:45 PM
By CHRIS PETERSON
Hungry Horse News
Authentic New York bagels and pastries are now available in Columbia Falls.
Les Kleinman opened Brooklyn Bagels on Nucleus Avenue in the new Ruis building late last week.
Kleinman also owns a Brooklyn Bagels in Missoula and owns several Firehouse Sub franchises across Western Montana and Idaho, including the one in Kalispell.
Kleinman said the bagels are imported straight from New York from Ess-a-Bagel, where are they already boiled and par baked. Staff at Brooklyn Bagels then finish them for a few minutes in the oven until they're golden brown and chewy.
The secret to a good New York bagel?
"Generational experience and New York water," he said.
New York's water, for the uninitiated, comes from the Catskill Mountains and is soft as a kitten, which makes for great bagels and other doughs.
"It's some of the best (water) in the world," he said.
The cream cheese and other goodies to put on the bagels are also imported from New York, where Kleinman grew up in Brooklyn and Staten Island.
He began his career working in IT for Citigroup and is a Marine Corps veteran, but he said he always wanted to move to Montana, even as a kid. That time came about eight years ago when he moved from Florida to the Flathead. He now lives in rural Columbia Falls. Kleinman also owns Total Garage Solutions (formerly Kalispell Overhead Doors), a company that makes custom garages for both residential and commercial use.
Brooklyn Bagels is near and dear to Kleinman's heart. Pictures on the wall depict family members working in restaurants from years gone by. The young girl in one shot is his grandmother, he said.
The shop also features Italian pastries like Cannoli and Sfogliatella.
There are a host of different cream cheeses to put on the bagels, perhaps most famously lox, which has smoked salmon from Nova Scotia in it.
Not all the items are from New York. Some are also imported from Italy, including the red sauces and raviolis.
The bagels come in a host of different flavors and there are many sandwich options to choose from, too. The restaurant also offers New York cheese cakes as well as authentic Italian cakes and cookies.
You can order online at https://brooklynbagelbakery.com/. The restaurant is open from 6 a.m. to 6 p.m. currently. It also offers Door Dash and Uber Eats delivery.
Recent Headlines
---