Two nordic racers qualify for Junior Nationals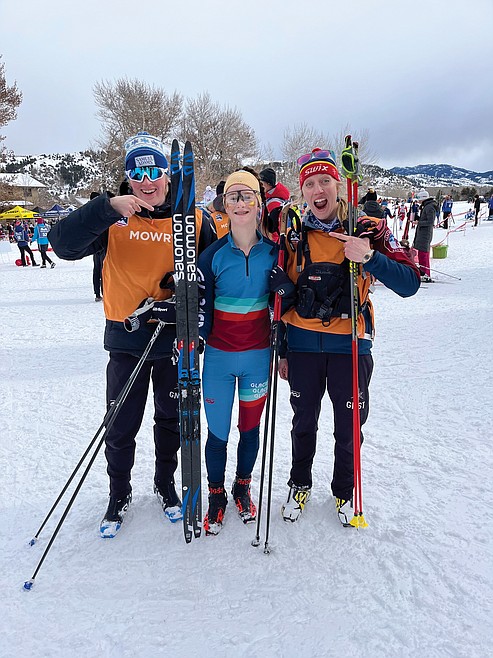 From left, coaches Logan Mowry, Findley Dezzani and coach Jennie Bender. (Photo provided)
by
Hungry Horse News
|
February 22, 2023 2:00 AM
The Glacier Nordic Ski Team raced at the last Junior National Qualifier in Bozeman over the weekend. Supported by coaches Logan Mowry, Jennie Bender, Cameron Blake and Ed Visnovske, two athletes, Maeve Ingelfinger from Whitefish and Findley Dezzani from Columbia Falls, locked in some of their best results of the season, as well as qualified for Junior Nationals in Fairbanks Alaska.
For U16 girls, Dezzani Qualified in 13th, and raced to 11th in the heats. For U16 boys, Ethan Amick and Liam Browne both qualified for the heats with a qualification of 13th and 23rd, and kept their placing in the heats. 
Other skiers also did well. U14 racers were Jessup Hutcheson, Boden Dezzani, and Euell Browne. They placed 14th, 20th, and 21st. For U12 girls, Addie Nerdig lead the way and made the podium, placing third in the classic sprint. Abby Visnovske placed 14th. 
Sunday was a mass start, and as the last race opportunity to gain points for Junior Nationals, tensions were high. Dezzani, knew what she needed to do. Fighting hard and moving up in the pack throughout the race, Dezani skied her way into ninth, locking in her the spot for the Junior Nationals. 
Ethan Amick and Liam Browne raced a competitive 5k for the U16 boys, finishing in 19th and 27th.
Nerdig took third in the U12s 3.5k, and Abby Visnovske captured 15th place. Boden Dezzani raced to 27th and Euell Browne to 28th in the U14 3.5km.
Coach Logan Mowry who previously lived in Alaska, is attending as a wax tech for the Intermountain Division Team, and has a hometown advantage as he knows the Birch Hill Nordic Trails by heart. Although at sea level, Birch Hill does not lack in difficulty due to its hilly terrain. The Intermountain Division is made up of Utah, Montana, Idaho, and Wyoming ski programs. 
If you'd like to donate to support these athletes race trip to Fairbanks Alaska in March to race against the best Juniors in the country, you can write a check to Glacier Nordic Ski Team: Travel Scholarship, and send to Glacier Nordic Club, PO Box 403, Whitefish MT 59937 or specially designate to Junior Nationals via our online donation portal. The cost for two athletes is $7,400, and anything helps support their journey, the club notes.
Recent Headlines
---