MatCats take Western A divisional crown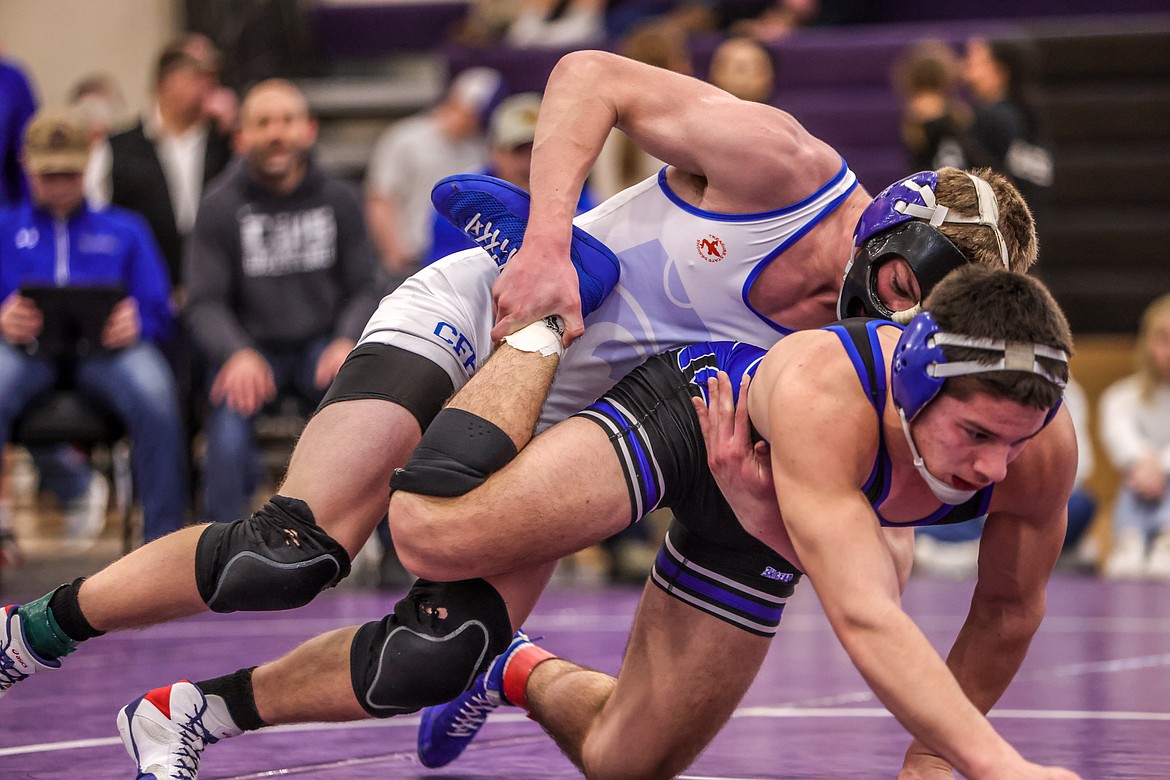 Freshman Blaise Cronk and Senior Josiah Kilman compete in the finals in Polson on Saturday. (JP Edge photo)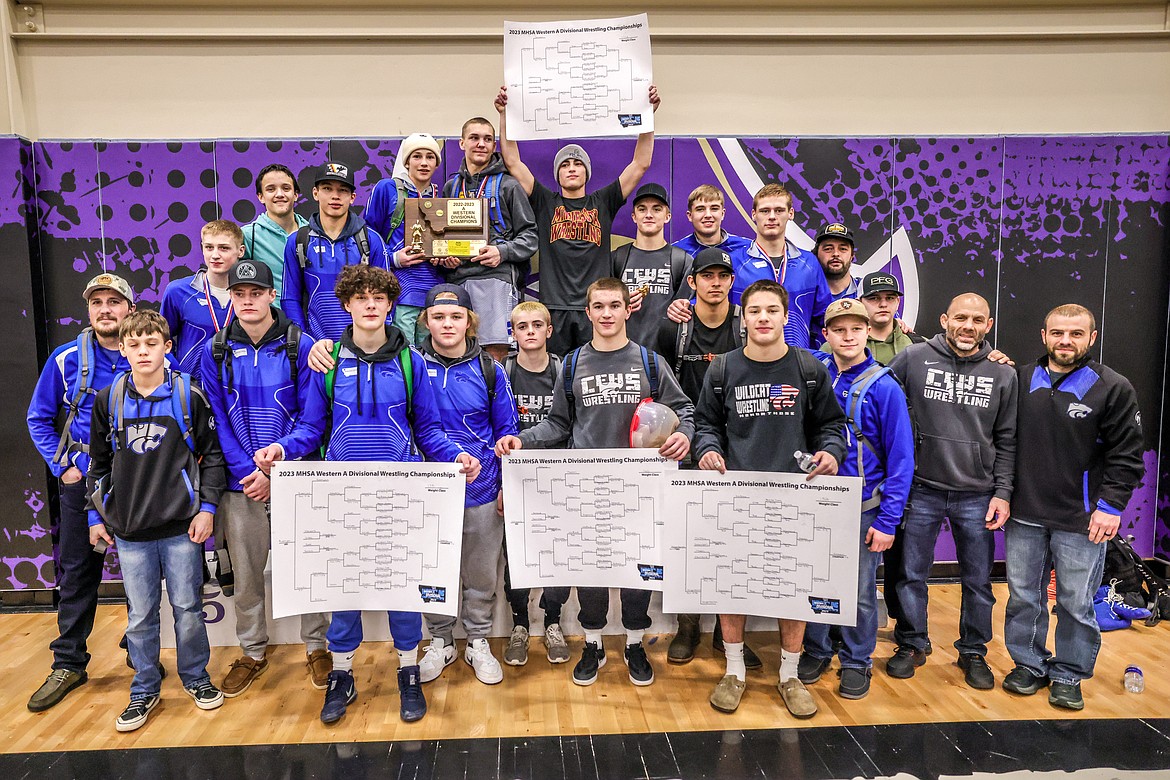 They boys win the Divisional meet in Polson on Saturday. (JP Edge photo)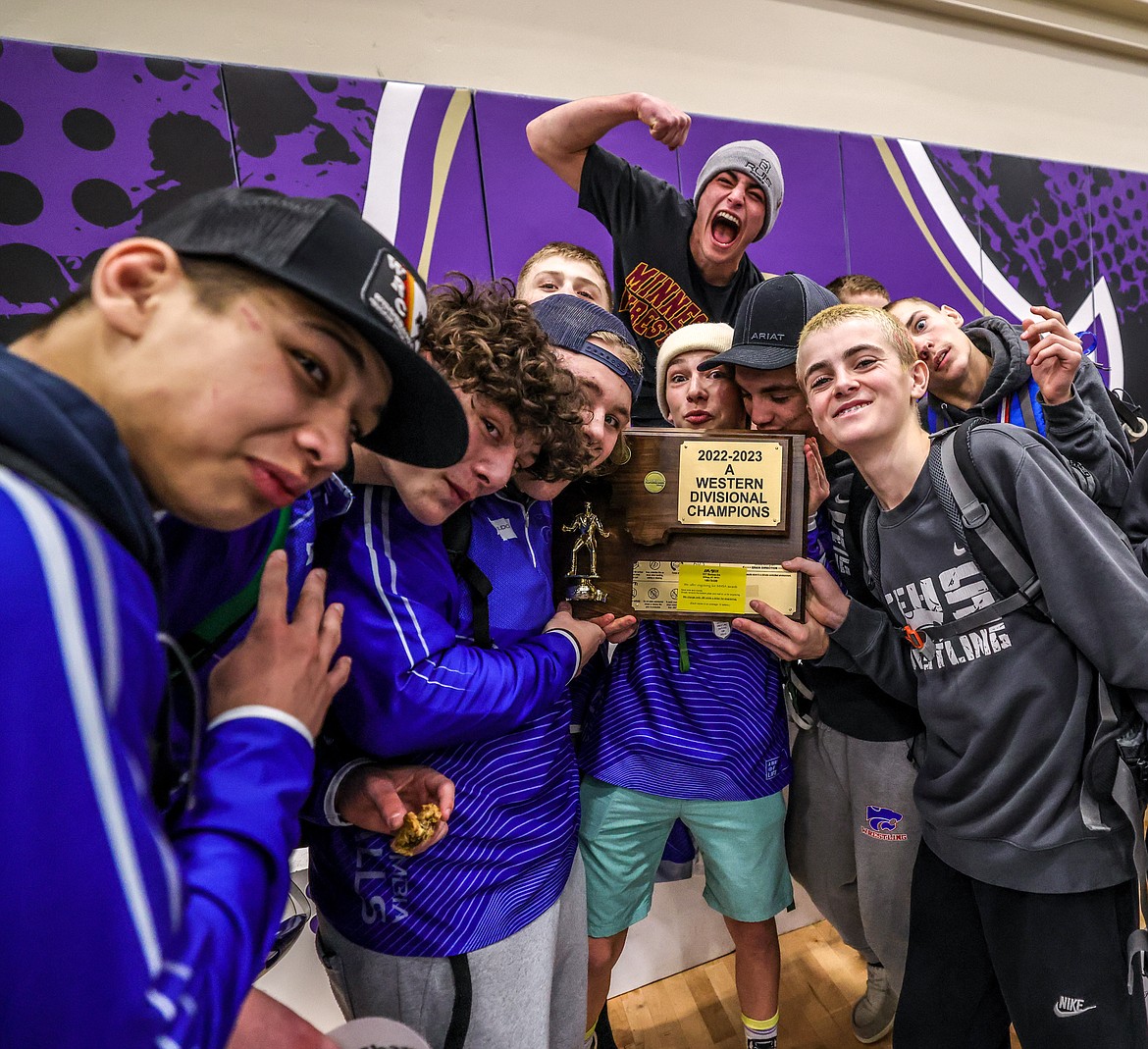 Members of the boys wrestling team hold the divisionals first place trophy in Polson on Saturday. (JP Edge photo)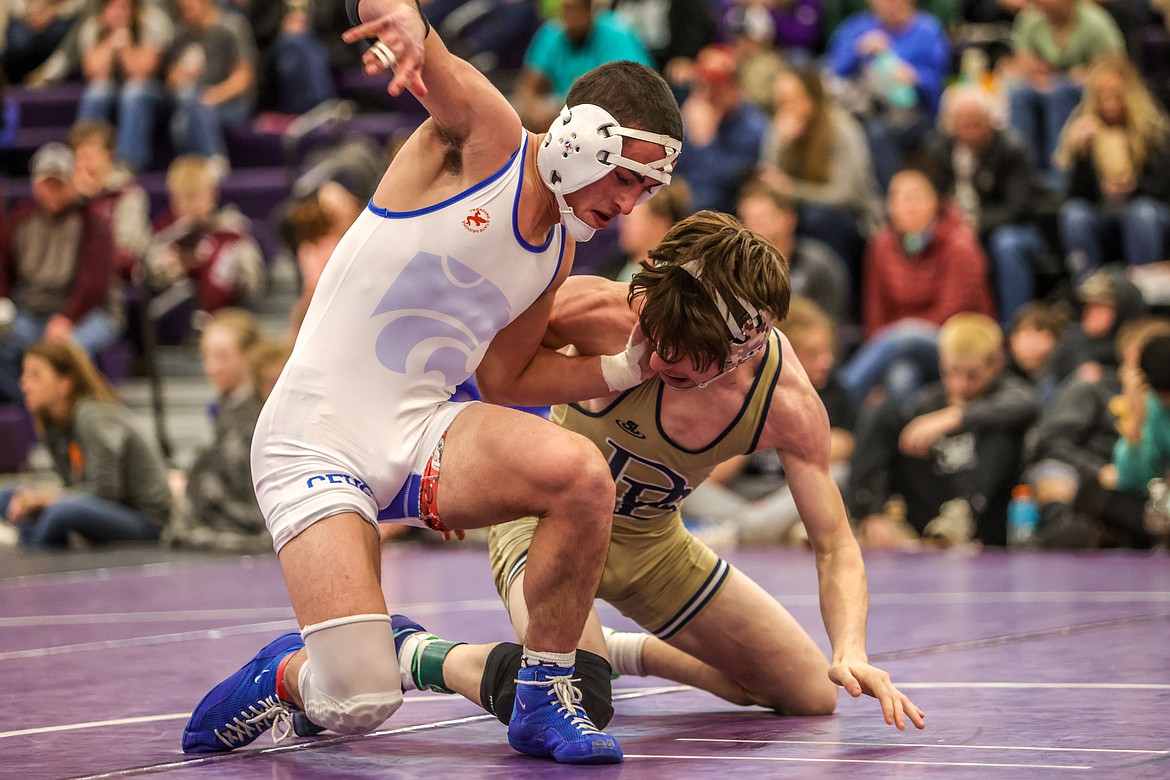 Senior Tyler Gilfry competes in Polson at the divisional meet on Saturday. (JP Edge photo)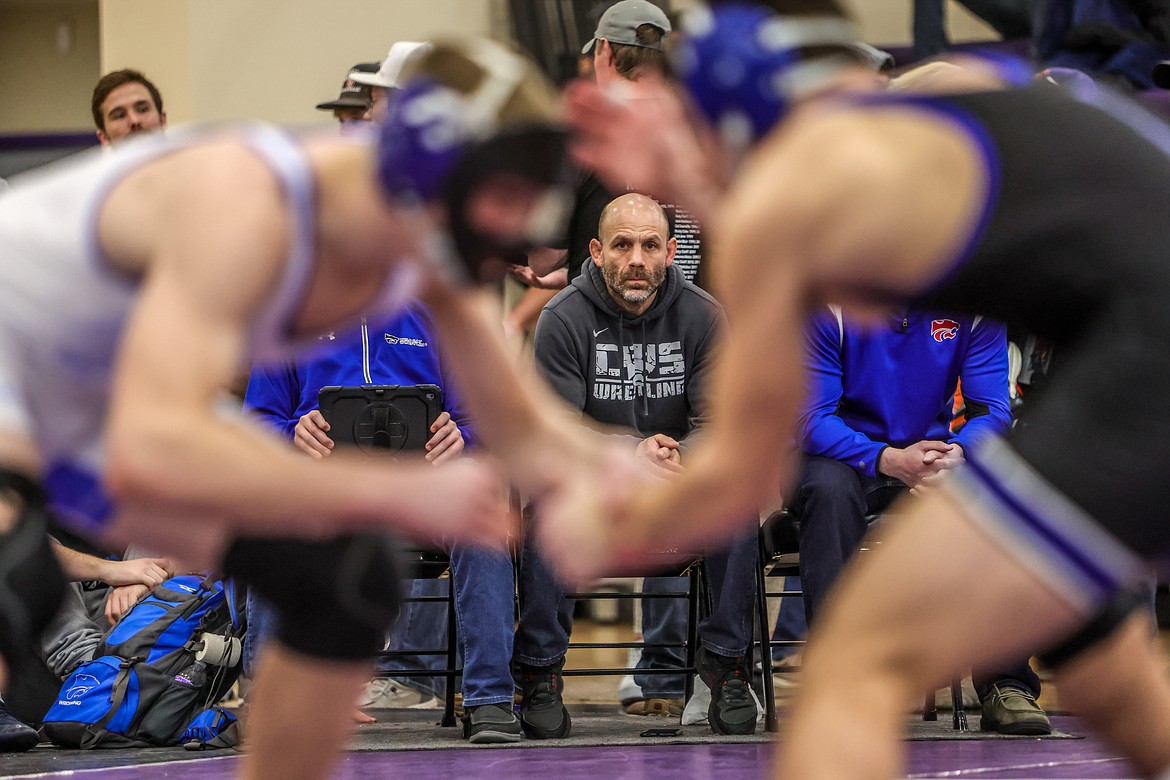 Wrestling head coach Jessie Schaeffer watches his wrestlers compete in Polson at the divisional meet on Saturday. (JP Edge photo)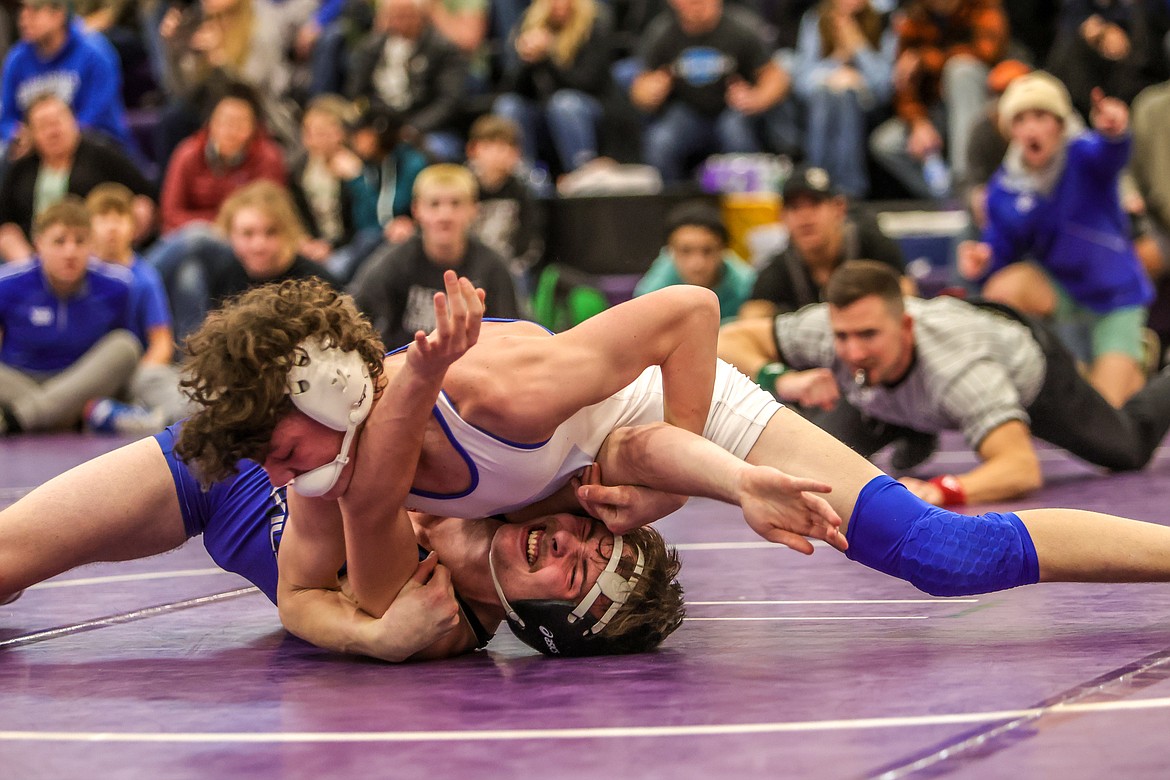 Sophomore Winslow Peters competes in Polson at the divisional meet on Saturday. (JP Edge photo)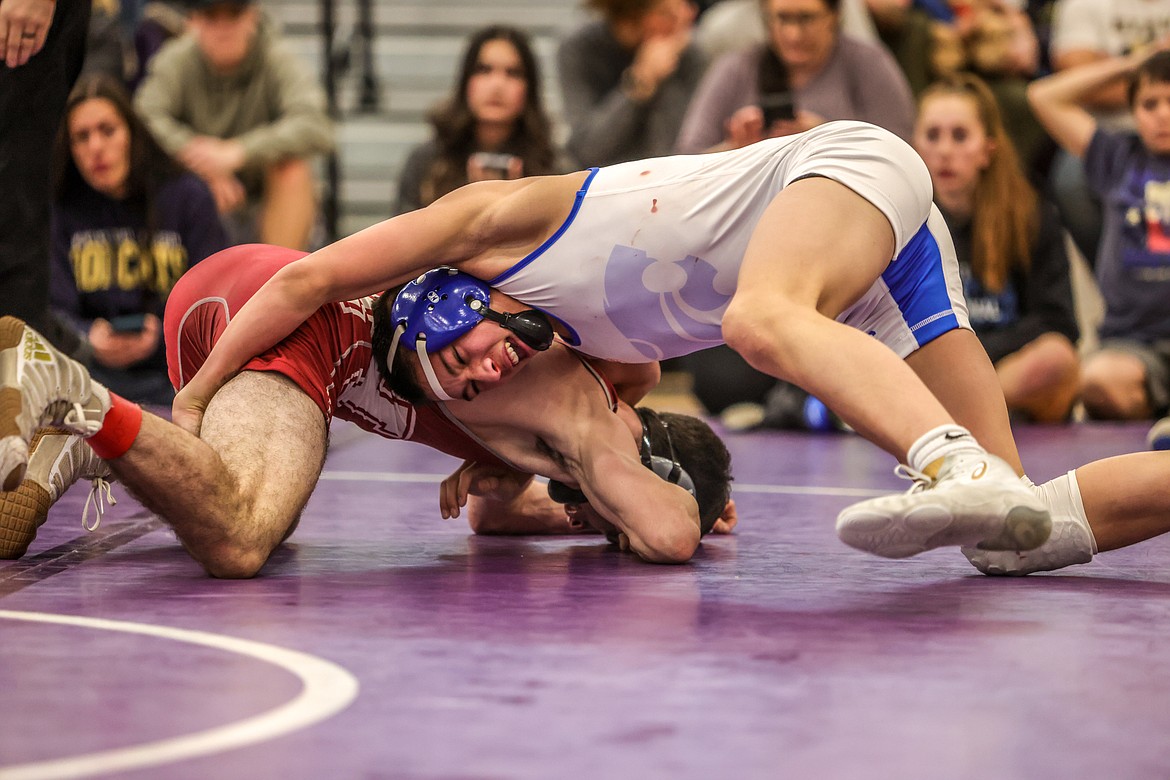 Sophomore Dylan Delorme competes in Polson at the divisional meet on Saturday. (JP Edge photo)
Previous
Next
by
Hungry Horse News
|
February 8, 2023 9:00 AM
The Columbia Falls boys wrestling team won the Western A Divisional title Saturday in Polson, edging Frenchtown by 15 points.
Ronan took third. The MatCats had four champions and 10 wrestlers total who took third or better. Traic Fainter was second at 103. Tyler Gilfrey won the crown at 126. Dylan DeLorme was second at 132. Winslow Peters won at 138. Billy Gustafson was third at 145. Josiah Kilman beat his own teammate, Blaise Cronk at 152.
Justin Windauer continued his unbeaten season winning the title at 160. Windauer is 44-0 heading into the state tourney this weekend.
Rowdy Crump took third at 170. Brandon Role was second at 180.
The MatCats are ranked No. 1 in the state heading into the state tournament in Billings this weekend. Miles City won the Eastern A divisional crown.
Coach Jessie Schaeffer said the tournament was kind of bittersweet.
"We had a couple that wrestled above their seed," he said. "We had some that struggled."
The last time the MatCats won the divisional title was in 2017. The state tournament looks to be wide open, though the MatCats have as good a chance as anyone.
"We ended better than any other team as it relates to the brackets," Schaeffer said.
Still, Havre, Miles City, Frenchtown and Laurel all have squads that can place six or seven wrestlers. That's what the tourney will likely come down to — which team can get that many wrestlers on the podium and how high they place. There are no clear favorites.
It looks to be a barnburner.
"And I hope we're on the outside roasting marshmallows," Schaeffer said.
The last time the MatCats won a state title was in 1990.
On the girls' side, Jaelynn Nace took third for the Wildcats. Samantha Larsen took third at 145. All told, four girls qualified for state.
"They wrestled so well in the third period," Schaeffer said. "They were well-conditioned."
Recent Headlines
---