Bad Rock firefighters douse Columbia Heights trailer fire, save dog
|
August 10, 2023 12:15 PM
Bad Rock firefighters pounced on a trailer fire Tuesday night, saving the life of a dog that was found in the burning structure.
The call came out about 7:09 p.m. at a trailer home on Berne Drive and firefighters were dousing it with water 7 minutes later, chief Kirk Katzenmeyer said.
The home was heavily damaged in the blaze, but with the hot, dry conditions, firefighters were pleased to keep the fire from spreading to other homes and properties. Columbia Falls responded with mutual aid.
They were mopping up by 7:36 p.m.
Firefighters also saved a Doberman Pinscher dog that was caught in the home. They were able to resuscitate the dog and gave it oxygen.
The cause of the fire remains under investigation. While the fire was put out quickly, firefighters didn't leave the hall until almost midnight after putting away the gear and debriefing on the incident, Katzenmeyer noted.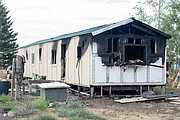 Recent Headlines
---