Two people survive plunge off the Going-to-the-Sun Road in Glacier National Park
|
August 4, 2023 12:25 PM
Two people survived when their car plunged off the Going-to-the-Sun Road Thursday afternoon.
A Jeep Cherokee from Texas went off the road and down the embankment about 200 feet around 4:30 p.m. below the West Side Tunnel.
One person was trapped in the car, but the other was able to get out out on their own, said Glacier National Park spokeswoman Gina Icenoggle.
The driver, who was able to get out on their own, was helped up the slope by rangers, while the passenger of the vehicle, who was initially trapped, was extracted by members of the Hungry Horse Fire Department and then brought up by a litter back onto the highway, Icenoggle said.
Another motorist saw the vehicle go over the edge and was able to flag down a ranger at the Loop who responded to the crash in just a few minutes.
Both people had non-life threatening injuries, Icenoggle noted.
The bank below the tunnel is very steep.
Icenoggle said the crash remains under investigation, but appeared to be distracted driving.
The Sun Road between Avalanche Creek and the Loop was closed during the accident and then reopened Thursday night.
It closed in that same area about 10 a.m. Friday morning and was reopened shortly before 2 p.m. to through traffic as a tow truck was used to remove the Jeep.
The closure slowed traffic in the park for a few hours as the line backed up well onto Highway 2.
This story has been updated from its original version.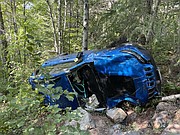 Recent Headlines
---