Ridge Fire near Martin City, Hungry Horse, more than 600 acres. Area closure around fire, including East Side Reservoir Road
The Ridge Fire on the east side of the Hungry Horse Reservoir is now about 633 acres.
The East Side Reservoir Road is also closed just outside of of Martin City and a large area around the fire is closed as well, including trails and roads around Desert Mountain and the Coram Experimental Forest.
A Type III incident command team headed up by Shane Martin of the Northern Rockies Incident Command Team was assigned to the fire on Wednesday and took over operations Wednesday morning.
Flames from the fire could be seen from Martin City, as it burns in the Emery Creek drainage.
The fire has primarily been moving south, though, fire managers said. It's about 6 miles southeast of Hungry Horse, but closer than that to Martin City.
Today winds are expected to be light, though it's also supposed to be hot, with temperatures about 90. Friday should be cooler, with a high about 85.
Relief could come this weekend, as cooler, wetter weather is in the forecast.
The fire has been spewing smoke into the Canyon.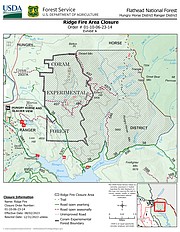 Recent Headlines
---