Haraden, noted Glacier Park superintendent, dies at 100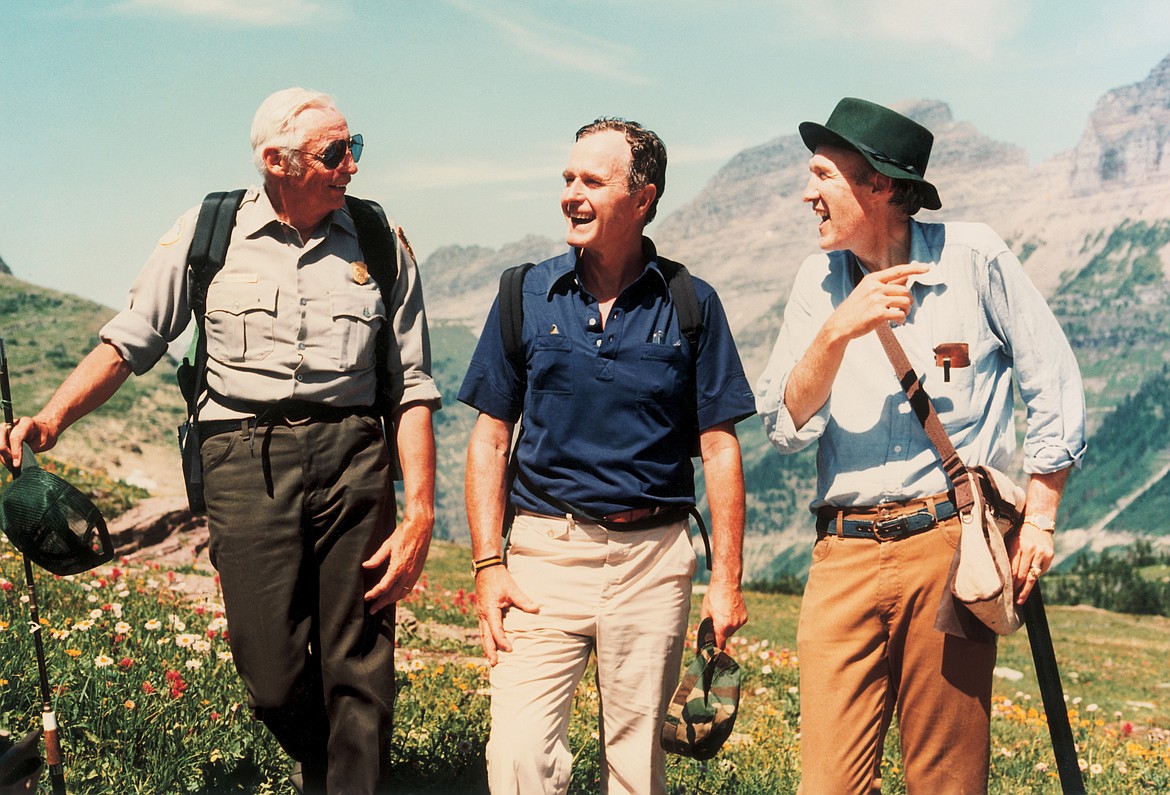 Bob Haraden, left, with Vice President George H.W. Bush and Wyoming Sen. Alan Simpson in 1983. (Brian Kennedy photo)
by
Hungry Horse News
|
April 19, 2023 2:00 AM
BOZEMAN — Former Glacier National Park superintendent Robert Haraden died April 2 from natural causes.
He was 100.
Haraden was a well-respected superintendent of Glacier from December 1980 to February 1986, when he retired from the Park Service.
While at Glacier he traveled to India to join an advisory team to Prime Minister Indira Gandhi regarding the establishment of the Biosphere Reserves. In 1982 he received the Interior Department Meritorious Service Award and in 1985 the National Park and Conservation Association Stephen T. Mather award for outstanding stewardship of the National Parks. Bob especially cherished this recognition since the nomination came from Glacier Park employees.
Haraden also received the "Man of the Year" award from the Wilderness Society for his involvement in external environmental issues such as the proposed Cabin Creek coal mine in British Columbia and other oil and gas development outside the park.
Cabin Creek was a proposed mine up the North Fork of the Flathead River and had great potential to harm the water quality of the pristine waterway.
In a 1985 interview with the Hungry Horse News he also expressed concern housing growth outside of Glacier near its boundaries.
Under Haraden's leadership the park also crafted its land management plan, which sought to identify and purchase private lands in Glacier from willing sellers.
Over the years, the Park Service has bought out dozens of privately-held properties in Glacier.
Haraden was was born June 10, 1922, in Bar Harbor, Maine and stayed there through high school.
He served as a Radar Maintenance Technician in the South Pacific aboard the aircraft carrier, USS Gilbert Islands CVE 107 during World War II.
His Park Service career began in 1955, working in its Design and Construction Office in Philadelphia, Pennsylvania.
He also worked at several national parks including Chief Park Engineer at Rocky Mountain National Park and later in the same position at Sequoia and Kings Canyon National Parks in California.
In 1967 when he became Assistant Superintendent at Grand Teton National Park and later superintendent at Natchez Trace Parkway. During this assignment he helped establish the Gulf Islands National Seashore.
After an Assistant Superintendency in Yellowstone National Park, he became Superintendent of Big Bend National Park then finally at Glacier National Park.
In his retirement he lived in Bozeman and the Bozeman Daily Chronicle did a feature on him as a Meals on Wheels volunteer driver delivering meals to folks. He was 90 himself delivering the meals.
A memorial service will be held at Hope Lutheran Church Bozeman on May 27, 2 p.m.
Recent Headlines
---