Yesterdays: Visiting the Bob Marshall when it had just 3,000 visitors a year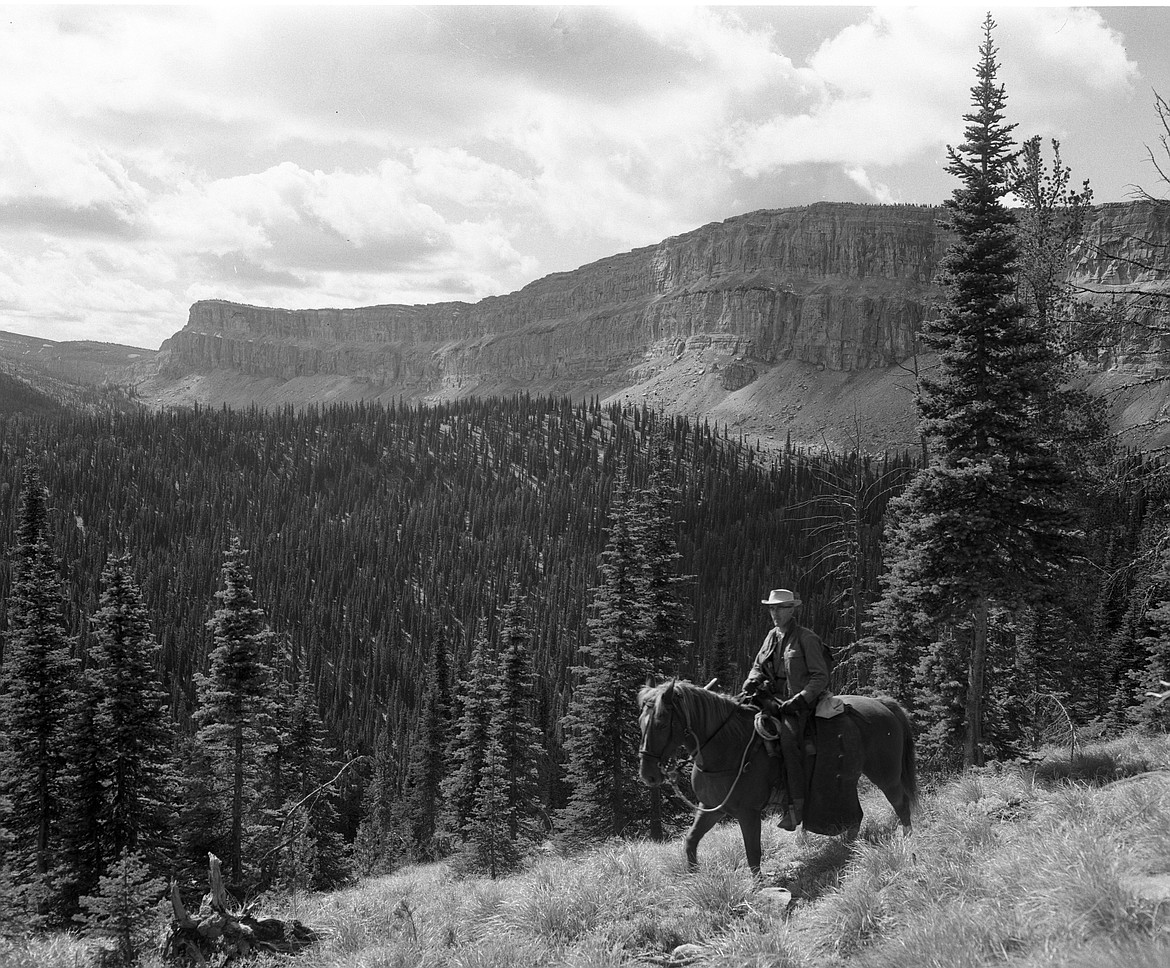 Ranger Dick Strong at Spotted Bear Pass with the Chinese Wall behind him in September, 1962 in the Bob Marshall Wilderness. (Mel Ruder photo)
|
September 21, 2022 7:50 AM
70 years ago
Sept. 19, 1952
Crews from Wixson and Crowe started clearing 130 acres near Teakettle Mountain for the new Anaconda Aluminum Co. site. The Hungry Horse Dam was nearing completion, with all the concrete nearly placed.
60 years ago
Sept. 21, 1962
Editor Mel Ruder and Forest Service officials did a horseback trip into the Bob Marshall Wilderness to view its famed Chinese Wall. "Not more than 3,000 persons a year enter the Bob Marshall Wilderness," the story noted at the time. The wilderness was protected adminstratively in 1940 and would be protected by law in 1964.
50 years ago
Sept. 22, 1972
Green Berets from Fort Bragg, North Carolina were on mountain maneuvers at Spotted Bear. The soldiers were also shown horse handling and how to pack horses by longtime packer Adam Funk.
40 years ago
Sept. 23, 1982
Two men, Thomas Running Rabbit, 20, and Harvey Mad Man Jr., 24, were found shot to death on Marias Pass off Highway 2. Charged with murder and kidnapping in the case were Andre Fontain, Ronald Allen Smith and Rodney James Munro of Red Deer, Alberta. Smith would later plead guilty to shooting the men and remains on death row today. Munro took a plea deal in the case and has been out of prison since 1998.
30 years ago
Sept. 17, 1992
Helicopter logging was underway near Canyon Creek and other drainages north of town. The choppers could haul five tons of logs every two minutes. It was the first helicopter logging ever done in the area.
20 years ago
Sept. 19, 2002
Glacier National Park released a plan for the Going-to-the-Sun Road reconstruction which would keep the road open during the busy tourist season while construction was underway. It also called for an "intelligent transportation system" and a west side discovery center. The discovery center was never built, instead there's a modest transit/visitor center.
10 years ago
Sept. 19, 2012
The Nature Conservancies of Canada and the U.S. raised $10 million to help implement the Flathead Watershed Area Conservation Act. The funds would compensate companies with mining claims in Canada after mining was banned in the drainage under the act.
Recent Headlines
---