Snap! Cats break Whitefish Bulldogs' four-season-long undefeated streak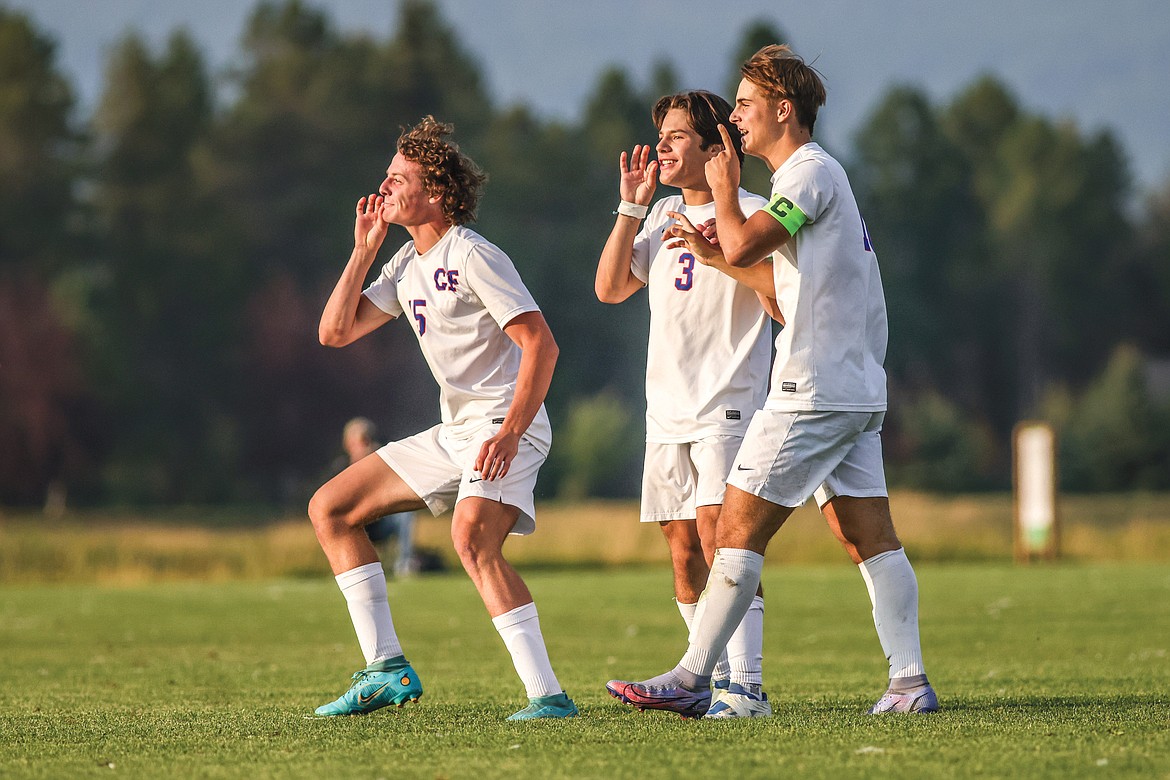 From left Adam Schrader, Josiah Kilman and Kai Golan gesture to the crowd after Golan's second goal with 4 minutes left of play. (JP Edge photo)
by
CHRIS PETERSON
Editor
|
September 21, 2022 12:50 PM
By CHRIS PETERSON
Hungry Horse News
Meet Maurice. He's the monkey that's been on the back of Columbia Falls boys' soccer for four seasons now.
For four seasons no one, including the Wildcats and a host of other class A Montana soccer teams, have been able to get Maurice off their backs no matter how hard they tried. Last second saves. Shots that went just wide. Calls that didn't go their way. The Bulldogs just kept on winning, for four straight seasons, 60-something games, undefeated until last Thursday, 37 minutes or so into the second half of the pitch.
Kai Golan, on a feed from teammate Finley Sundberg, headed the ball past the Whitefish keep.
Good-bye, Maurice. Get outta here.
The streak was broken.
The Wildcats won 2-1.
"It was gigantic in terms of psychological benefits," coach O'Brien Byrd reflected on Monday. "The monkey is off their backs."
The Wildcats scored first, when Golan, who was sidelined with a back injury earlier in the season, scored 10 minutes in for a 1-0 Wildcats lead. Golan was a force on offense — two-three steps quicker to the ball than his opponents.
Sundberg assisted on that goal, too.
It looked like the Cats might run away with the game. They were dominating time of possession and were quicker to the ball.
But the Bulldogs didn't craft a four season streak by giving up.
Sam Dow scored on a stellar indirect free kick just before the half to knot the score at 1-1. The shot went just beyond the outstretched fingers of Wildcat keeper Bryce Dunham.
It was only the second shot to get past the keeper so far this season. The other shot was also a free kick against Laurel.
The half ended and the bulk of the second half was played in the midfield, as both teams just ground it out.
But the Bulldogs defense broke down with minutes left and there was a flurry of shots by the Wildcats.
Golan's header found the mark.
Whitefish answered with a press of its own, but the Cats had stellar defensive play from the likes of Adam Schrader, Josiah Kilman and Andy Miner.
Miner had a particularly good game.
"He's been flawless," Byrd said. "He's playing the soccer of his life."
Byrd also had kudos for Dale Blickhan, who played end-to-end and won nearly every ball he touched.
"He was box-to-box everywhere," Byrd said.
The Cats played Polson on the road Tuesday, dropping the Pirates 4-0. Sundberg had two goals, Golan and Blickhan each had one.The Cats face Libby on the road Friday.
Next Thursday, Sept. 29, they face the Bulldogs again on their home pitch for homecoming.
The goal, of course, is to continue the streak.
Just this time, it's the Cats turn to start a streak of their own.
Recent Headlines
---