Suit claims spot zoning in West Glacier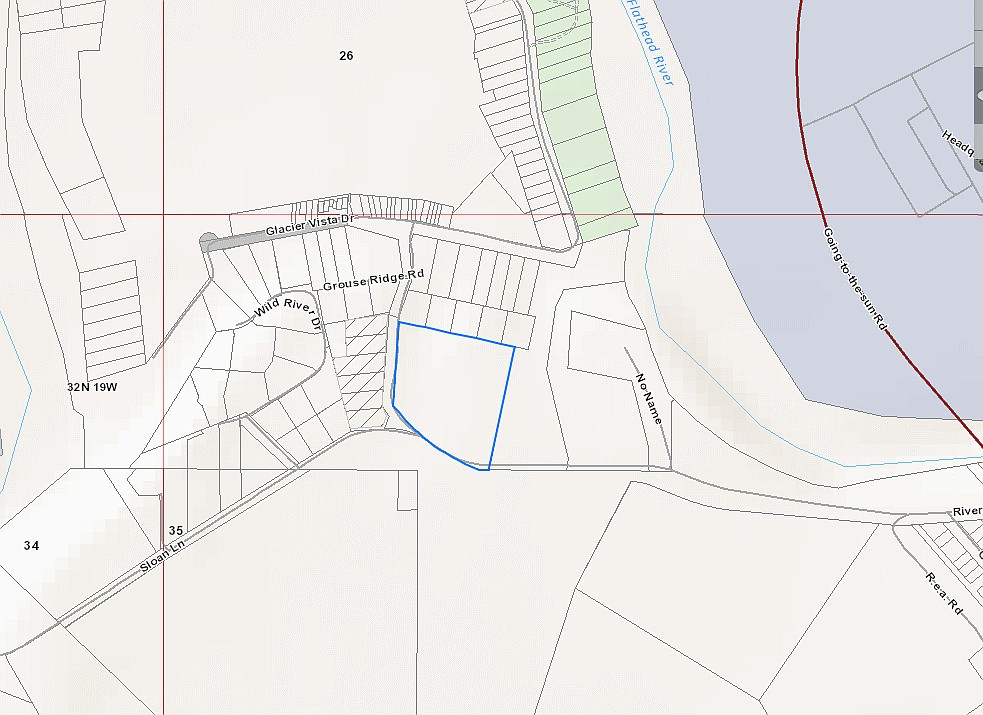 The property in question is outlined in blue in this Cadastral map of the area.
by
CHRIS PETERSON
Editor
|
September 16, 2022 7:55 AM
Citizens for a Better Flathead and West Glacier resident Sharon DeMeester have filed suit in Flathead County District Court against the Flathead County Commissioners over what they claim is spot zoning in West Glacier.
Last spring Jane K. O'Hara, Douglas H. Parker, Karen Parker Wandel, Luke P. Hansen, Patrick H. Maloney, and Kirsten Kay Svennungsen asked the county to create a new single-family residential zoning district on eight acres of land at 489 River Bend Drive, which is just up the road from the West Glacier golf course.
The applicants, which are family members, wanted to subdivide the property into one acre parcels so they could build homes there.
The county planning staff suggested a zone change as the best way under the Canyon Area Land Use Regulatory system to subdivide the property.
The Middle Canyon Land Use Advisory Board and the Flathead County Planning Board both agreed and passed the plan onto county commissioners with a positive recommendation. Commissioners, in turn, approved the creation of the new zoning district — called the Parker Zoning District — in July.
During hearings on the matter, county planning staff were asked about the possibility of being spot zoning, but it was determined it was not, in their view, because it was, at least in part, close to the already highly developed Glacier View Golf Course area which has condominiums and other residential housing.
The Citizens suit, however, challenges the process by which the zoning district was created and claims it could open up pathways for other zoning districts in the area that could also do an end-around CALURS and potentially, neighborhood plans across the county.
It also claims that the zone change ignores the county growth policy, as well as state law.
DeMeester also brought up those concerns during the board meetings as well.
"Our additional concern", Mayre Flowers, Citizens For a Better Flathead Co-Chair said, "is that if the Flathead County Commissioners can create new zones simply to meet the desires of a few property owners without consistent application of its own policies, the regulations become meaningless. Citizens is concerned that the commissioners' actions in creating the 8-acre Parker Zoning District sets a precedent that would threaten the integrity of all neighborhood plans in Flathead County, which cover thousands of acres."
The suit asks the court to void the new Parker Zoning District. Flathead County Judge Robert Allison is hearing the case.
In a separate interview, Flowers maintained that a solution could be found through the Neighborhood Plan process and they could do a plan amendment, just like anywhere else in the county.
"Because that's what anyone in the 21 (county) neighborhood plans would do," she said.
Recent Headlines
---