Gridders thrash Ronan in home opener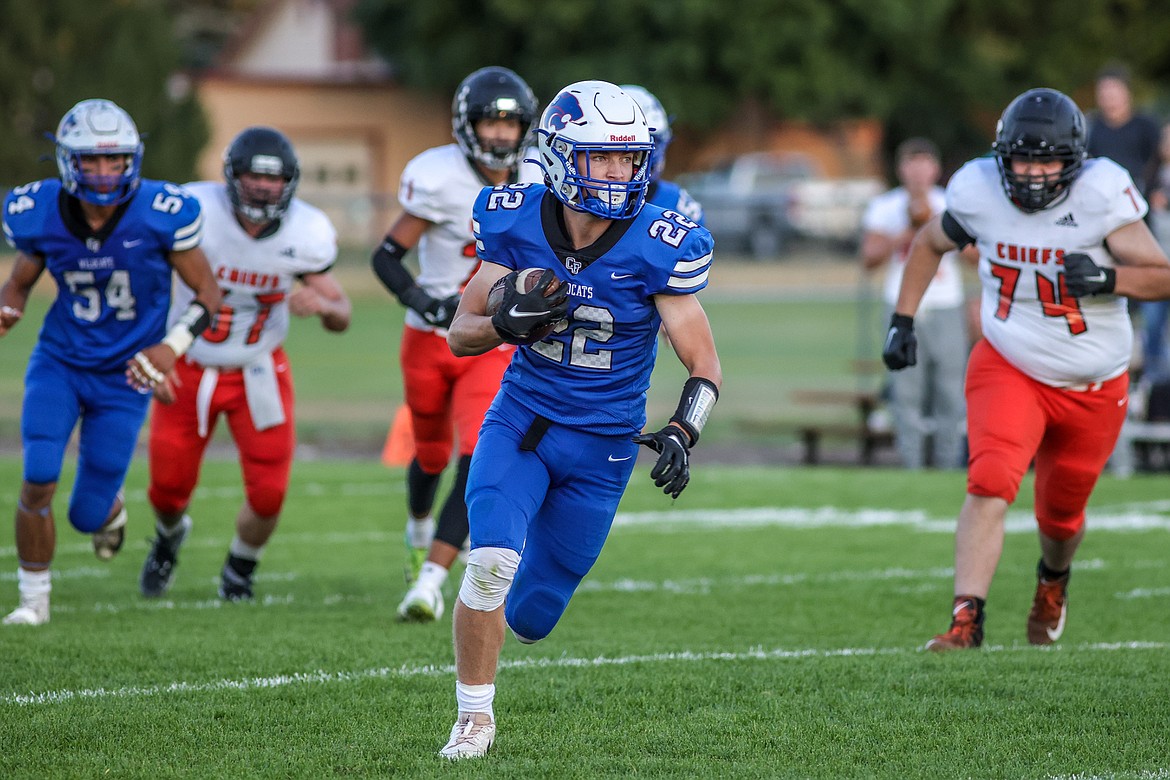 The Columbia Falls football team walloped Ronan in its home opener Friday night, 44-16. Here, Reggie Sapa exploits and opening in the Ronan defense for a nice gain. (JP Edge photo)
|
September 14, 2022 7:15 AM
Hungry Horse News
The Columbia Falls football team walloped Ronan in its home opener Friday night, 44-16.
"We ran the ball really well and our offensive line did a great job," coach Jaxon Schweikert said.
Schweikert had kudos for running backs Blaise Wunderlich and Reggie Sapa, who combined for 210 yards on the ground.
Quarterback Cody Schweikert was 19 of 27 passing for about 250 yards. Schweikert had two rushing touchdowns of a yard and two yards and other touchdowns included Jace Hill on a 12 yard pass; Reggie Sapa on a 22 yard pass and a 20 yard pass; and Justin Windauer on a 1 yard pass. Kai Golan kicked a 38 yard field goal and five extra points. Cody Schweikert and Tyler Gilfry had interceptions on defense in the rout.
The Cats are back on the road against Libby, who Schweikert expects will be a physical team, that depends on the run.
The Cats expect to throw the ball a lot against the Loggers.
They then have a bye, which will be welcome, Schweikert said. The hope is to get out of Libby with a win and healthy, so they can rest up for the remainder of the season, which features undefeated Polson, a tough Whitefish team and a very good Hamilton squad to cap off the regular season.
Recent Headlines
---