Cats come from behind to drop 'Dogs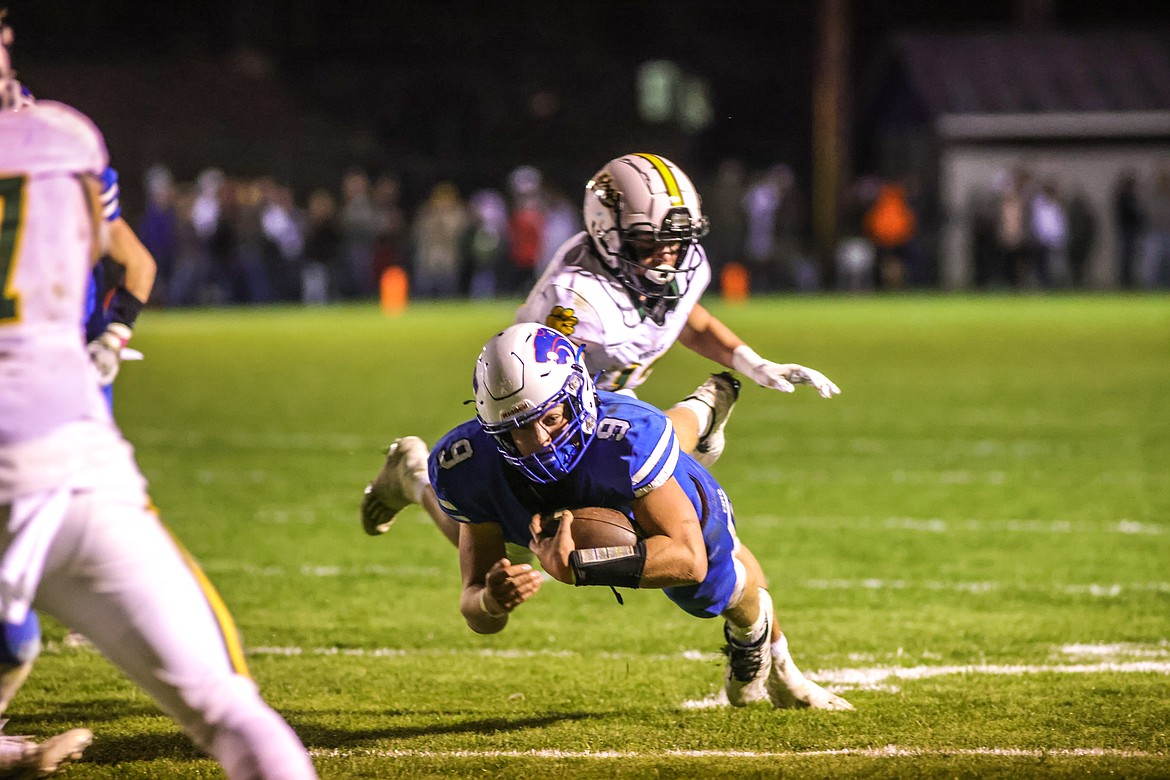 Cody Schweikert stacks up rushing yards against Whitefish in Columbia Falls on Oct. 14. (JP Edge photo)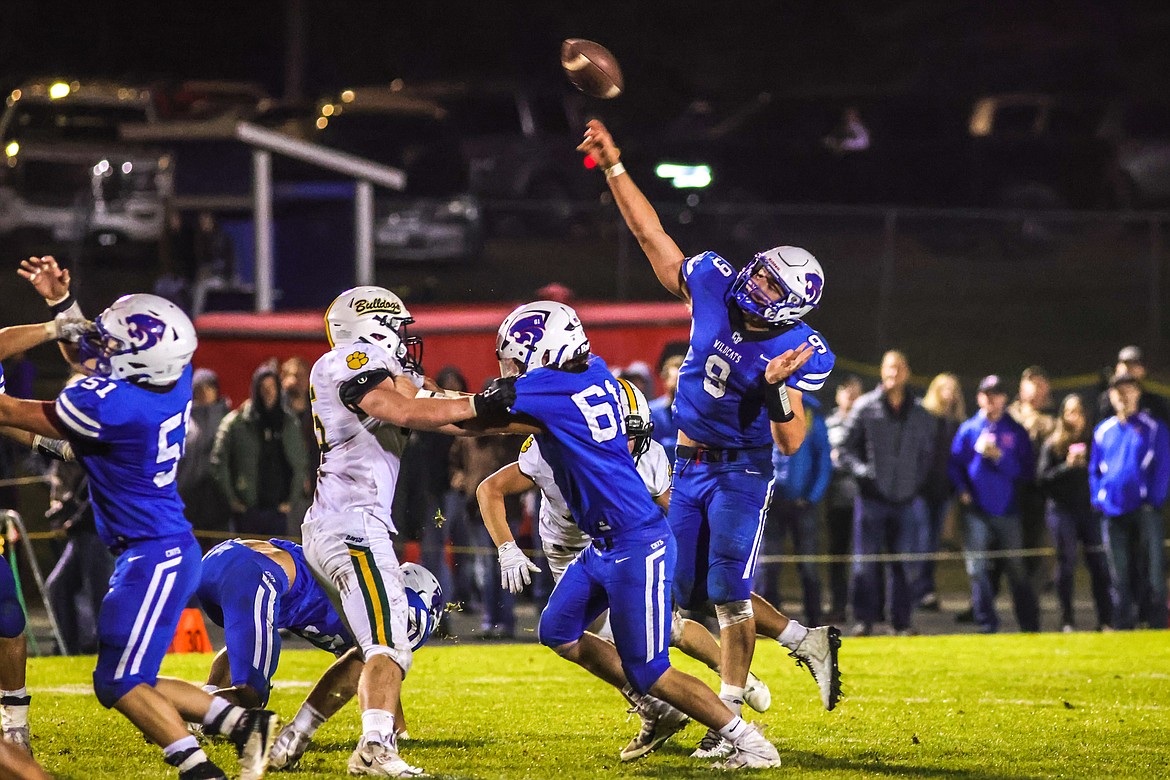 Junior quarterback Cody Schweikert leads a well-fought victory over the Bulldogs for the Wildcats on Oct. 14 in Columbia Falls. (JP Edge photo)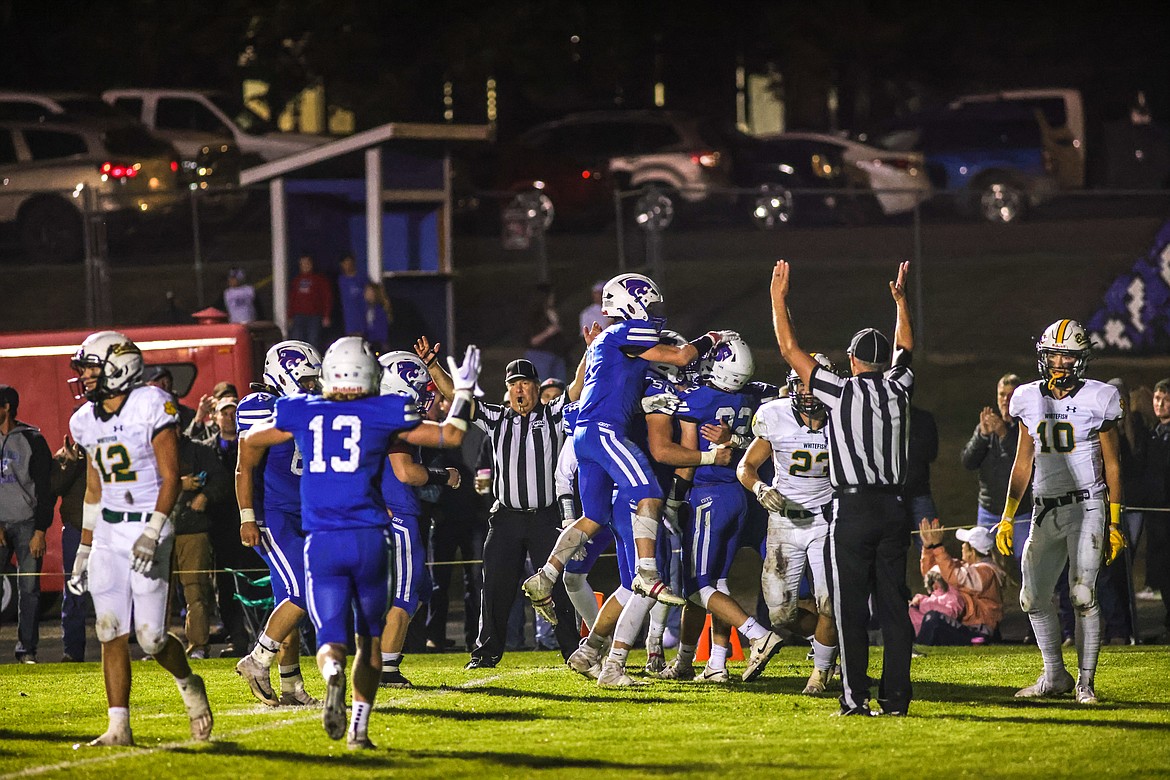 The Wildcats celebrate Reggie Sapa's touchdown to regain the lead over the Bulldogs in the second half. (JP Edge photo)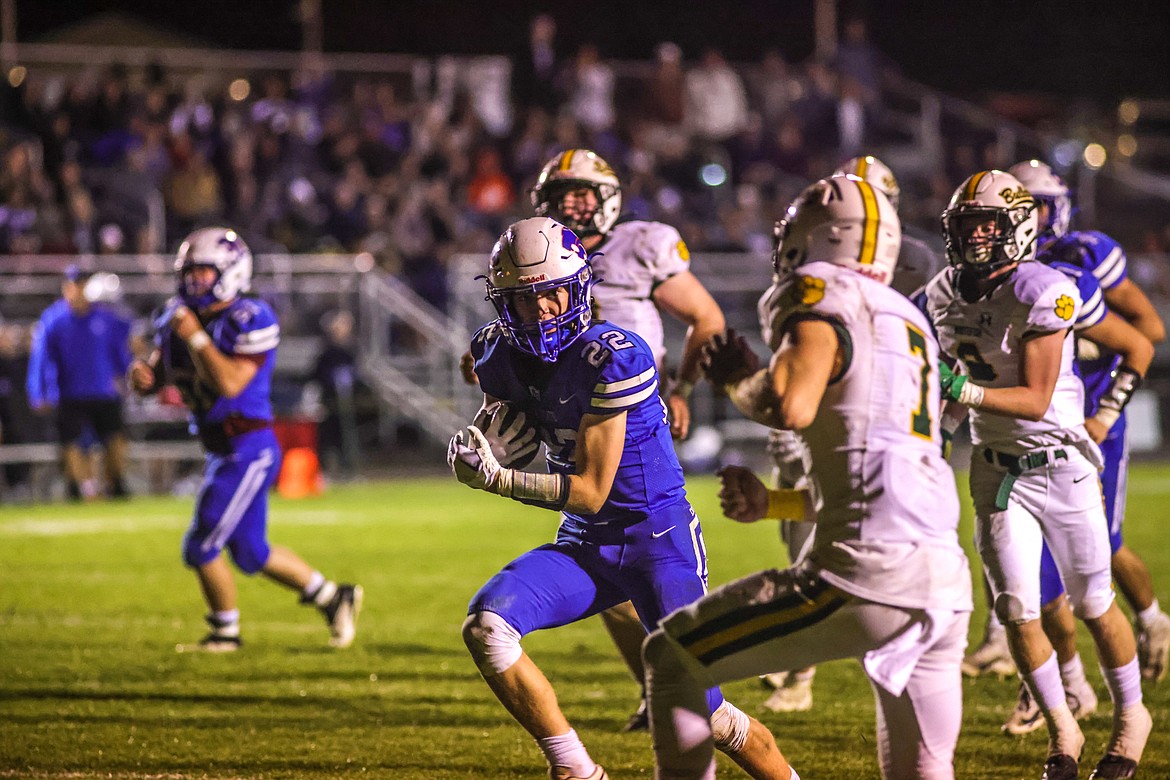 Sophomore Reggie Sapa scores a touchdown in the second half against the Bulldogs at home on Friday. (JP Edge photo)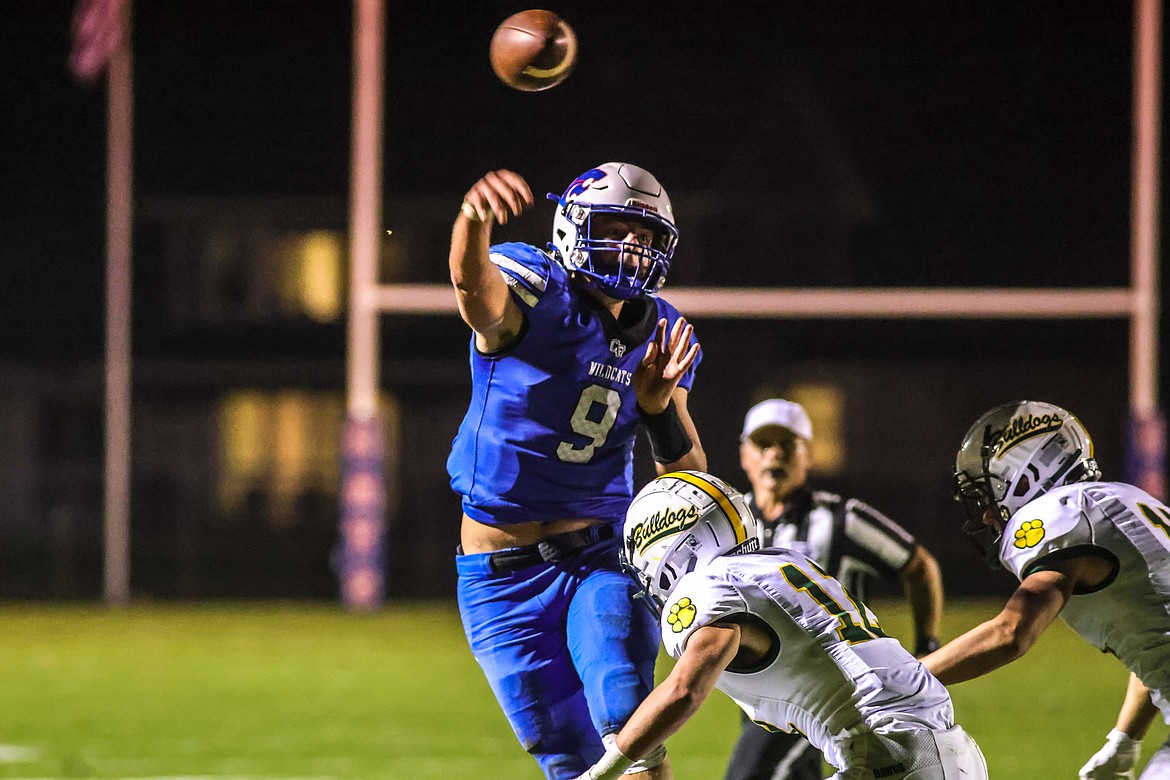 Junior Wildcats quarterback Cody Scweikert throws under pressure from the Bulldogs in Columbia Falls on Oct. 14. (JP Edge photo)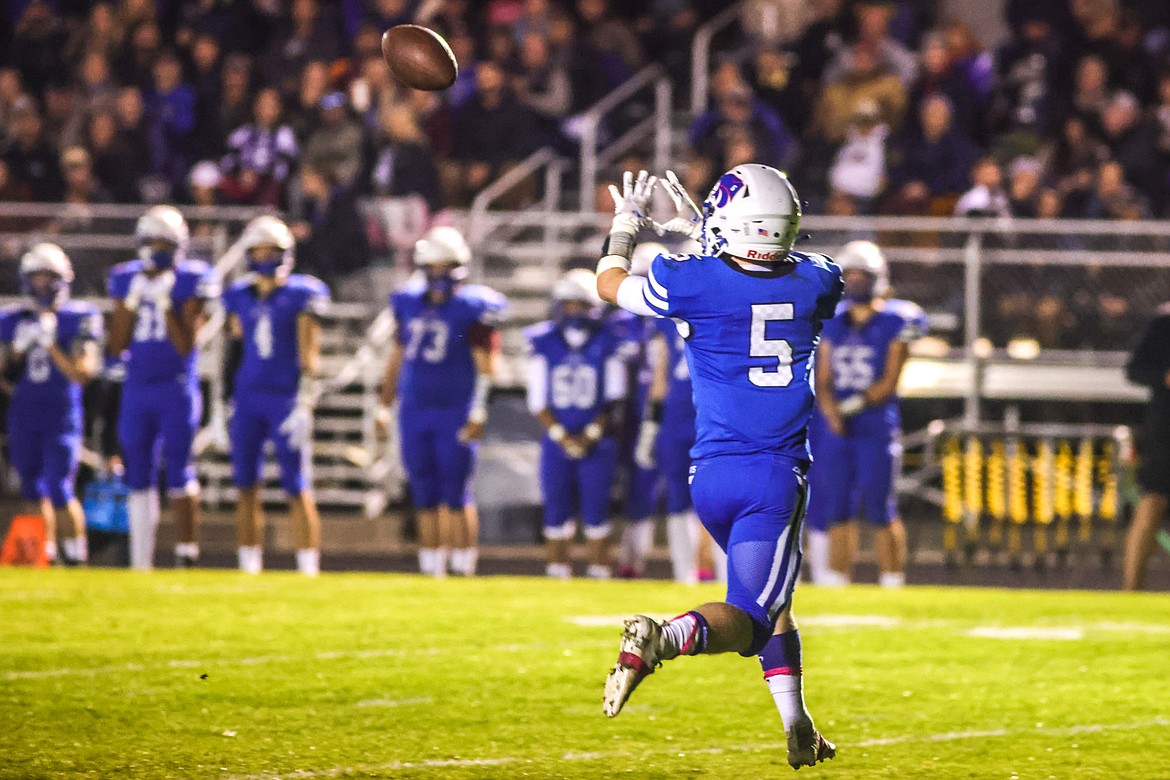 Junior Mark Robison grabs a pass in the redzone from Cody Schweikert for nice gain in the second quarter. (JP Edge photo)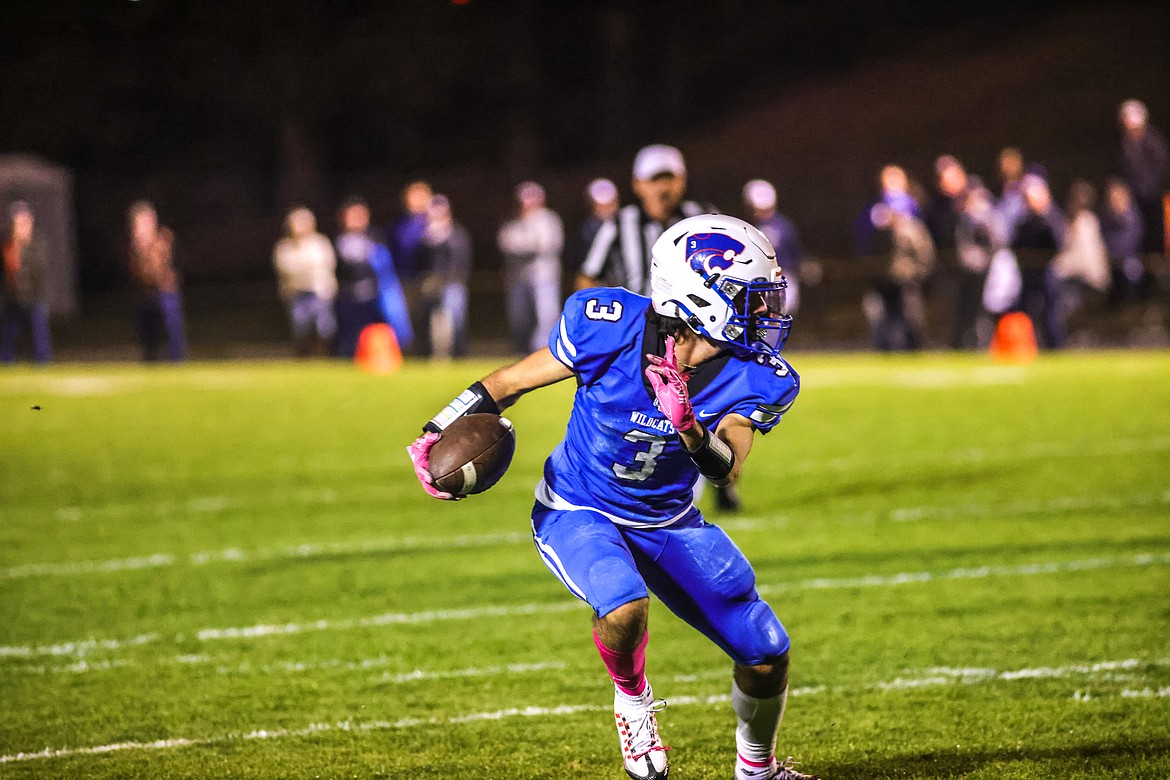 Senior Jace Duval completes a pass from Cody Schweikert to gain a first down for the Wildcats against Whitefish in Columbia Falls on Oct. 14. (JP Edge photo)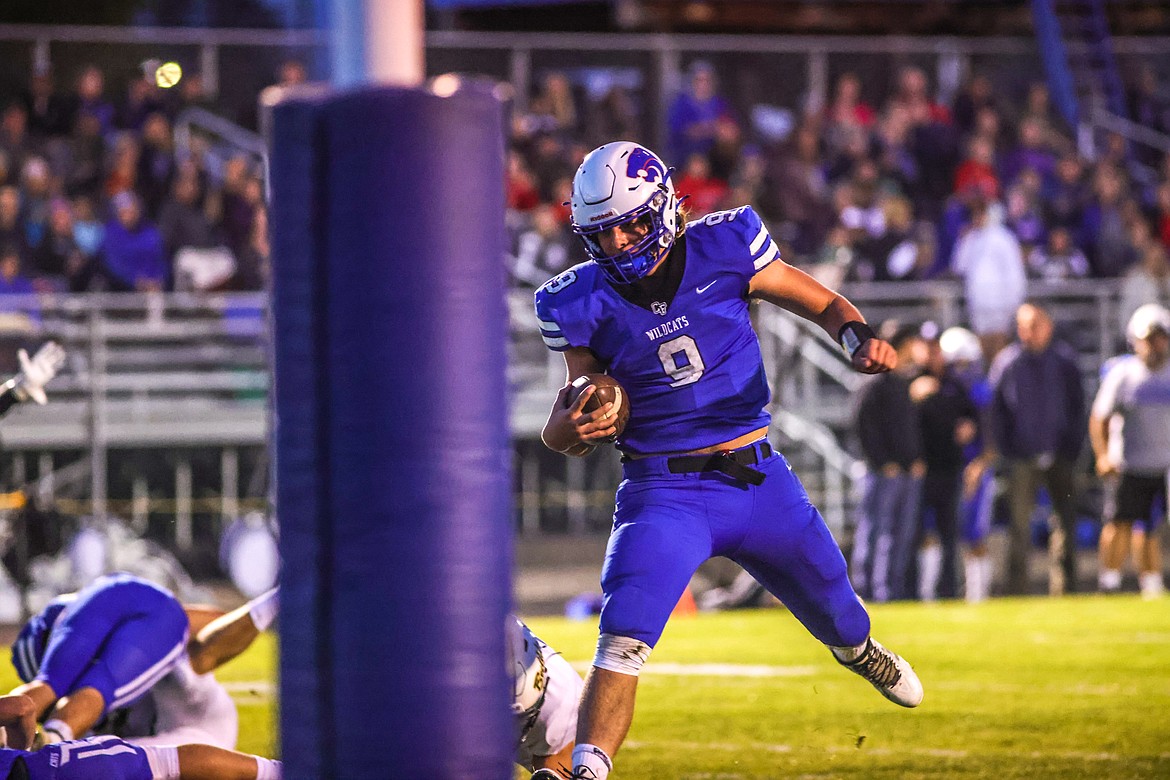 Wildcat's quarterback Cody Schweikert rushes for a touchdown on the opening drive against the Bulldogs on Oct. 14 in Columbia Falls. (JP Edge photo)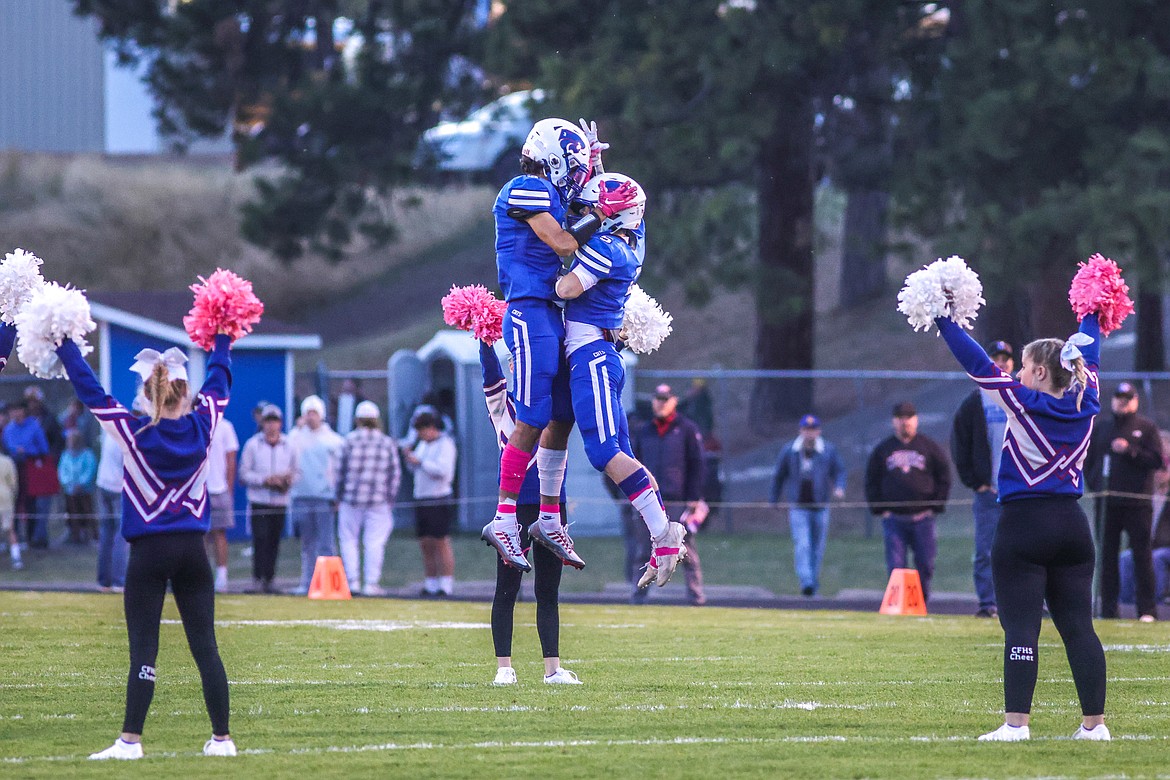 Jace Duval and Mark Robison embrace before their game against Whitefish. (JP Edge photo)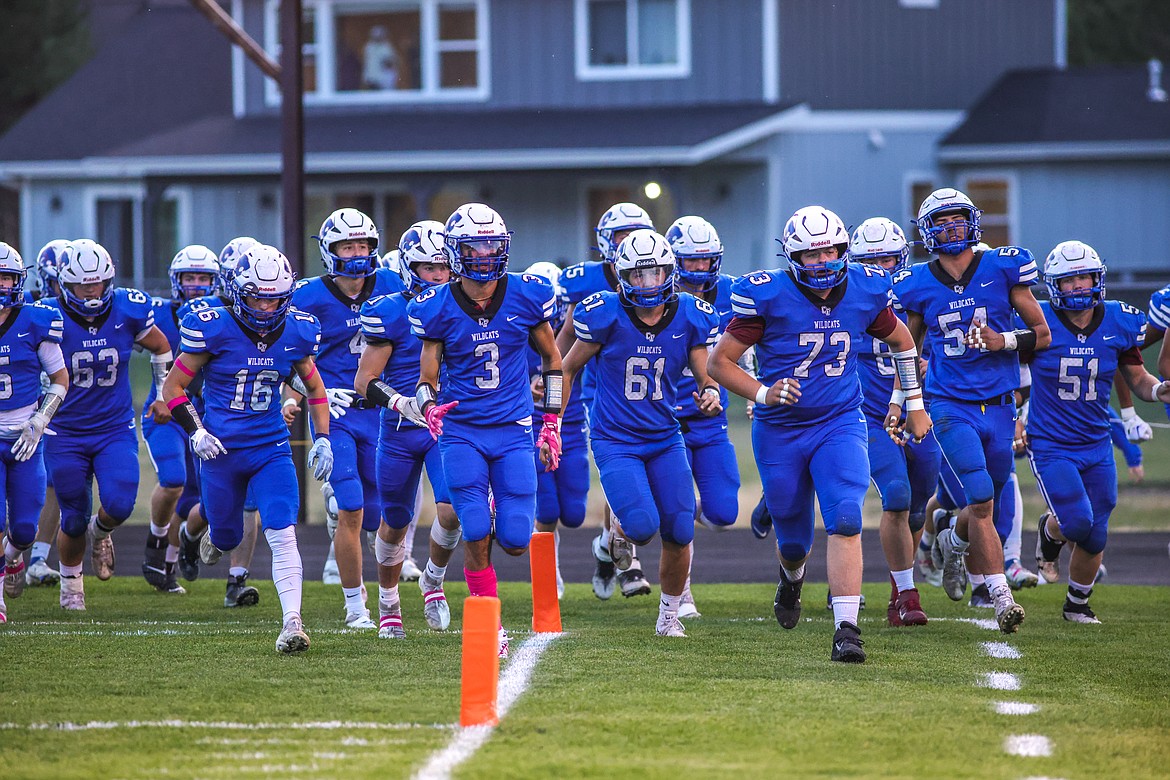 The Wildcats charge the field for their rivalry game against Whitefish on Friday. (JP Edge photo)
Previous
Next
by
Hungry Horse News
|
October 19, 2022 9:00 AM
The Columbia Falls football team came back to beat Whitefish at home Friday night, 24-20.
The Cats were up 10-7 at the break after Cody Schweikert and Bulldog quarterback Fynn Ridgeway each had touchdown runs in the first quarter. Kai Golan had 21-yard field goal to put the Cats up.
In the second half the game seesawed as the Bulldogs scored a TD to go up 13-10 after the point after failed. Then Schweikert hit Reggie Sapa on a 16-yard pass for a TD to put the Cats back up 17-13 after the Golan point-after was good.
But the Bulldogs responded after recovering a muffed punt, which gave them a short field and shortly thereafter a TD and a 20-17 lead in the third quarter, But the Cats responded as Sapa ran in from 14 yards out for his second touchdown of the night. Golan hit the extra point and the Cats defense held the lead in the fourth.
Sapa had 12 carries for 77 yards.
Schweikert was 21-for-30 passing with 237 yards and carried the ball 21 times for 90 yards.
Coach Jaxon Schweikert said the Cats knew they could come back and win the game, despite making some mistakes.
"We felt really confident," he said. "We just kept chipping away and being sound."
He said it was a good game, with both teams showing respect for each other. Whitefish played its best game of the year.
"I enjoyed the game a lot," he said.
The Cats (6-1) wrap up the regular season against undefeated Hamilton (8-0) at home Friday.
It should be another great game. Hamilton plays physical run-dominant football. The Cats will try to slow down their interior run game. The Cats feel like they have an advantage on the outside with their speed and quickness and bevy of quality wide receivers, Schweikert noted.
Game time is 7 p.m.
Recent Headlines
---