Harriers tune up in Helena for Divisionals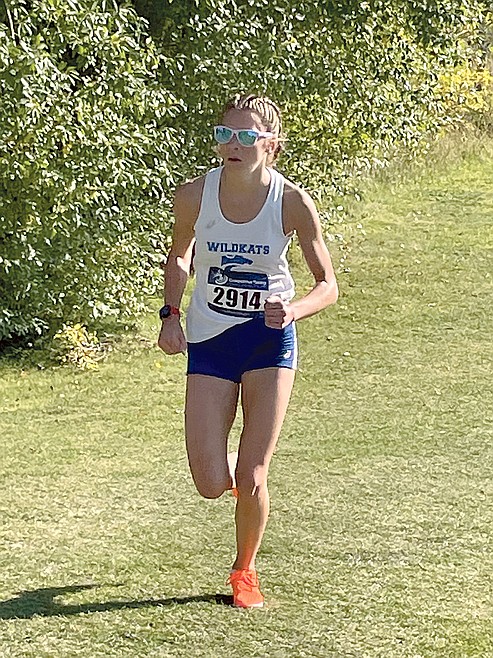 Ally Sempf runs in Helena . (Photo provided)
|
October 12, 2022 12:50 PM
The Columbia Falls cross country squads competed in the Capital City 7 of 7 race in Helena last week. The race has a different format as it has seven races rather than one large race. The race is designed to separate teams and runners.
A runner, for example, might run race No. 7, but have a better time that a teammate that ran race No. 1 or No. 2.
Though runners are separated by initial rank.
Top runners for the Wildcats were Logan Peterson for the boys who took 19th in race No. 1 with a 17:26.96. Teammate Quinn Clark was 15th in race No. 2 with a 17:55.14. Teammate River Blazejewski, a freshman, took eighth in race No. 3 with a 17:32.63.
Siri Erickson was tops for the girls, taking seventh in race No. 1 with a 19:56.56. Courtney Hoerner was 21st in race No. 2 with 22.91, while teammate Ally Sempf actually had a better time in race No. 3 with a 20.34, good enough for fourth.
Marissa Schaeffer took fourth in race No. 5 with a 21.10.
The boys team finished 11th overall and were the highest placing Class A team at the meet.  The girls were 6th overall and the second placing Class A team.
"This is a great race for the varsity runners as we get closer to the State meet.  They gain some invaluable experience and self insight. Throughout the season, our kids get used to pacing off their teammates.  This format forces them to pace themselves and trust their own sense of effort since they're running without their teammates.  It's fun to see how they respond to the challenge.  I thought all the team did a really good job with their strategies.  They ran competitively, and they placed very well in their respective races.  Competing well in Helena bolsters their confidence heading to State," coach Jim Peacock said. "Freshman River Blazejewski and sophomore Oliver Kress were the two nicest surprises of the day.  They both finished 8th in their respective races against a field of 45 teams representing all classes from Montana.  Both of these guys have been running really well, but without teammates to pace them, they both ran significant personal best times for the 5k.  At their current trajectory, they make this team a lot stronger and add depth as we approach State."
He was also pleased with the girls' efforts
"There were 42 teams participating in the girls' varsity races, so to see the ladies finish in the top tier of their races was exciting," Peacock said.
The Cats travel to East Glacier for the Western A classic Saturday hosted by Browning. The divisional race will determine seeding for the state A championship race in Missoula the following Saturday, as the girls hope to defend their state A crown from last year.
The girls varsity race is 3:20 p.m. and the boys is 4 p.m.
Recent Headlines
---