Wildcats let one get away from rival Polson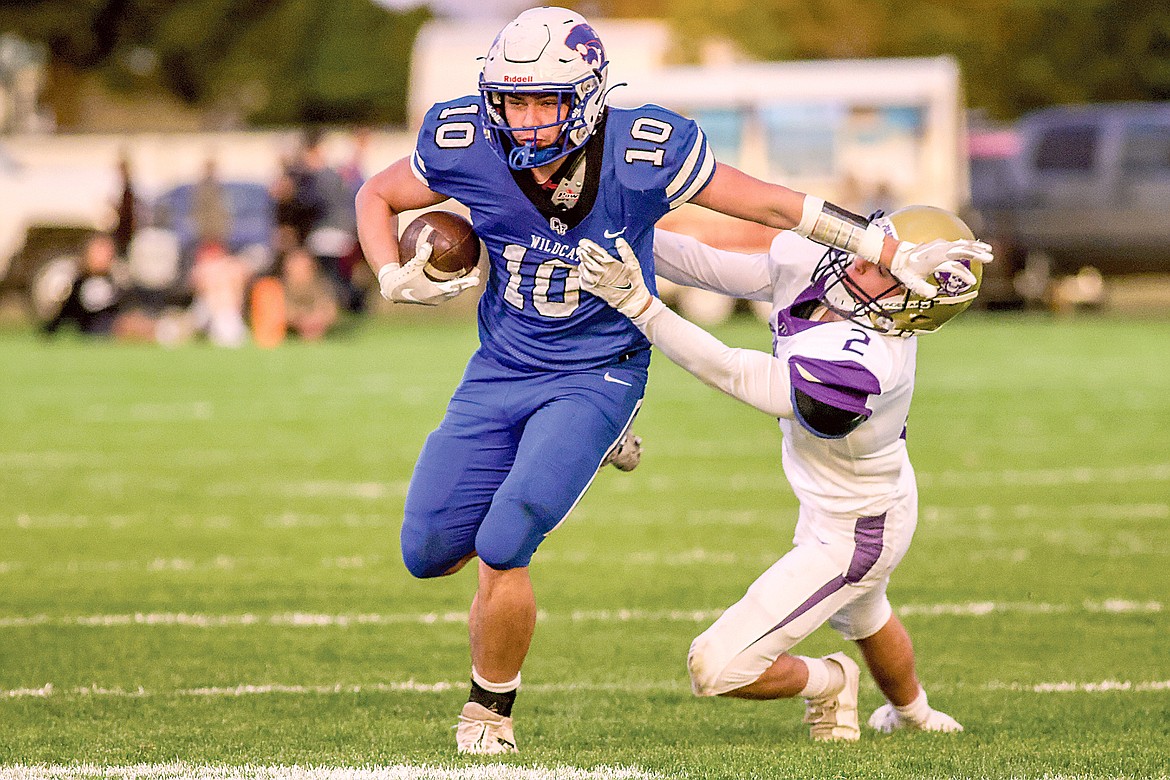 Blaise Wunderlich evades a tackle against Polson at the homecoming game on Friday. (JP Edge photo)
|
October 5, 2022 6:55 AM
Hungry Horse News
The Columbia Falls football team let one slip away last week, as they lost to conference foe Polson at home, 32-31.
The Wildcats had leads of 24-7 and 31-20 respectively. The 24-7 lead came with a little more than 4 minutes left in the third.
But the Pirates responded with 19 points in the fourth quarter, including two touchdowns in the span of a minute, which brought the Pirates to 24-20.
The Cats would respond with a touchdown when quarterback Cody Schweikert connected with Jace Hill to make it 31-20 with 9:34 left in the game.
But Polson's Jarrett Wilson hit his brother Trent on a 9-yard pass to make it 31-26, as two-point conversion failed.
The next possession Polson recovered the onside kick and about 30 seconds later, Wilson found Brock Henriksen for what would turn out to be the game winning touchdown.
The Cats would get the ball back with time to make a drive, but couldn't score.
Schweikert rushed for a touchdown and threw one to Mark Robison in the first half. Kicker Kai Golan had a field goal and nailed every extra point for the Cats.
Alihn Anderson had a touchdown catch for 46 yards in the third for the Cats in one of the wildest games in years.
Schweikert ended up with 303 yards passing and one interception.
The Cats didn't get much out of the running game, however, with 22 carries for 13 yards.
"There was some upper level football play going on," said coach Jaxon Schweikert, noting the level of play was very good by both Polson and Columbia Falls.
He said the Cats simply made a few errors that cost them the game.
"We played 99% of the game at a really high level," Schweikert noted.
He had kudos for the O-line, Cody Schweikert and the defensive effort in the game. He noted Cody was only sacked twice.
"It was just two high level teams going after each other," he said.
As for the mistakes?
"They're all very fixable," Schweikert said.
The boys are away against Browning on Friday and then wrap up the season at home against Whitefish and Hamilton the following two weeks. Both should be very good games and will set the stage for the Cats in the postseason.
The Cats are now 4-1.
Recent Headlines
---