Girls lose to Bulldogs, but drop Bigfork, Polson, as play-in looms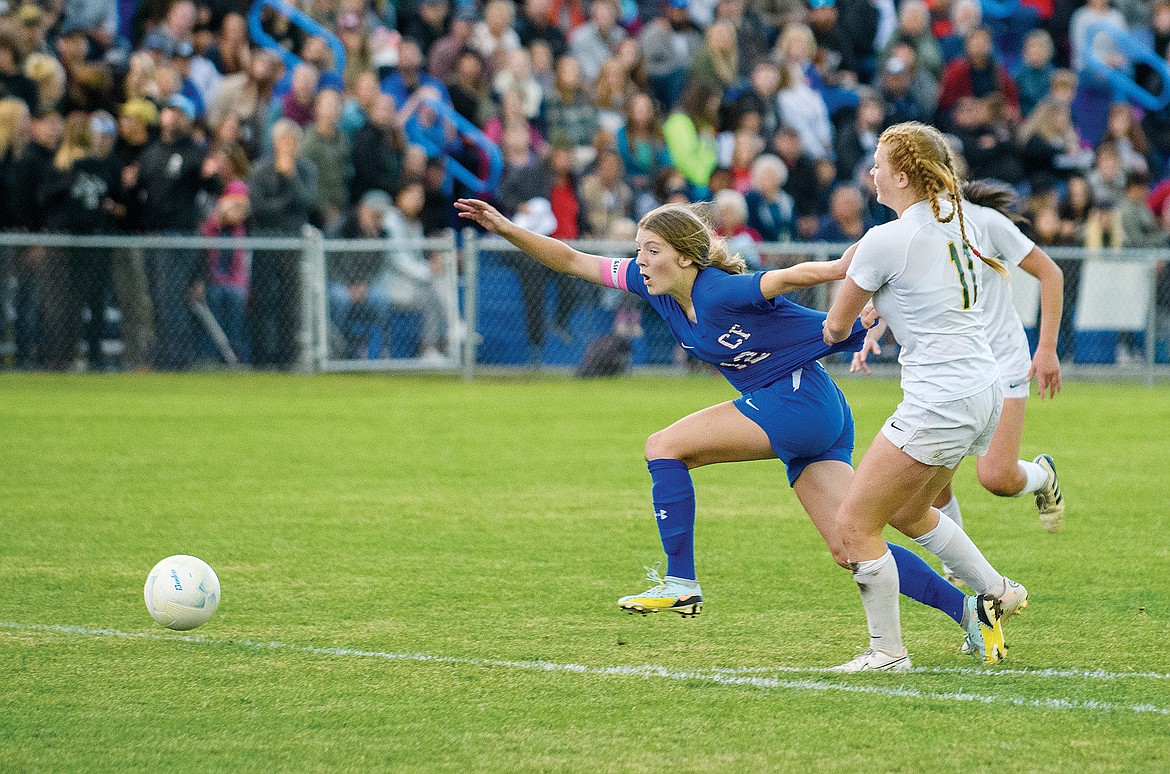 Josie Harris is fouled by a Whitefish defender last week. (Chris Peterson photo)
|
October 5, 2022 12:10 PM
Hungry Horse News
The Columbia Falls girls soccer team split the bill last week as it lost to Whitefish 2-1, but beat Bigfork at home Saturday, 4-3.
Against Whitefish, the Lady Bulldogs had a 2-0 lead, but the Wildcats made it very interesting down the stretch as Hope McAtee scored on a penalty kick just outside the box after teammate Josie Harris was fouled, her jersey nearly stretched off her body by the Whitefish defender.
The Cats then had a flurry of shots in the closing minutes but just couldn't find the back of the net to tie it up.
Against Bigfork, the Valkyries struck first, but Sydney Mann knocked in a goal a minute later and then Mann put another shot in the back of the net three minutes later.
The last four minutes of the game saw three goals — Bigfork scored at the 76 and 79 minute mark, but McAtee had one at 78 minutes to give the Cats a cushion.
The two will likely square off in a play-in game to determine a quarterfinal berth in the state A playoffs.
The Cats played Polson at home Tuesday and then wrap up the regular season Saturday against Libby.
Coach Thomas Clark was pleased the girls hung tough against Bigfork.
"At some point, we needed a good win against a good team," he said. "I was proud for the girls finishing well on Saturday."
He was also pleased the progress they made against Whitefish, even though the score didn't go the Cats way.
It showed they can play with intensity against a quality opponent.
"The message at the end of the game was to play with that sense of urgency all game," Thomas said.
McAtee now has 14 goals on the season.
If the girls make the playoffs, they would play the No. 2 team from the South Conference. That would be either Stevensville or Corvallis.
On Tuesday the girls beat Polson 9-01. McAtee had two goals and six assists and Sydney Mann had a hat trick in the win.
Polson 0 1 — 1
Columbia Falls 4 5 — 9
CF - Hope McAtee 7:00
CF - Josie Harris (Kyra Bruner) 10:00
CF - Sydney Mann (McAtee) 18:00
CF - Mann (McAtee) 20:00
CF - Mila Johns (McAtee) 42:00
CF - Mann (McAtee) 43:00
P - Addyson Gallatin 49:00
CF - Tayler Lingle (McAtee) 61:00
CF - Johns (McAtee) 69:00
CF - McAtee 72:00
Shots — Polson 8, CF 25; Goalie saves — Polson 16, CF 7 (Zoey Byrd)
Recent Headlines
---