Boys drop Bulldogs, clinch conference crown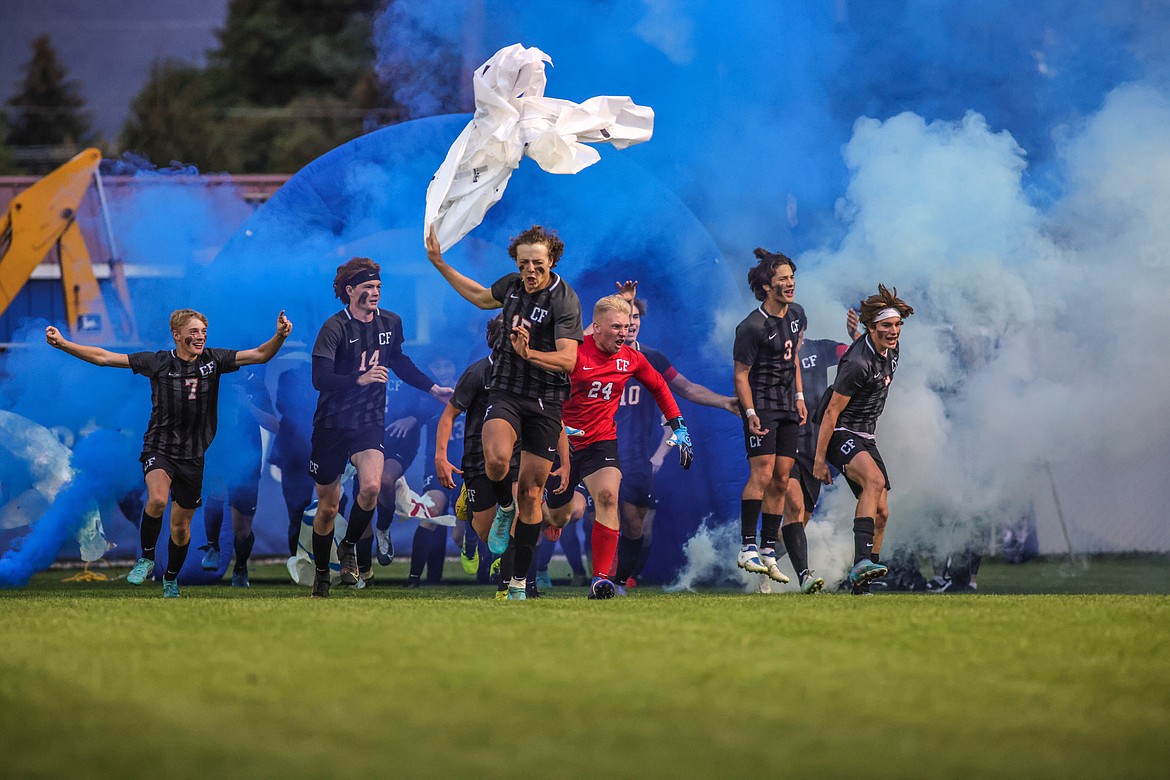 The Wildcats run through the tunnel at their homecoming game against Whitefish on Thursday. (JP Edge photo)
|
October 5, 2022 7:50 AM
Hungry Horse News
The Columbia Falls boys soccer team left no doubt as to who the top team in the North is, as they dropped Whitefish 3-1 last Thursday for homecoming and then topped Bigfork Saturday, 9-0.
The wins secure the North Conference crown for the Wildcats — the first since 2017. The Cats are now 11-0 on the year.They beat Polson at home Tuesday, 8-0.
Against the Bulldogs, southpaw Kai Golan befuddled the Bulldogs' defense with great footwork that resulted in two quick goals at the 3 and 11 minute mark in the first half.
On one, the Bulldog goalie came out to challenge him, which was a big mistake and on the second goal, Golan had the defender overrunning the play as stopped, reset and then walloped the shot behind the net.
"We flipped the script and had him in a different location," coach O'Brien Byrd said.
The Bulldogs couldn't adjust soon enough.
Walt Nichols had the assist on Golan's first goal and Finley Sundberg had the assist on the second goal. Sundberg had an insurance goal in the second half. A senior, he leads state A in goals scored with 16.
"He's having a great year," Byrd noted.
Braedon Fairchild took duties as keep for the Cats and did a great job, as starter Bryce Dunham was out.
In the Cats drubbing of Bigfork, Adam Schrader and Sundberg had two goals apiece and Traic Fainter and Jack Harris, also had goals.
Dale Blickhan also had a score as the Cats found a groove and stayed in it.
"It was a big week," coach O'Brien Byrd said. "We requested Whitefish for homecoming. The boys wanted it and we got what we asked for."
Byrd was pleased with the team's overall execution. With the conference title they retain home field throughout the playoffs — a key goal on the season, Byrd said.
The team has been drawing big and vocal crowds, which helps immensely.
On Tuesday the Cats blanked Polson at home, 8-0. Dale Blickhan and Adam Schrader had a couple goals apiece in the win.
Recent Headlines
---