Hungry Horse Dam upgrades in the works; 70-year-old crane coming down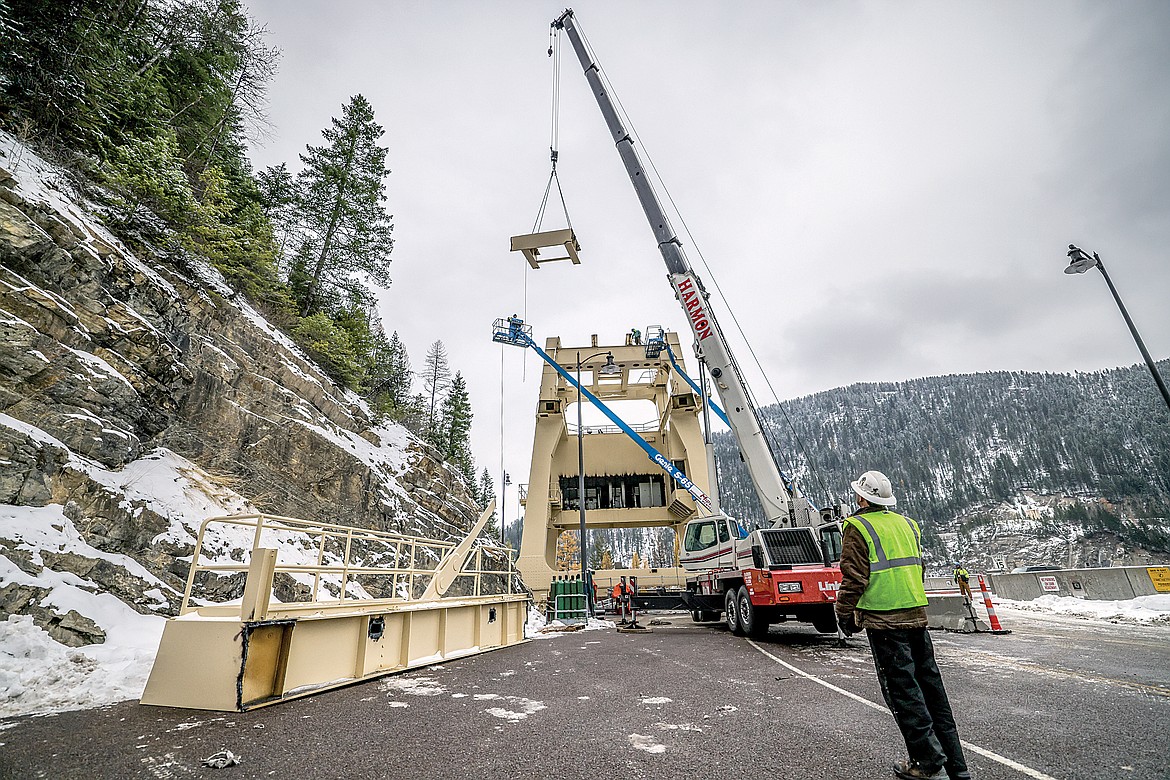 Workers dismantle the old crane on the Hungry Horse Dam last week. (JP Edge photo)
|
November 23, 2022 7:00 AM
By CHRIS PETERSON
Hungry Horse News
A 70-year-old old gantry crane is being dismantled on the Hungry Horse Dam. The removal of the crane is part of a bigger project over the next several years that will see major upgrades to the dam that are expected to cost about $200 million, according to previous estimates.
Crews from BCI Construction USA are taking the crane down, and should be done next week. Folks could experience minor traffic delays on the dam.
A 2018 Environmental Assessment on the dam calls for improving fire protection at the powerplant; modernizing the switchyard and powerplant disconnects; replacing or refurbishing the cranes; replacing the governors and exciter; overhauling the fixed wheel gate; refurbishing the elevator; replacing and overhauling the turbines; rewinding the generators; overhauling the selective withdrawal system; and recoating the penstock.
The selective withdrawal system allows dam operators to draw water down from behind the dam based on water temperature, so the fish below the dam aren't shocked by a water release that's either too cold or two warm, depending on conditions.
There are a total of six cranes at the powerplant: three cranes are located within the powerhouse (two 290- ton bridge cranes and one 25-ton bridge crane), one in the valve house (40-ton), one on top of the dam (125-ton gantry crane), and one on the powerplant draft tube deck.
The 125-ton crane on top of the dam was the one that was removed last week. A new crane that meets modern-day safety codes will be installed next spring.
Other facets of the dam overhaul replace parts that have been in use since the dam was constructed and finished in 1952.
Modernizing the generating units requires that two of the four be offline for a year while they are upgraded.
The operations are not expected to have any impact on fisheries, as the dam can still regulate its releases.
At full capacity, the dam can generate 428 megawatts of power, but current transmission restrictions limit the generation to 310 megawatts of power, according to the environmental assessment.
As an aside, the EA notes that there are 46 species of fish, including hybrids, that have been known to occur in the Flathead River sub-basin.
About half were introduced by humans.
Recent Headlines
---