With paltry ERA of 1.5, Moultray leads Kats on the mound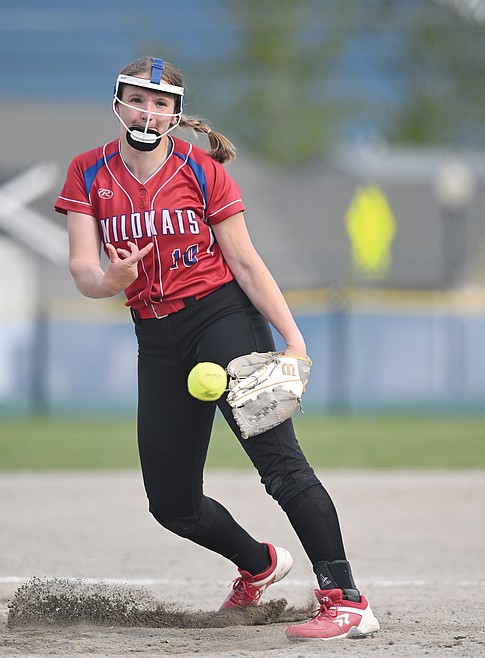 Maddie Moultray fires in a pitch against Polson last week.
by
CHRIS PETERSON
Editor
|
May 25, 2022 12:25 PM
Maddie Moultray has lived a life of softball. She started playing in kindergarten, though her first pitching experience came a few years later at a Mother's Day tourney.
"They didn't have anyone to pitch," she said. "And I was the tallest one on the team."
Get on the mound and give it a go, kid.
Coached by her father Monte, in both recreational and travel leagues, she got good at it.
She's refined her pitching over the years, mentored by older pitchers Ashley Trueblood, KJ Schweikert and Jenna Willis.
Trueblood and Schweikert were former pitchers for the Wildkats.
Moultray saw time on the mound last year for the Kats as a freshman, but she's really blossomed this year as a sophomore.
She has an earned run average of just 1.5 and is the top class A pitcher in the state. She also threw a no-hitter against Corvallis earlier this year. She is 16-1 on the season.
She takes it all in stride and credits her teammates and coaches for her success and confidence.
"I have to give credit to my teammates," she said. "… Even if I do miss my spots and (opponents) crank the ball, I know they're there behind me."
She has a variety of pitches, including a drop ball that dumps right down on the plate.
It can get a little nerve wracking when coach Dave Kehr calls the challenging pitch with a runner on third.
"It drops right on the plate," she said. "It works."
But it's not her favorite pitch — that's a backhand change.
"It's sooo slow," she said.
She's the only sophomore starting for the club this year. She has high hopes for the state tourney. Last year she got to pitch in it a bit, but this year she says she has more confidence.
"I have a completely different mindset," she said. " I think we have a good shot."
This year the team is also hitting the ball extremely well. Nine Wildkats are hitting over .300 this year, including Moultray.
While she's early in her high school career, Moultray said she's eyeing a future in sports after college, possibly as a physical therapist or an athletic director.
Recent Headlines
---