Summer swim team wins home meet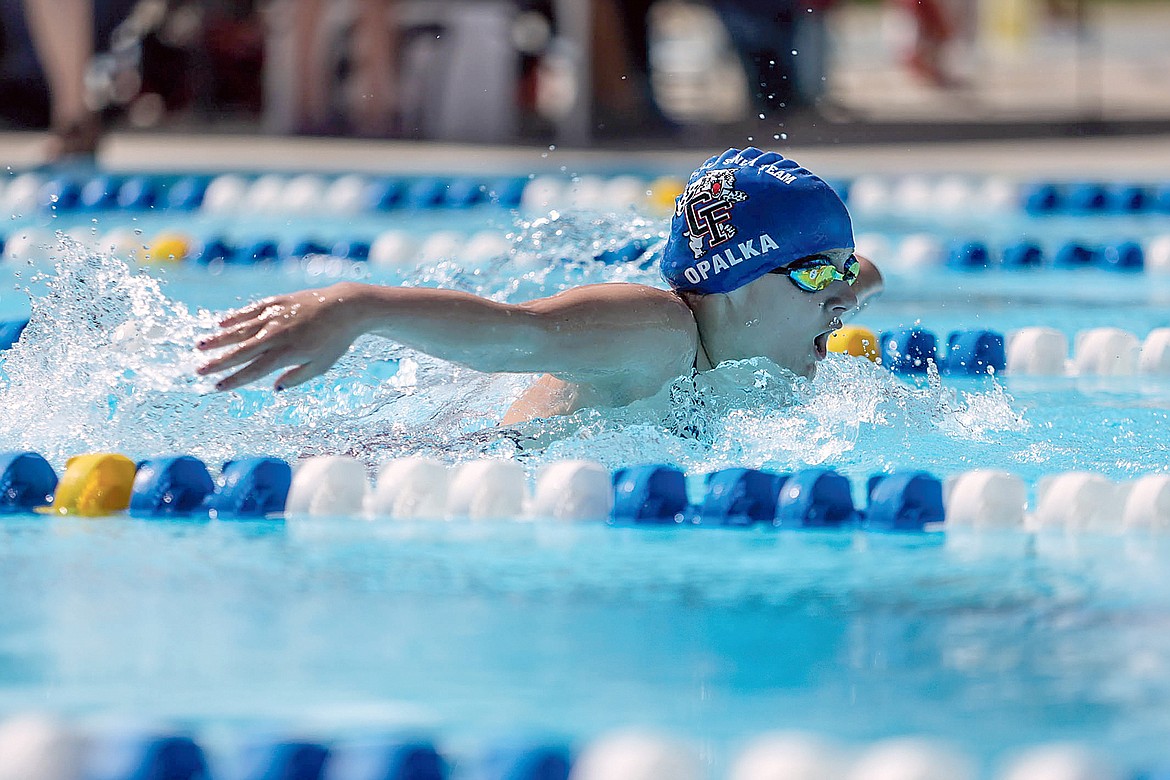 Catherine Opalka does the butterfly in a relay race on Sunday in the Columbia Falls Swim Team Meet. (JP Edge photo)
Hungry Horse News
The Columbia Falls summer swim team won its home meet over the weekend. The Wildcats were led by young swimmers Grady Talbot, Payson Scribner and Catherine Opalka, all of whom took high point trophies.
The home meet was an opportunity to see the whole team in action.
"We swam 86 swimmers, and we had the opportunity to get a good look at basically our entire team this weekend," coach Kyle Babcock said. "There were tons of big races, and many of them our kids' first swims. We were able to win 14 relay races, and maximized our team's point earning potential by utilizing the mixed divisions. We have been working hard in our practices, and it is starting to show. Our rate of disqualifications by event has continued to drop throughout the season, along with most of our kids' swim times. We will continue to hammer out numerous training miles in the coming weeks as we focus on a strong showing for the remainder of the season."
Opalka won the girls 11-12 200 IM, Scribner won the girls 9-10 100 IM and Talbot won the boys 8 and under 25 freestyle.
Scribner also won the 50 free. Kaitlyn Daniels was third in the girls 9-10 50 free.
Liam Swank took third in the boys 9-10 100 IM. Quinten Babcock took third in the boys 9-10 50 free. Annika Petersen took fourth in the girls 9-10 50 free and Javen Kuntz took fourth in the boys 11—12 50 free. Taryn Borgen was third in the girls 13-14 200 IM.
The team travels to Conrad and Fort Benton for the last two meets before the Western Divisional Championship in Hamilton on July 30-31, and then the State Championship in Lewistown August 6-7.
Recent Headlines
---