Glacier showcases its solar power system for headquarters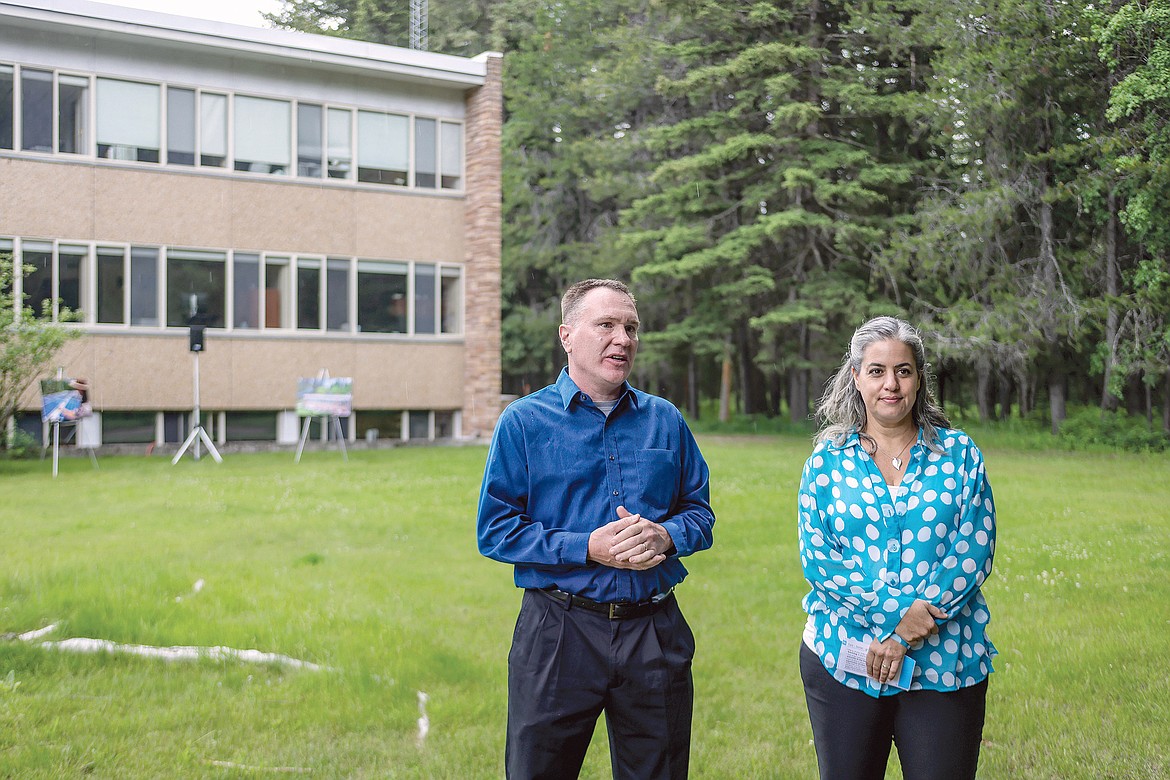 Rich Marino and Myrian Scally with Everybody Solar at the Park Head Quarters solar project ribbon cutting on June 29. (JP Edge photo)
JP EDGE
Hungry Horse News
Glacier National Park recently celebrated its new 34.56-kilowatt solar array on the roof of park headquarters. The 108 panels have been up for about a year now and have generated around 28,000 amp hours since they began working a few months ago.
Several organizations, including Everybody Solar, the Glacier Park Conservancy and Solar Plexus, a solar installation company out of Missoula, and major donations from the Dennis and Phyllis Washington Foundation with a contribution of $75,000, came together on the project with zero expense to the park.
The project took about three years to complete from start to finish and the total cost was $105,680.
"These panels will provide clean energy, and have offset 43,000 pounds of carbon dioxide," Myrian Scally, Director of Operations for Everybody Solar, said. "That's equivalent to planting 290 trees or one car driving the Going-To-The-Sun-Road 880 times."
The life of the panels are expected to last anywhere from 25 to 40 years, and will continue to provide clean energy at no cost to the Glacier.
The goal of the project is to reduce greenhouse gas emissions and allow the park to save on buying power off of the grid. According to Scally, the panels save the park about $2,500 per year.
"From California to Maine, and Florida to now Montana, we're happy to have the project completed and looking forward to future projects like these with the National Park," Chairman Rich Marino for Everybody Solar said.
Everybody Solar, a California-based company, has previously worked with Glacier, providing the solar panel at the Grizzly Point Comfort Station, which provides the energy for lighting and other amenities for the tourist stop along the Sun Road.
The park also has a solar array at the Polebridge ranger station and uses smaller arrays at other small outposts that need power.
The Apgar visitor center also has a solar array.
Recent Headlines
---