Columbia Falls still losing millions of gallons of water each month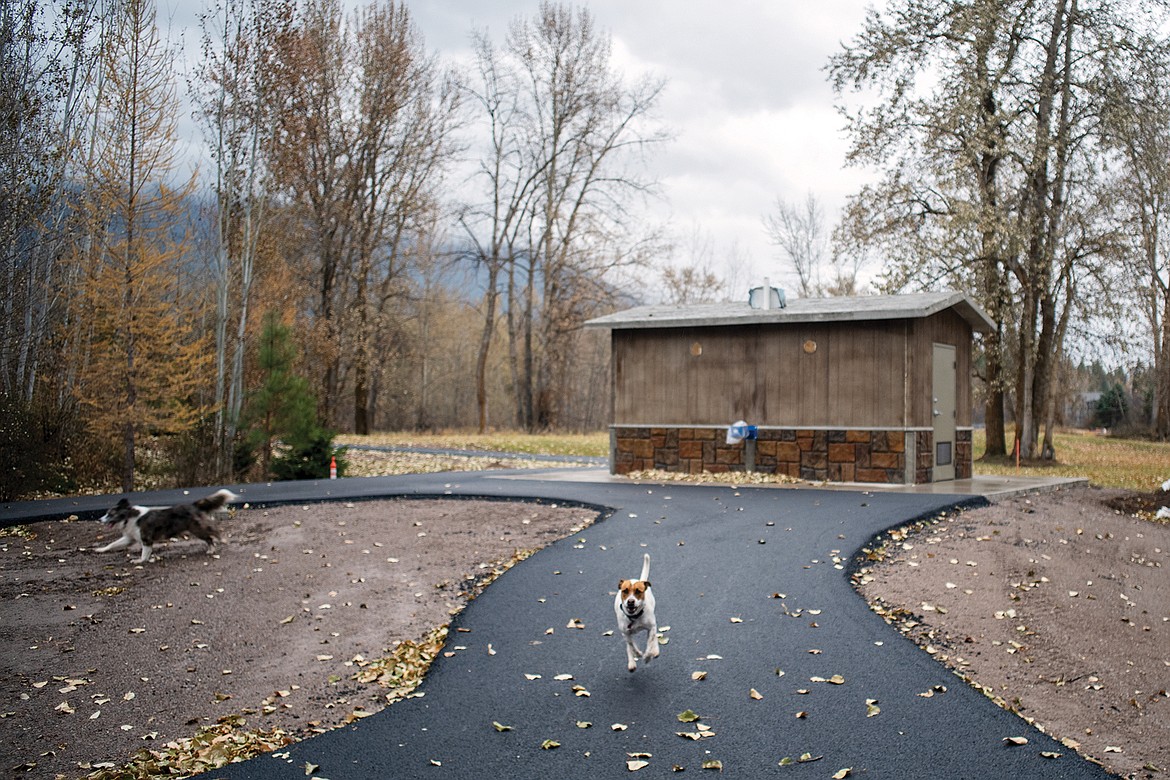 A dog runs down the new paved path at River's Edge Park. The new toilet is in the background. (Chris Peterson photo)
by
CHRIS PETERSON
Editor
|
January 12, 2022 7:50 AM
Columbia Falls didn't get the results it was hoping for from a recent water leak detection survey done last fall.
The city paid Utility Services Associates to do tests for a few weeks in October and November. The company did find leaks — about 14 total.
But the leaks only amounted to an estimated 2.2 million gallons of water lost per month. That might seem like a lot, but the city estimates it lost 18.7 million gallons of water in December alone — a month when there's no irrigation.
City manager Susan Nicosia said the company had a hard time finding more than 350 service lines to homes.
Service lines are where the city suspects it's losing the most water, since it's previously surveyed large lines, like the one that runs from the city wells back up to its holding tank north of town.
With that many service lines being unaccounted for, the city has withheld some of the payment — about 30% — to the company, which has plans to come back in the spring and look for the service lines and other leaks it couldn't find in the first place.
The city was hoping the company would find numerous service lines that needed repair. That would make grant funding to pay for the leaks more attractive to the state.
In most places, losing 18 million gallons of water a month would mean water boiling to the surface.
But the city has gravel soils and all that water simply drains back down into the dirt and the aquifer.
The city had three leaks of its own, which have been fixed. The biggest leak was in a 2-inch water line at River's Edge Park, where a new coupler had come undone.
The city discovered that problem after it lost water pressure to the bathrooms at the park.
The city also knows it has a leak on Fifth Avenue East, but it's under the street and the pavement is relatively new, so it doesn't want to tear up the road if it can help it unless there's some grant funding available.
In other news:
Officer Craig McConnell was sworn in as the city police department's newest detective. He replaces Gary Denham, who was recently promoted to lieutenant.
The city will start planning to add paid staff to its fire department in the next fiscal year. The city's resort tax will pay for two additional firefighters. The department and city staff will go through training to make the transition go smoothly as possible. The department has more than 30 volunteers.
Council talked about snow removal. The city streets are getting cleared promptly, but the sidewalks are still a problem. The city may consider buying its own equipment to plow sidewalks. One problem is not every business or landowner plows the walks in front of their property. Another problem is the state has tendency to plow them back in after storms.
Recent Headlines
---