Readers rally for library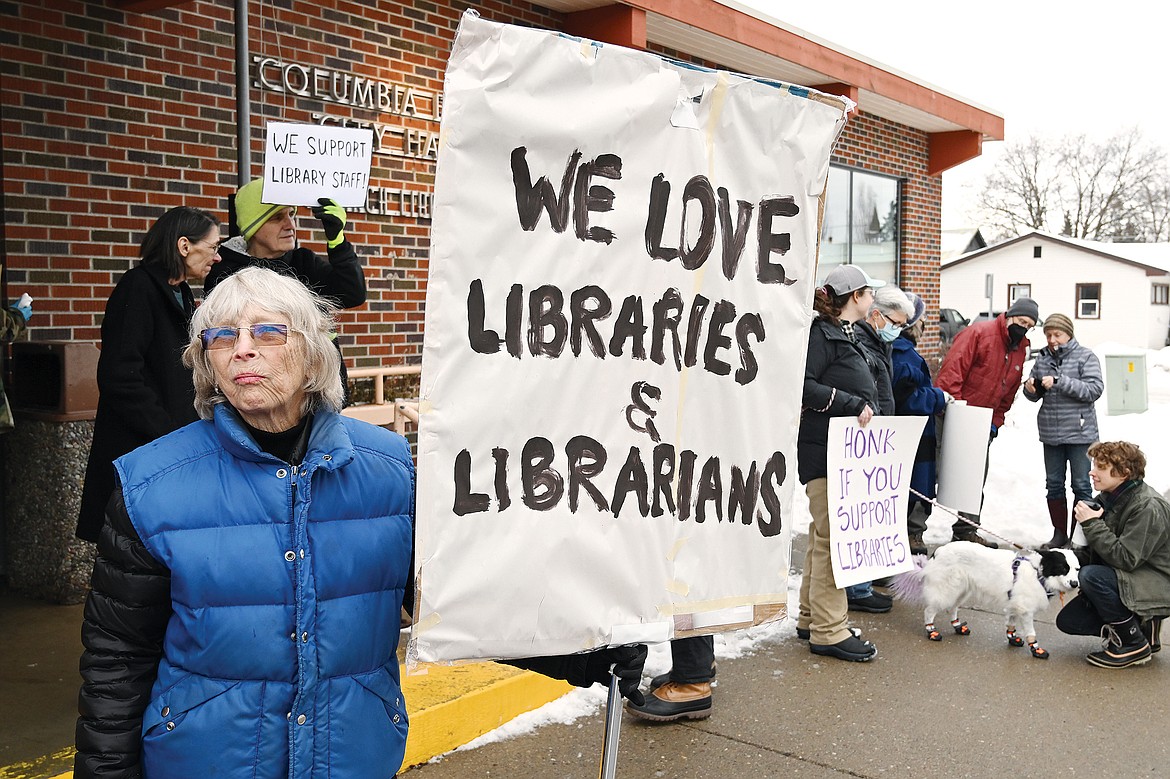 Bonnie Frederick-Hankey at a rally for library staff in front of Columbia Falls city hall last week. (Chris Peterson photo)
by
CHRIS PETERSON
Editor
|
February 9, 2022 7:10 AM
About 25 people showed their support for the Columbia Falls Imagine IF library staff during a rally Saturday morning in front of city hall.
Organizers said they were dismayed by the recent exodus of library staff.
In July, director Connie Behe resigned, then Interim director Martha Furman resigned in December and most recently, Charlotte Housel, the executive director of the library foundation resigned.
"We're losing qualified and motivated staff," Gil Jordan, one of the organizers of the rally said. "It demoralizes everyone else … We have a beautiful system that's not broken but is trying to be 'fixed' in an ideological way."
Columbia Falls councilman Darin Fisher at Monday's council meeting said he also supported the library staff and was critical of the library board majority.
"It's just a travesty," he said. "They're purposefully gutting the library."
The Columbia Falls library staff has remained intact through the controversy. Both council and the rally organizers said they appreciated their efforts.
The resignations come after some members of the Library Board of Trustees wanted to remove a couple of books from the shelves of the adult section of the library.
One of the books targeted is a graphic novel about gender identity titled "Gender Queer: A Memoir" by Maia Kobabe. The other is "Lawn Boy" by Jonathan Evison, a semi-autobiographical coming-of-age novel. Both books are in the library's adult collection.
For now, both remain on the shelves.
In addition, there has been controversy over offering the director position to Ashley Cummins, who currently serves as the director of a small rural library in Alabama. Cummins is working on completing her bachelor's degree and has plans to work toward her master's.
Offering Cummins the job in January was supported by board members Doug Adams, Heidi Roedel and David Ingram, while Marsha Sultz and Connie Leistiko voted against her hire, citing concerns about her qualifications and state funding.
Hiring her could mean the library will lose about $30,000 in state funding, state library officials have noted, as the state requires directors of libraries serving a population over 25,000 to have a master's of library science or equivalent degree in order to be accredited and receive funding.
The director position salary was advertised at a starting figure of $75,123. The library board in September voted to lower the director's pay, which previously had a starting salary of about $84,500.
Recent Headlines
---