Golf cart argument may have led to Martin City shooting; Go Fund Me set up for family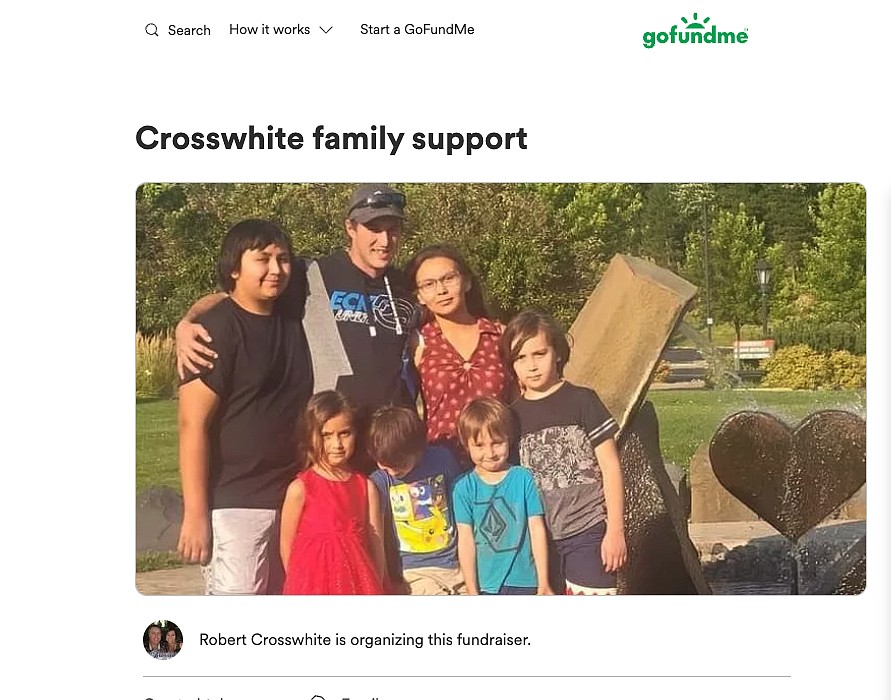 The Crosswhites as seen on their Go Fund Me page.
|
August 29, 2022 12:15 PM
A Hungry Horse woman is dead and her husband is critically injured after a shooting at the South Fork Saloon in Martin City over the weekend that apparently started over a golf cart.
According to Flathead County District Court documents, Del Orrin Crawford, 40, of Kila, allegedly shot and killed Whisper Sellars and wounded Doug Crosswhite, her husband, sometime either late Friday night or early Saturday morning.
The couple has five children.
According to court documents, Sellars and Alicia Crosswhite were sitting in a golf cart taking pictures when they got into an argument with Crawford.
According to other witnesses the Hungry Horse News spoke to, the argument was over the keys to the cart, which Crawford had driven to the saloon from a nearby party. Crawford thought someone had taken them.
Crawford pushed Sellars and another female and Doug Crosswhite pushed Crawford in response.
Crawford then fell backwards, got up, pulled a handgun from his waistband and allegedly started shooting.
Shot in the chest, Sellars died at the scene. Doug Crosswhite suffered a chest wound and a wound to his arm and was transported by ALERT to Logan Health in Kalispell.
Crawford fled the scene but was later found up the road. He claimed self-defense in the incident, but also told Sheriff's deputies that he hid the gun and "it was in a safe place and the officers would not find it."
Crawford was taken into custody and charged with deliberate homicide, attempted deliberate homicide and tampering with evidence for hiding the gun.
A Go Fund Me page has been set up to help Doug Crosswhite with medical expenses as he needs extensive surgery on his wounded arm, according to family members.
Sellars and Crosswhite were well-known in the community. They had an old barn in Hungry Horse that hosted a haunted house at Halloween a few years back.
The GoFundMe link is at: https://www.gofundme.com/f/crosswhite-family-support?qid=70bf0fc54602c0f557bdd2e115d4cc21
Recent Headlines
---