Dixie Joan Wegner (Beebe) Riley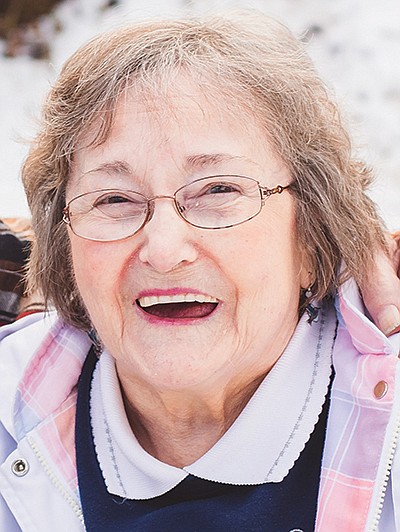 Dixie Joan Wegner (Beebe) Riley
|
September 22, 2021 7:15 AM
Dixie Joan Wegner (Beebe) Riley, 86, of Columbia Falls passed away at home on Thursday, Sept.16, 2021. She fought a long illness with courage and strength, often using humor to keep up the good fight until the Lord finally came calling.
Dixie was born March 17, 1935 in Fort Dodge, Iowa, the first born to Ruth (Klasse) and Percy Wegner. Her mother passed away when she was only 13 days of age, after which her aunt and uncle, Flossie and Edward Beebe took her in as their own.
Dixie attended St. Paul's Lutheran School in Fort Dodge, Iowa, where she enjoyed singing in the choir. As a child, she also was very involved in Camp Fire Girls and 4-H. When Dixie was 12, her family moved to Bemidji, Minnesota where she attended Bemidji High School. As a sophomore, her uncle Ed was diagnosed with leukemia. With no family income, Dixie needed to quit school to go to work.
In 1951 she met the love of her life, Kenneth Riley. After a year of courtship, they married at Salem Lutheran Church in Turtle River, Minnesota. Together they moved to White Sulfur Springs, then to Columbia Falls, where Ken worked at Plum Creek Lumber Company. Shortly thereafter they started a family and were blessed with two children, Harold John and Tammi Jo.
Dixie earned her GED and a degree in adult bookkeeping, which she put to good use first for Mel Ruder at the Hungry Horse News, followed by nearly 30 years at the Montana Power Company managing the Columbia Falls office.
Dixie was a charter member of Our Redeemer Lutheran Church, where through the years, she held every office in the ORLC Lutheran Women's Missionary League. In addition to transcribing Braille Sunday School lessons and teaching Sunday School, she also enjoyed tying quilts for missions.
In 1991, Dixie (or Bunny, as Ken would refer to her) retired. It was then that she took up her favorite job as a full-time "Granny." Her love of family and friends kept her busy, crocheting beautiful pieces of work which will be cherished as a remembrance of her by those blessed to have received them. In her free time you would find her baking, finding treasures at garage sales, and playing cards with her dearest friends. In the summertime, she loved camping with her family, where they would enjoy her famous bacon and eggs, home-cooked meals, and playing cards late into the night.
Dixie is survived by her dear husband of nearly 70 years, Ken, her children and their spouses Harold Riley (Reinhilde), Tammi Hull (Dave), as well as five grandchildren, Kevin Riley, Katrin Hatch, Karolin Stradling, Kelsey Clemmer and Kellen Hull, and seven great grandchildren. Our Granny always made us laugh and filled us with the knowledge that we were loved. She will be greatly missed!
A gravesite celebration of her life will be held at Columbia Falls' Woodlawn Cemetery, on Saturday Sept. 25, at 2:30 p.m., followed by a reception at Our Redeemer Lutheran Church in Columbia Falls.  Columbia Mortuary in Columbia Falls is caring for the family.
Recent Headlines
---